These meringue cookies are tinted pink and piped in a heart shape for an adorable Valentine's Day treat. In this post, we'll also answer all of your burning meringue cookie recipe questions: How long do meringue cookies last? Can you make meringue cookies without cream of tartar? How you should store your meringue cookies?
A Short History of Meringue Cookies
Like all great inventions, the origins of the meringue cookie are contested. One version states that a resident of the Swiss village of Meiringen invented this delicious confection. A second, attributes the invention to an Italian chef, known only as Gasparini, in the late 17th or early 18th century. The Oxford English Dictionary provides a third explanation — that the word "meringue" is a French word of unknown origin. Thanks, OED, for the specificity. The OED's claim is, however, supported by the fact that the first appearance of the word in print can be traced to a 17th century cookbook by François Massialot, published in Paris in 1692. While the word meringue first appears in print in English in an early translation of Massialot's book, similar "white biskit bread" appear in a 1604 recipe book by Elinor Fettiplace. So, it seems clear, that the origins of the meringue are, well, unclear.
What is a Meringue?
A basic meringue consists in three elements – egg whites, sugar, and an acid (cream of tartar, lemon juice, or vinegar are all examples of a good acidic ingredient). By beating these ingredients together, the baker uncoils the strands of egg protein and adds air, building a foamy structure. The heat generated by the friction of the beating further adds to the protein's elasticity. Finally, the acid helps stabilize and coagulate the proteins. Since the temperature of the egg whites is key here, for best results, start with room temperature egg whites, rather than cold ones. Meringue batter is typically baked on low temperature until it is set but not browned, resulting in chewy meringues.
Help! I Want to Make Meringue Cookies but…
Meringue Cookies Without Cream of Tartar
Good news! You can make meringue cookies without cream of tartar. Simply replace it with a similar amount of another acid. Lemon juice and white vinegar are excellent replacements.
Meringue Cookies Without Superfine Sugar
If your grocery doesn't stock superfine sugar and you just can't wait for an Amazon order to arrive, you can give regular granulated sugar a whizz in your food processor. This meringue cookie recipe calls for superfine sugar in order to minimize any risk of clumps of sugar in your meringue.
Some Basic Meringue Rules
1) Make sure there's no egg yolk mixed in with your egg white. The eggs won't reach stiff peaks.
2) Make sure your bowl is clean. Any oil can interfere with the egg whites fluffing up, so clean with soapy water and dry thoroughly before using.
3) Don't use a plastic bowl. Plastic bowls develop an oily coating over time and it can be difficult to thoroughly remove it. For best results, use a metal bowl.
4) The best way to separate your eggs is to start with cold eggs. So, separate, then let the whites sit out a little bit to warm up.
Uses for Meringues
While meringue "kisses" (piped into a conical shape using a star tip) have long been a favorite cookie, meringues are also the building blocks of many great cakes and more complex treats.
Meringues are also an excellent topping for cakes with a dense, custardy, filling. Key lime and lemon curd bases, for example, are often enhanced with a meringue topping.
The French dacquoise, is a meringue with ground nuts folded, and a key ingredient in our favorite Fancy French Mousse Cake.
Italian meringue is made by boiling sugar syrup and then adding it to the eggs. This makes for a more stable meringue and is ideal for projects like Baked Alaska, where the meringue needs to survive freezing and then toasting while still remaining equally fluffy.
Swiss meringue is beaten over a hot water bath and makes a dense, glossy meringue.
What to do in Hot, Humid Weather?
We're writing this post from the depths of winter, so it's hard to imagine making meringues in hot, humid weather. However, we also love to make a delicious lemon meringue pie when the weather warms. The bad news about this is that sugar is hygroscopic and will absorb any and all moisture around it — including from the air on a humid day. The good news is that you can plan ahead to counteract this if you're baking in a humid environment. Simply add a few teaspoons of cornstarch to your sugar. The cornstarch will absorb the liquid and eliminate the sad fate of a weepy meringue, guaranteeing perfect meringues even on the wettest of days.
I Made Some Meringue Cookies. What Should I do With All these Yolks?
Great question! Mousses of all kinds require lots of egg yolks, as do citrus curds. Here are a few recipes to get you started: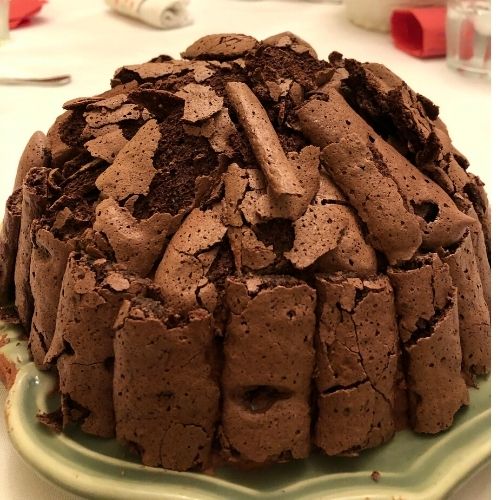 How Long do Meringue Cookies Last?
You can store meringue cookies, ideally in a cool and dry place, in an airtight container for several weeks.
Useful Tools for Making this Meringue Cookie Recipe:
Meringue Cookies
These meringue cookies are crunchy out the outside, with a chewy interior.
Equipment
baking sheet

parchment paper

disposable piping bag

round or star tip
Ingredients
3

large egg whites

at room temperature

1/4

tsp

cream of tartar

1

cup

superfine sugar

1/4-1/2

tsp

vanilla extract, almond extract, or peppermint extract

gel food coloring
Instructions
Preheat oven to 200 F and line two baking sheets with a piece of parchment paper.

Combine egg whites and cream of tartar in the bowl of a stand mixer fitted with the whisk attachment. If you don't have a stand mixer, you can do this in a large mixing bowl using a hand mixer, or you can use a lot of elbow grease and bicep muscles to hand beat.

Beat at medium-low speed until the eggs are frothy, about two minutes. Gradually add the sugar, continuing to beat until soft peaks form, about 5 minutes.

Add flavoring to the meringue mixture. Continue beating on medium-high speed until stiff peaks form. This means that when you remove your whip attachment and dip it in the egg white, and then flip it, the egg white will stand straight up.

Add the gel food coloring until you get the color and swirliness that like.

Transfer the meringue to a piping bag fitted with a plain round tip to make hearts. If you want to make meringue kisses, you'll want to use a star tip. To make the hearts, pipe two small upside down teardrops, with the sides touching. You'll need to increase the pressure to make the round part of the heart, and then decrease to make the pointy tip. To make kisses, place piping tip on the parchment paper and apply strong pressure for a second, then release and pull up. Pipe directly onto the prepared baking sheets.

Place sheets in preheated oven. Bake 1 hour, until the meringue is dry and can be lifted easily from the parchment, but the outside of the meringue is not browned. Turn off the oven and leave the meringue to dry out for 2 hours. Your meringue should be crunchy on the outside and with a chewy center.
Affiliate Disclosure: As Amazon Associates, we earn a small commission from qualifying purchases when you click on links embedded in this post.