If you've ever wanted your Nutella to manifest in cake form, this rich choc hazelnut cake is for you.
A Short History of Chocolate and Hazelnut
The region around Turin has long been known for both its hazelnut production, and its chocolate confectionery.
Turin was one of the earliest European chocolate-producing centers. Emmanuel Philibert, Duke of Savoy and ruler of the Piedmonte region in which Turin is located, served in the army of the King of Spain in the first half of the 16th century. At the time, Spain, through its recent encounters in the New World, was the only country importing cocoa to Europe. Emmanuel Philibert must have tasted cocoa (likely in hot chocolate form) at the Spanish court. He brought it back with him to Turin. By 1678, there was enough local demand for Turinese chocolate makers to request, and receive, a license to officially produce chocolate. Chocolate continued to largely be consumed in hot chocolate form until the early 19th century, when chocolate candies were invented.
In 1806, the Napoleonic blockade brought the trade of cocoa into Italy to a screeching halt. Creative Turinese chocolate-makers ground up local hazelnuts in order to extend the use of the little cocoa they still had left. And so, a surprisingly delicious combination was born. In 1852, local chocolatier Caffarel introduced chocolate hazelnut candies shaped like a cigarette butt, known as as "givu", local dialect for a cigarette stub. During the 1865 carnival, in a stroke of marketing genius, Caffarel had representatives dressed as Gianduja, a carnival character representing an honest peasant from the Piedmontese countryside, hand out the the candies. The name Gianduja stuck to the hazelnut chocolate treat, and the chocolate's popularity — perhaps through their affiliation with a local hero–grew.
All About Gianduja
Gianduja traditionally represents the city of Turin in Italian Commedia dell'Arte. He is known for his love of wine, beautiful women, and delicious food. The name Gianduja derived from the Piedmontese dialect name "Gioann dla Doja", or "John of the Jug."
About this Chocolate Hazelnut Cake
The texture of the cake is very moist, thanks to the high proportion of nuts and butter. This easy recipe comes together in a few minutes in a food processor and has a very short bake time, making it perfect for a last minute dessert. This dense chocolate cake also freezes beautifully and is a great make-ahead option.
More Chocolate Nut Treats
Chocolate and nuts are a magical marriage. Here are a few more of our favorite treats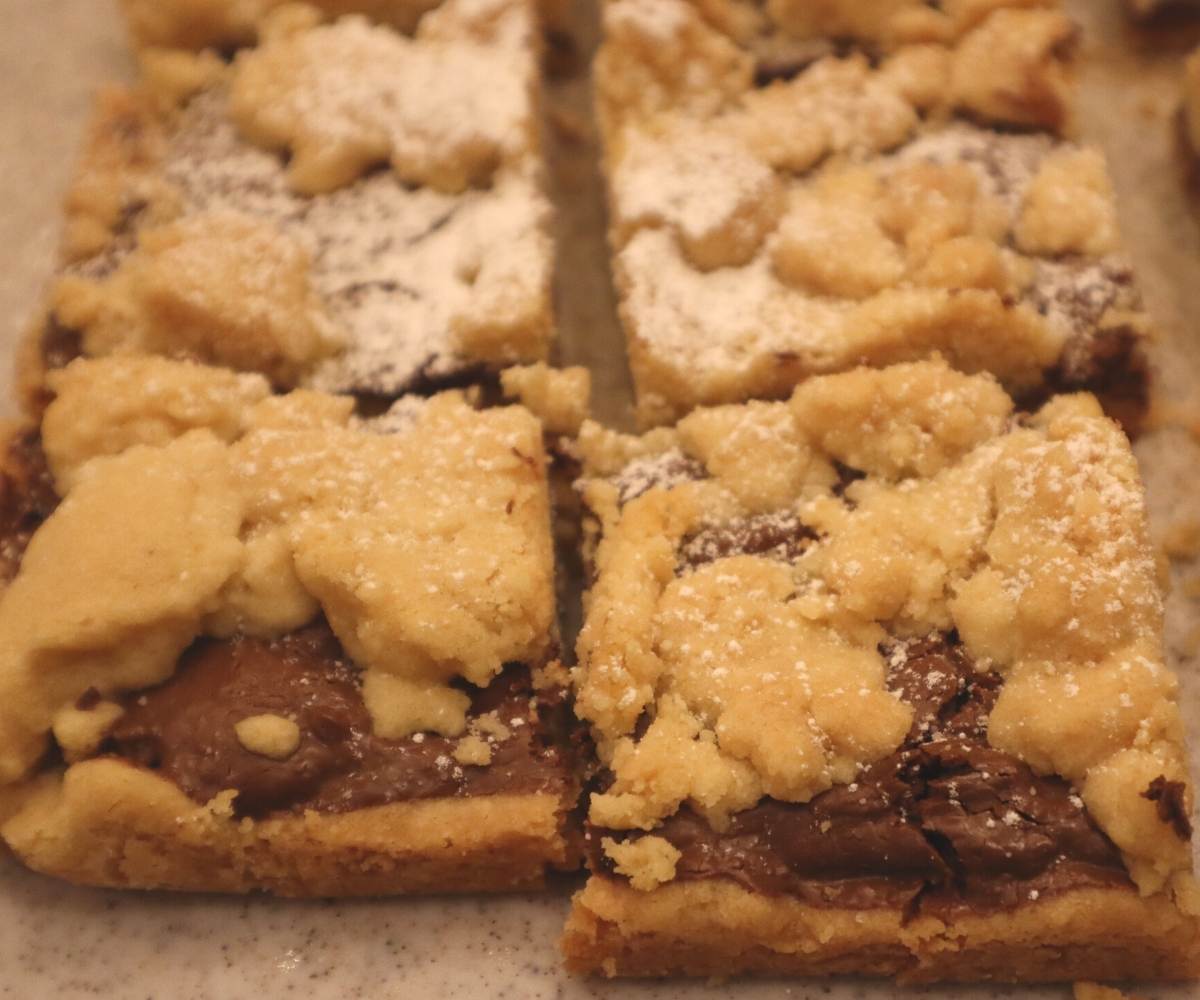 Useful Tools for Making this Chocolate Hazelnut Cake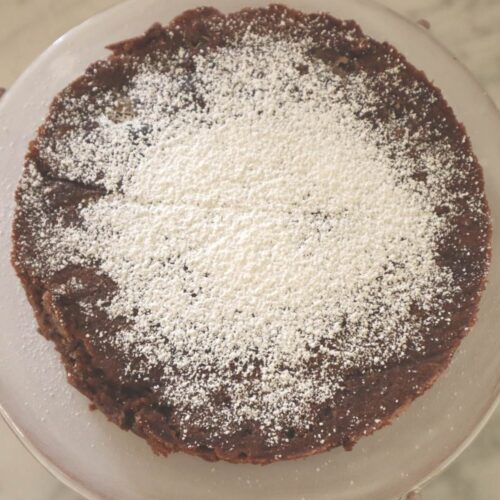 Chocolate Hazelnut Cake Recipe
If you've ever wanted your Nutella to manifest in cake form (perhaps wee bit less sticky and sweet), this rich chocolate hazelnut cake is for you.
Equipment
9 inch springform pan

parchment paper
Ingredients
1

cup

hazelnuts

4

oz

semisweet dark chocolate

1

cup

butter at room temperature

1

cup

sugar

5

eggs

1/2

tsp

grand marnier

optional – we find that it really enhances the hazelnut flavor

1/2

cup

all purpose flour

1/4

cup

powdered sugar to decorate the cake
Whipped cream (optional)
1

cup

heavy cream

1

tbsp

powdered sugar

1

tsp

vanilla extract
Instructions
Preheat oven to 325 F. Grease and line a 9-inch springform pan with parchment paper.

In the bowl of a food processor, grind the chocolate and hazelnuts together until a paste forms.

Add the butter and sugar to the ground hazelnuts and chocolate mixture and pulse until thoroughly incorporated.

Add the grand marnier, then the eggs, one by one.

Scrape down the bowl, then add the flour to the wet ingredients.

Use a rubber spatula to scrape the cake batter into the prepared pan. Use an offset spatula to level the batter as it will set in the shape that you put it in the oven!

Bake 20 to 25 minutes until a cake tester inserted into the center of the cake comes out clean.

Turn onto a wire rack, and let fully cool.

Dust the top of the cake with powdered sugar, or top with a large dollop of whipped cream.
For the whipped cream
In the bowl of a stand mixer, using the whisk attachment, beat the cream, icing sugar, and vanilla extract on medium speed until soft peaks form. Use a rubber spatula to plop on the cake, or put the whipped cream in a piping bag fitted with a star tip for a more decorative effect.
To decorate:
We feel that this cake is so rich that it doesn't require a chocolate frosting, but enjoy with a side of whipped cream, chocolate whipped cream, or just sprinkled with powdered sugar.
Notes
This cake keeps perfectly in an airtight container or wrapped tightly in plastic wrap for several days.
Affiliate Disclosure: As Amazon Associates, we earn a small commission from qualifying purchases when you click on links embedded in this post.