Are we alone in spending the winter dreaming of summer rhubarb? This rhubarb dream bar recipe showcases the best of summer rhubarb. It has layers of tender shortbread-like crust, creamy almond filling, and tart rhubarb tops.
Rhubarb Dreams
We acknowledge that while many of us dream of rhubarb, we might each have our own rhubarb dreams. For some, a rhubarb dream bar might have more of a rhubarb custard topping. Others might prefer juicy rhubarb topped with a crumble topping. For us, rhubarb dream bars combine our favorite flavors – fresh rhubarb and almond-scented frangipane.
A Short History of Rhubarb
The rhubarb plant is native to China, where it was first cultivated for medicinal purposes. Rhubarb appears in Chinese and Greek medical texts as early as 200 BCE. Rhubarb, along with spices and other luxury items, traveled along the Silk Road. It reached Europe in the 14th century via Aleppo and was known as "Turkish Rhubarb." Later, overland routes were developed through Russia. The Russian state's quality control system for rhubarb, known as the "brak," made it especially prized in 18th century Europe. In Europe, too, rhubarb was primarily used for its medicinal qualities. In the late 18th century, increasing demand stimulated the cultivation of rhubarb on European soil. As it became more available, cooks experimented with rhubarb. Rhubarb arrived on the culinary scene just as sugar was becoming more inexpensive and available and so, has most often found itself stewed with sugar in a pie, crumble, or bar form. British cooks will turn up their noses at the American preference for combining rhubarb with strawberry for an even sweeter dessert.
More Summer Treats
Rhubarb season is April-July, so we think of it as an early summer treat. Looking for a few more ideas to get your summer off to a sweet start? Look no further!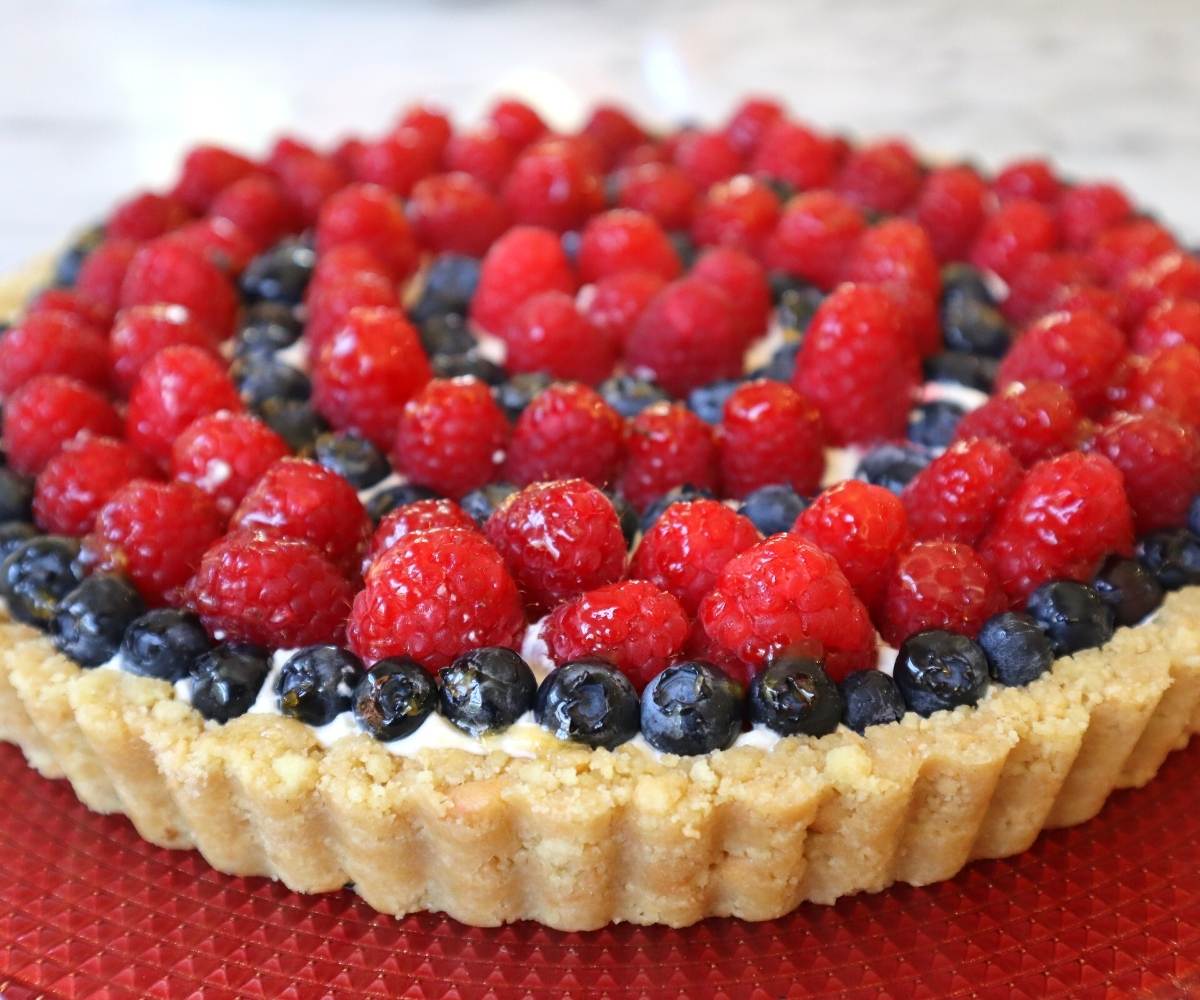 Useful Tools for Making this Rhubarb Dream Bar Recipe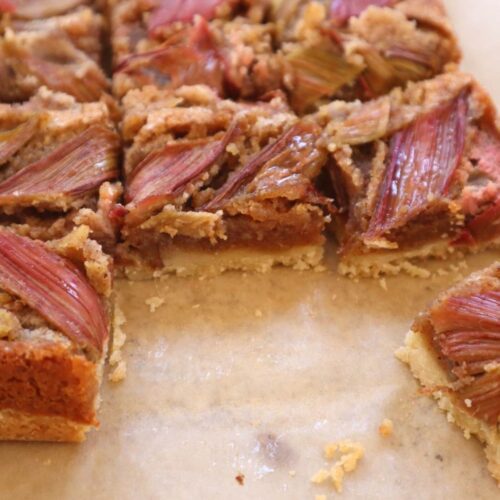 Rhubarb Dream Bar Recipe
Are we alone in spending the winter dreaming of summer rhubarb? This rhubarb dream bar recipe showcases the best of summer rhubarb with layers of tender shortbread-like crust, creamy almond filling, and tart rhubarb.
Equipment
food processor

8 x 8 inch square pan

parchment paper
Ingredients
For the buttery shortbread crust:
1

cup

all purpose flour

1/4

tsp

salt

1/4

cup

granulated sugar

1/2

cup

cold butter

unsalted
For the filling:
1

cup

blanched almonds

2/3

cup

sugar

1/4

tsp

salt

1

tsp

vanilla extract

1/2

tsp

almond extract

1

large egg

4

tbsp

unsalted butter at room temperature
For the rhubarb topping:
1/2

lb

rhubarb

1

tbsp

sugar
Instructions
Preheat oven to 350 F. Grease and line an 8 x 8 inch square pan with parchment paper.
For the crust:
Combine the crust ingredients in the bowl of a food processor. Process until the mixture forms large clumps, roughly 30 seconds to 1 minute.

Transfer the pie crust to the prepared pan. Don't bother cleaning out the food processor as you'll need it to make the filling. Press the dough evenly into the bottom and 1/4-inch up the sides of the baking pan. Bake for 15 minutes, until very pale golden brown. Transfer the hot crust to the freezer to cool while you finish preparing the filling and topping.
For the filling:
In the food processor, combine the almonds and 2/3 cup sugar and process until the almonds arevery finely ground.

Add the salt, vanilla, and almond extracts, and the egg, and process until well blended.

Add the butter and process until smooth.
For the top layer:
Rinse and slice each rhubarb stalk lengthwise in half. Then, chop each rhubarb stalk half on an angle into 1 1/4 inch segments. The top and bottom of each segment should fit together to form a "v" shape.
To Assemble:
Pour the filling into the baked crust and smooth the top.

Arrange the rhubarb segments in a chevron pattern.

Sprinkle the fruit with 1 tbsp sugar.

Bake for 45 to 55 minutes, until the dessert bars are golden brown on top and a toothpick inserted into the almond filling comes out clean. Let cool in the baking dish on a wire rack, and then transfer to the refrigerator to fully chill. The rhubarb bars are much easier to slice with a sharp knife when very cold.
Notes
Rhubarb dream bars keep well for several days in the refrigerator, wrapped tightly in plastic wrap.
Affiliate Disclosure: As Amazon Associates, we earn a small commission from qualifying purchases when you click on links embedded in this post.