This easy ube pancake recipe takes all of the sweet earthy deliciousness of ube and packs it into pancake form.
What is Ube?
Ube is a bright purple yam native to southeast Asia. It has a slightly sweet earthy flavor. It is sometimes confused with taro root, a similar-hued tuber, but taro is less sweet often used in savory contexts. Ube's natural sweetness, on the other hand, makes it perfect for dessert applications, with the exception being ube pandesal, a sweet-savory breakfast bread.
How do I get Ube?
Fresh ube is not widely available in the United States, although it can be found in well-stocked Asian markets and Filipino supermarkets. Ube halaya, ube powder, and ube essence, on the other hand, are relatively easy to come by and keep well. They also require minimal effort to prepare and incorporate into recipes, whereas fresh ube must first be steamed and mashed. This recipe relies on a combination of ube halaya and ube extract for its ube-ness.
What is Ube Halaya?
Ube Halaya is also known as ube jam or purple yam jam. Recipes vary somewhat, but it is typically a combination of mashed ube with some or all of the following ingredients: condensed milk, coconut milk, sugar, and/or butter. Unlike fruit jam, it does not contain pectin, since the mashed ube is already quite stiff. It is easy to find pre-made in jars.
How Did Ube Get So Hot?
Ube has been steadily gaining in popularity in the United States, but there is no doubt that Trader Joe's ube mochi pancake mix played a significant role. Introduced in May 2020, in the depths of the pandemic, when all there was to look forward to was making sad pancakes in solitude, the bright purple hue of the trader joe's pancake mix took the world by storm.
Can You Give Me Some Pancake Tips?
Why yes! We wrote a whole post outlining our favorite pancake tips. We personally find fluffy pancakes strangely tricky (we prefer baking to frying).
I Bought All This Ube for These Ube Pancakes. Now What?
Looking for another delicious way to use up all the ube products you bought to make these pancakes? Check these out: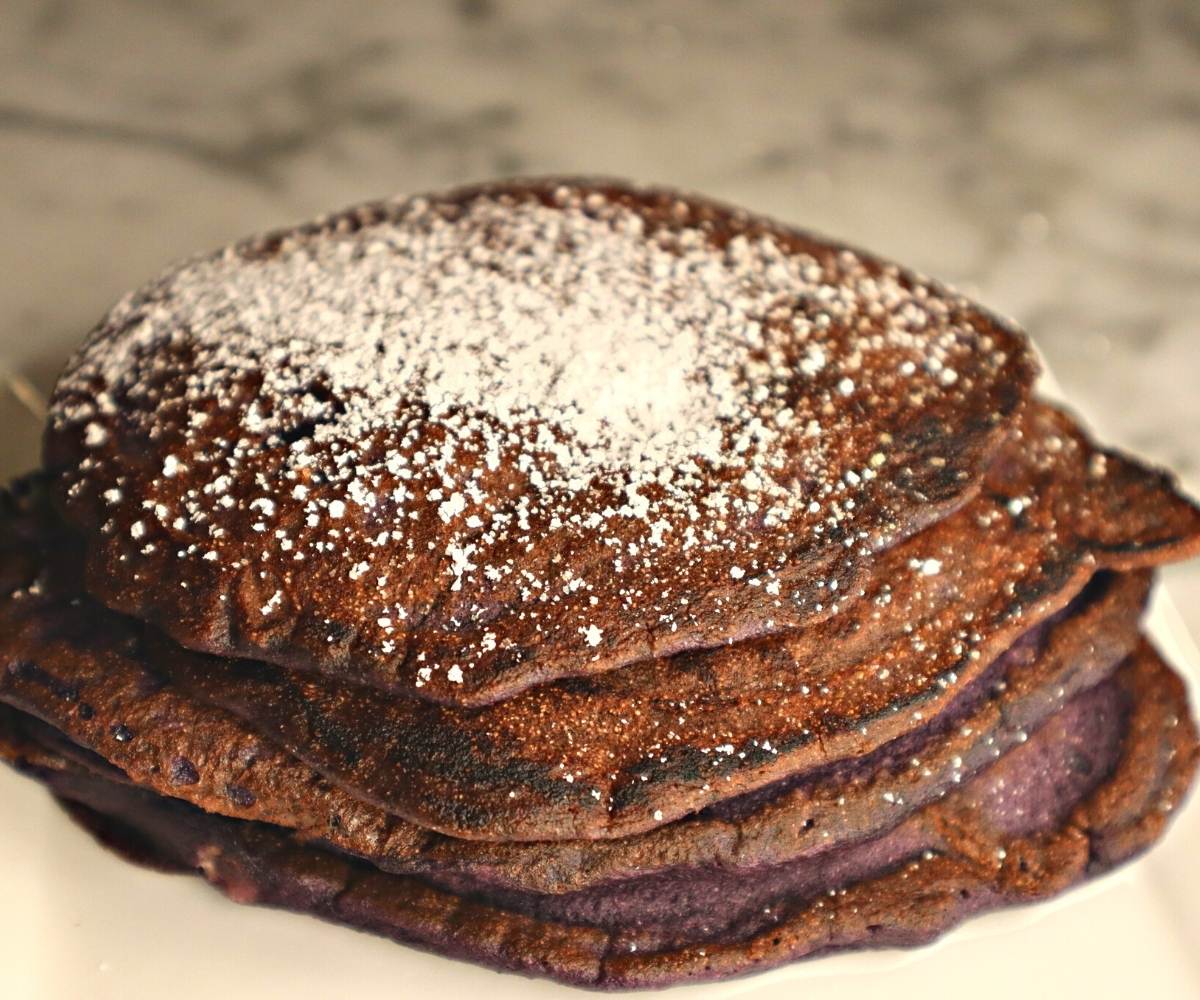 Inspired by this recipe to incorporate more Southeast Asian flavors in your breakfast? Check out this pandan waffle recipe: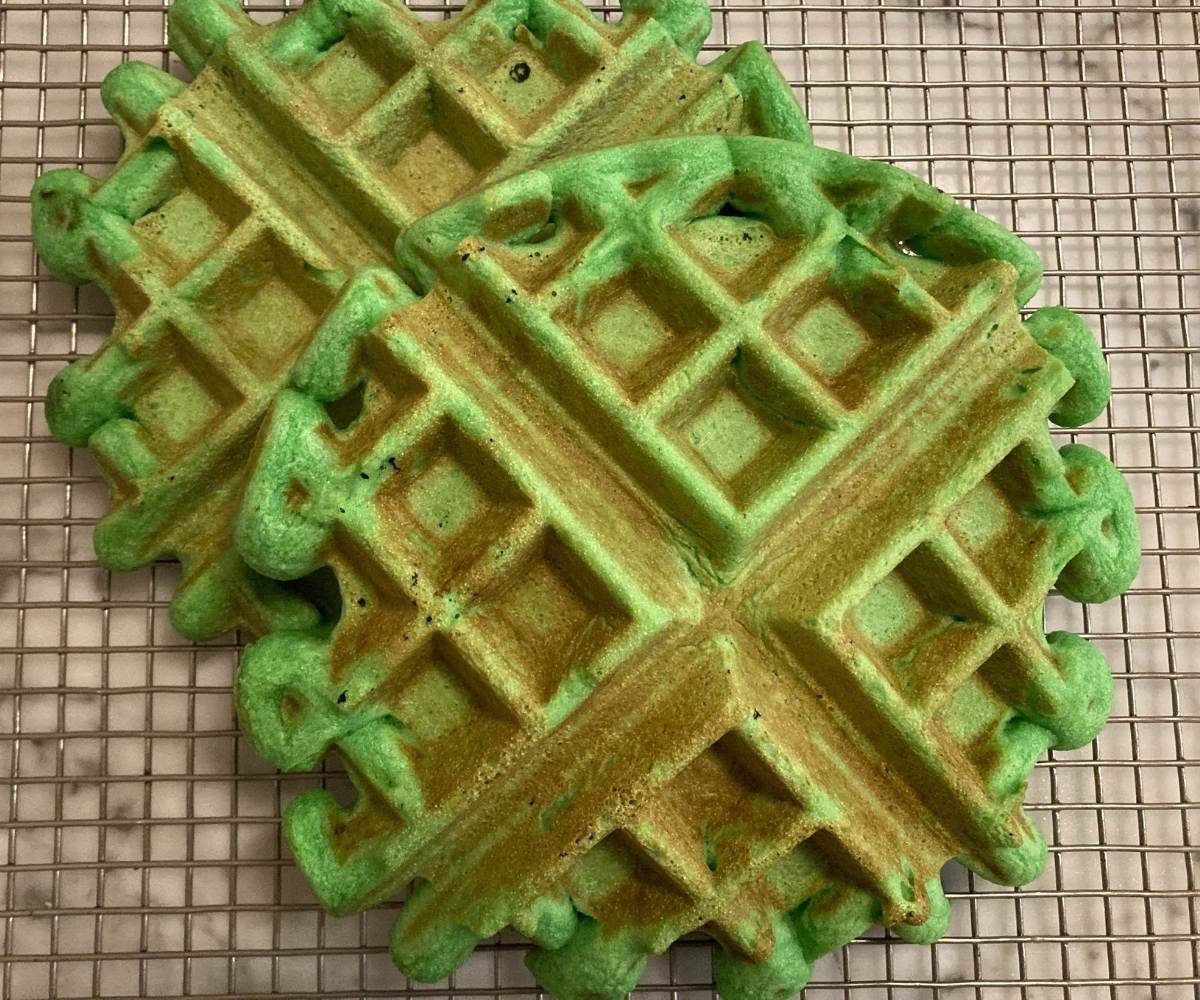 Useful Tools for Making this Ube Pancake Recipe
Ube Pancake Recipe
This ube pancake recipe brings all of the earthy, vanilla flavor, and beautiful bright purple color of ube to your breakfast!
Ingredients
1 1/2

cups

all purpose flour

3 1/2

tsp

baking powder

1

tsp

salt

1

tbsp

sugar

2

tbsp

melted butter

1

egg at room temperature

1 1/4

cup

milk or coconut milk

1/4

cup

ube halaya
Instructions
In a large mixing bowl, stir together the melted butter, coconut milk, egg, ube halaya, sugar, and ube extract.

Sift the dry ingredients (flour, baking powder, salt) into the wet ingredients.Stir to combine. The batter should have a smooth consistency.

Heat a nonstick frying pan on medium-low heat. You'll know it's ready when you toss some water into the pan and it sizzles immediately on contact.

Spray the nonstick skillet with vegetable oil. Pour 1/4 cup of ube pancake batter for each pancake into the skillet (we typically make 4 small pancakes at a time). Immediately pour 1 tbsp water into the pan and cover to steam the pancakes for 2 minutes, or until the surface of the pancake is covered with small bubbles.

Flip the pancake and let cook another 2-3 minutes until both sides are purplish-brown and the pancake is cooked through with crispy edges.

We like to serve these sprinkled with a little powdered sugar. Cut open to revel in the beautiful purple color!
Notes
The ube batter will keep for several days in an airtight container, assuming that neither your eggs nor milk were on the brink of expiry.