Are you a waffle lover suffering from waffle ennui? This pandan waffle recipe will pep you right back up!
What is This Pandan Waffle Thing?
Pandan Waffle is actually a translation of the Vietnamese dish known as Bánh Kẹp Lá Dứa. Pandan Waffles are similar to regular waffles in that they are crispy on the outside and fluffy on the inside. However, these bright green waffles are flavored with pandan extract (more on that below), and creamy coconut milk. In addition to all purpose flour, rice flour (not to be confused with glutinous rice flour or mochiko flour) and tapioca starch, are added. These change give the waffle a crispy outer texture and chewy interior. The flavor is mildly sweet from the coconut milk and pandan extract.
Who Invented the Pandan Waffle Recipe?
Culinary historians suspect that waffles traveled to Vietnam along with the French in the 19th century. Early Vietnamese waffles may have been thin and crispy, more like a pizzelle than their current fluffy form, and cooked over a charcoal fire. It's unclear when the waffles became puffier and pandan-infused. Or, perhaps, we'd simply need to read Vietnamese to understand this better. In any case, these are generally purchased at a Vietnamese bakery and are a favorite street food.
What is Pandan?
Pandan is a tropical plant. Its green leaf has a sweet and mild flavor. In Asia it is used much like vanilla in the West, as an additive flavor to sweets. In Vietnam, waffles are traditionally made by boiling the fresh pandan leaves in coconut milk in order to infuse the coconut milk with the pandan flavours. Since pandan leaf can be hard to come by, but pandan extract (also known as pandan paste) is easily available on Amazon or at your local Asian grocery, this recipe relies on pandan extract for its green color and pandan flavor.
Making These Mochi
You can replace the rice flour with sweet glutinous rice flour for a more chewy version of this waffle. The mochi waffles don't crisp up quite as much, but make up for it with a nice chewy interior.
Do I Need to Let My Batter Rest?
Some versions of this recipe call for resting the batter before cooking it, based on some strange theories about allowing the gluten to relax. There isn't that much gluten in this recipe (only in the all-purpose flour) and frankly, if we wanted to take a long time to make waffles, we'd be making them Liege style. Our advice is head straight to the waffle maker, unless it's convenient to make this batter ahead of time (in which case, by all means, rest away!).
What Should I Put on My Pandan Waffle?
These are traditionally eaten as a snack or dessert in Vietnam, topped with whipped cream or ice cream. The batter has a fair amount of sugar in it, so if you're enjoying them for breakfast, they definitely don't need maple syrup. We like them plain, or sprinkled with a little bit of powdered sugar for decoration.
Help! I Made Too Many Pandan Waffles!
These pandan waffles are very rich, so even though the recipe only makes a small number of waffles, you may find yourself with leftovers. This pandan waffle recipe keeps extremely well in the freezer. You can revive frozen waffles in the toaster oven. This will infuse your house with a wonderful pandan aroma and allow you to enjoy pandan waffles on a more regular basis!
Useful Tools in Making This Recipe
You'll need a waffle iron to make this recipe. Need to buy one? Be sure to check out our Top 7 Criteria in Buying a Waffle Maker!
Here were the two winning waffle makers:
Waffling About
Uncertain whether you really were struck with waffle ennui and want to read some more sweet, sweet waffle recipes just to be sure? Here are some of our favorites!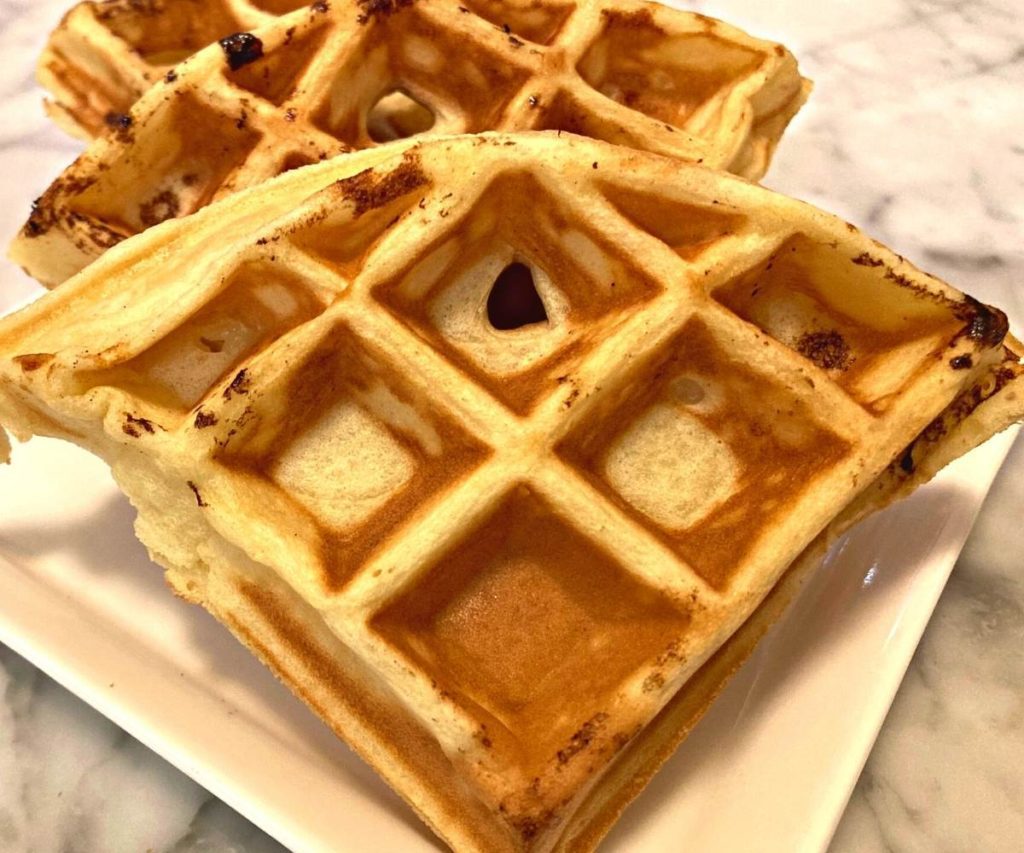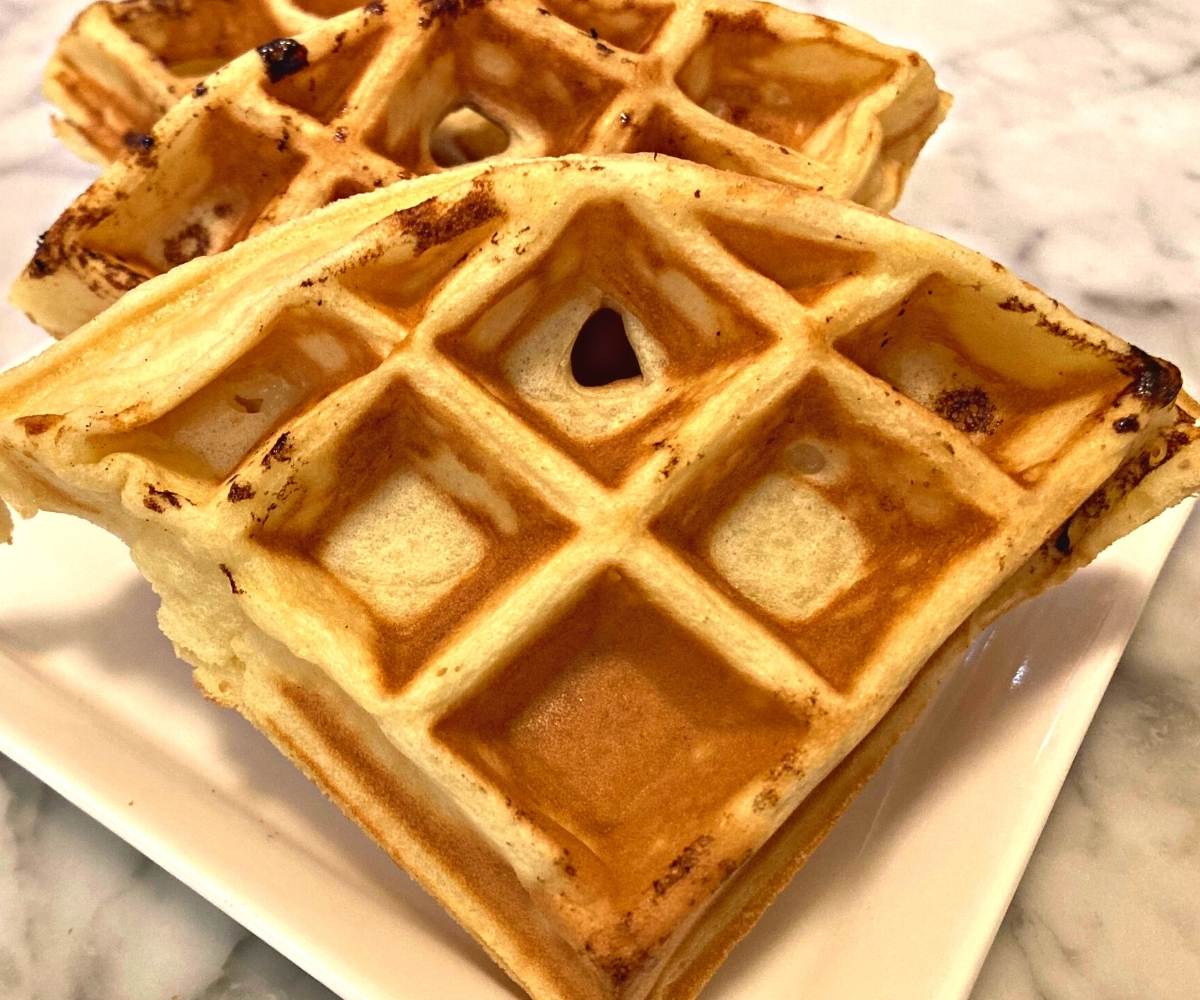 Mini Waffles Galore!
All of these waffles can also be made in miniature form. If you happen to have a mini-waffle maker and are seeking further inspiration, check out this awesome post about recipes for mini-waffles from our friends over at wonderfulcook.com.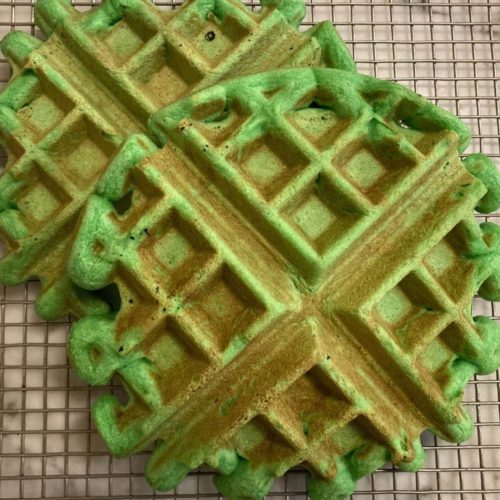 Pandan Waffle Recipe
These vibrantly green waffles have a crunch exterior, chewy interior, and mildly sweet coconut-pandan flavor. Yum!
Ingredients
2

cups

rice flour

(not sweet glutinous rice flour unless you are making a mochi version of this recipe)

1

cup

all purpose flour

2

tsp

baking powder

4

tbsp

tapioca starch (or corn or potato starch)

1/4

tsp

salt

4

large eggs

2

cups

coconut milk

1/4

tsp

pandan extract

1

cup

sugar
Instructions
Preheat your Belgian waffle iron while you make the pandan waffle batter.

In a medium bowl, sift together the dry ingredients (rice flour, all purpose flour, baking powder, tapioca starch, and salt).

In a large mixing bowl, whisk together the eggs, coconut milk, pandan extract and sugar, until combined.

Add the dry ingredients to the wet ingredients and stir with a whisk until well combined.

When the "ready" light turns on, pour batter onto the waffle iron. Let it cook for a couple of minutes, until the waffle maker signals that its ready and your green waffle is golden brown on the outside.

Remove to a cooling rack if cooking for a crowd, or, ideally, a waiting plate.
Affiliate Disclosure: As Amazon Associates, we earn a small commission from qualifying purchases when you click on links embedded in this post.