This French waffles recipe is much eggier and lighter than the Belgian version.
A Short History of Waffles in the United States
Waffles were common throughout Europe beginning in the Middle Ages, and came to North American with the first Dutch immigrants. A rising wave of waffle popularity peaked when Thomas Jefferson returned from his appointment as first US ambassador to France in 1789 with a treasure trove of French recipes and a long-handled waffle iron. Waffle "frolics," essentially a party involving making and eating homemade waffles together, were all the rage from the 18th century into the mid-20th century. By the mid-20th century, many households owned electric waffle makers. Frozen "eggo" waffles (first unsexily named "froffles") were also common, and waffles became an every day occurrence, rather than something worthy of a party.
Hosting a Waffle Frolic
Want to host your own waffle frolic? Here are some ideas for decadent toppings to tempt your guests:
maple syrup
powdered sugar
whipped cream
fresh fruit
fresh berries
ice cream
Waffle Taxonomies
So many waffles, so little time! Here's a brief summary of the different waffle types and what makes each recipe special.
Belgian waffle batters rely on yeast as a leavening agent, and contains a high proportion of butter to flour and milk. There are two main varieties of Belgian waffles – the Liege waffle has a denser cakey texture and is studded with pearl sugar. The Brussels waffle is a little lighter and skips the pearled sugar.
These French waffles contain no leavener other than eggs, and almost no butter. Their relative lightness paired with the deep pockets of a Belgian waffle iron makes them perfect for topping with all kinds of decadent things like maple syrup and whipped cream!
Typical American waffles have a high proportion of fat and sugar to flour and milk, and are leavened with baking powder. This is even more the case if you prefer your waffles chocolate-flavored.
Wanting to give your tastebuds a full tour of the world via waffles? You must also try these Pandan waffles and Mochi waffles.
Waffle Considerations
Picked your waffle? Make sure you've got a great waffle maker to cook it in! Check out our article on how to pick the best waffle maker.
Storing this French Waffles Recipe
Uncooked batter can be stored in an airtight container in the refrigerator for several days, assuming your eggs and milk are not near their expiration date. Cooked waffles can be placed in a freezer-safe ziplock bag and frozen for several weeks. They can then be revived in a toaster oven (homemade eggos!) as needed.
Useful Tools for Making this French Waffles Recipe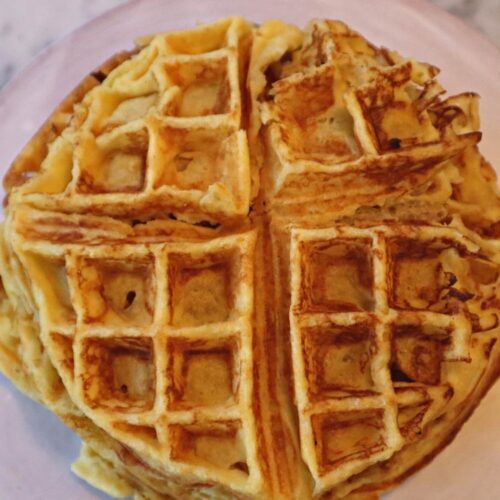 Gaufres: Best French Waffles Recipe
These French-style waffles are lighter as air, but somehow just as decadent (like a mousse, in breakfast form).
Ingredients
1 3/4

cups

whole milk

1/2

tsp

salt

1/4

cup

unsalted butter

cut into 1/2 inch slices

1 1/2

cups

all-purpose flour

6

large eggs at room temperature

1

cup

heavy cream

1

tsp

vanilla extract

1

tbsp

sugar
Instructions
Heat one cup of milk in a saucepan, and add the sugar, salt and butter. Bring to a simmer until the butter is fully melted, then remove from the heat.

Add the flour, beating with a wire whisk. Return the mixture to the heat, stirring constantly until the mixture comes away from the sides of the bowl.

Pour the mixture into the bowl of an electric mixer using the whisk attachment, or use a hand mixer with a large bowl. Beat the batter on low, until slightly cooled. Add the eggs, two at a time, beating well after each addition. Beat the remaining milk, cream, and vanilla extract into the egg mixture. The batter will be thin an very lumpy and you will wonder how it could ever produce anything delicious.

Heat up your waffle iron and, once hot, spray it with some cooking spray. Pour the appropriate volume of waffle batter into your hot waffle iron (ours needed about a half cup of this very runny batter). Cook according to your waffle iron's instructions.

Remove the waffle with a fork and top with tasty treats. If you're hosting a waffle frolic, place waffles on a rimmed baking sheet in a warm oven (heated to about 150 F) to keep warm until you're ready to serve.
Affiliate Disclosure: As Amazon Associates, we earn a small commission from qualifying purchases when you click on links embedded in this post.