In peak blackberry season, the fruit is sweet and juicy and perfect for baking into just about anything, but especially this blackberry scone recipe.
A Long History of Blackberries
Humans have been eating blackberries since 8,000 BC. Native to Armenia, Blackberries spread across Europe like a weed. Blackberries arrived in America along with European colonists in the 18th century and quickly spread their thorny, berry-filled branches. In addition to being a tasty fruit, blackberries have a long history of medicinal uses. They were used for the treatment of mouth ailments and cancer sores, among many other things. The blackberry species hybridizes easily and there are many blackberry variants on the market. In California's Central Valley, Ollalieberries, which are 2/3 blackberry and 1/3 raspberry, proliferate in the summer. Marionberries, named after Marion County, Oregon, and were developed specifically to thrive in the western Oregon.
British vs. American Scones
There is a lot of hot debate about the definition of British scones vs. American scones on the internet. After some exhaustive research, we confess, we can't really tell the difference, except that British scones seem to contain less sugar and definitely don't come glazed. So, technically, these might be British. Or are they American?
Sconing About
Just can't get enough scones? Neither can we. Here are some of our favorites: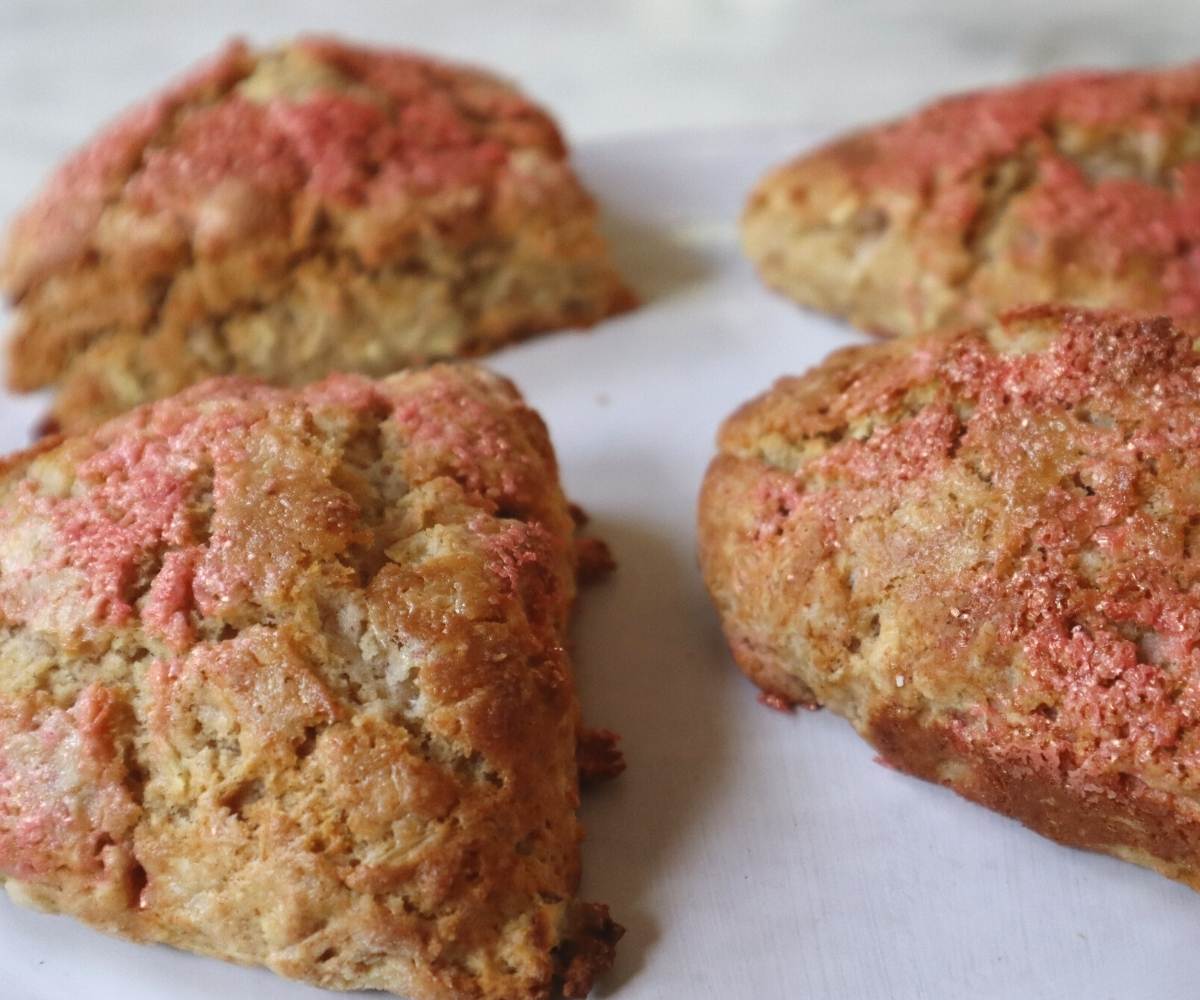 Useful Tools for Making this Blackberry Scone Recipe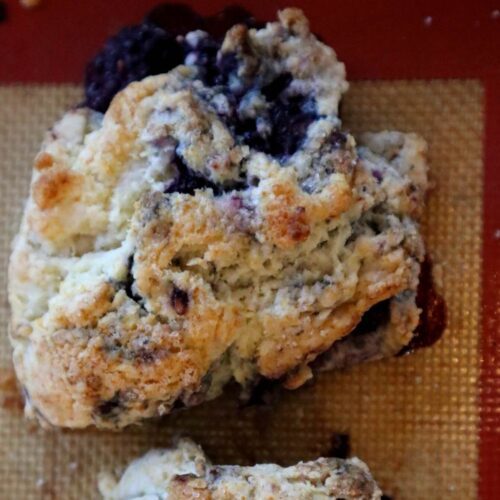 Blackberry Scone Recipe
In peak blackberry season, the fruit is sweet and juicy and perfect for baking into just about anything, but especially this blackberry scone recipe.
Equipment
pastry cutter

pastry brush

baking sheet

parchment paper
Ingredients
2

cups

all purpose flour

1

tbsp

baking powder

1/2

tsp

salt

2

tbsp

sugar

5

tbsp

unsalted butter

1

cup

fresh sweet blackberries

this can be replaced with some blueberries or raspberries for mixed berry scones

1/2

tsp

lemon zest

1

cup

heavy cream

plus more for brushing the scones

1/4

cup

coarse sugar or turbinado sugar for dusting
Instructions
Preheat oven to 400 F and line a pan with parchment paper.

Cut butter into half inch cubes. Set aside in a small bowl in the refrigerator while you complete the next steps.

In a large bowl, sift together the flour, baking powder, salt, and sugar.

Add the cold butter to the large mixing bowl of dry ingredients. Cut the butter into the flour mixture using a pastry blender until the mixture looks like coarse crumbs or a coarse meal.

Very gently, fold the fresh blackberries and lemon zest into the batter, taking care not to mash the fruit.

Make a well in the center of the dough, and pour the heavy cream into the middle.

Use a fork to very gently toss the dough, until a rough, shaggy dough forms. Again, don't mash those juicy blackberries!

Turn the scone dough out onto a floured surface and knead very gently, 2-3 times, until the dough comes together.

Shape the dough into a rectangle, roughly 12 x 3 x 1 1/4 inches. Cut the rectangle in half, then cut the pieces in half again, giving you 4 (3-inch) squares. Cut the squares in half on a diagonal, for a classic triangle shape. Alternatively, pat into a large, roughly 6-inch disc shape, and cut into 8 portions.

Place the scones on the prepared baking sheet. Brush the tops of the scones with heavy cream, and sprinkle with a bit of coarse sugar for some extra crunch.

Bake 15 to 20 minutes until golden brown. Let cool 5 minutes in the pan, then transfer to a wire rack to cool. Serve warm scones with some salted butter.
Notes
These buttery scones will keep 1-2 days in an airtight container, but are best consumed on the day that they are prepared. The next day, revive by cutting in half, toasting, and slathering with butter. Serve with a cup of coffee for a special breakfast or afternoon snack.
Unbaked scones can be frozen for up to six months in a ziplock bag. Brush frozen scones with cream, top with turbinado sugar, and bake 20-25 minutes until golden brown.
Affiliate Disclosure: As Amazon Associates, we earn a small commission from qualifying purchases when you click on links embedded in this post.