We come from a family of carrot cake lovers. We are always in search of the best carrot cake recipe. Sometimes, though, going back in time is the best way to move forward. This old fashioned carrot cake recipe wtih pineapple won rave reviews from our tribe of carrot cake experts.
A Short History of Carrot Cake
Humans have been enjoying desserts made with carrots since the Middle Ages. Carrots (which win the prize for sweetest vegetable other than sugar beets) were a cheaper alternative to sugar and honey. Carrots, and presumably carrot puddings, came with European colonists to the New World. During World War II, two separate events on either side of the Atlantic brought carrot cake to the forefront of home baking. In England, rationing had made sugar expensive and unavailable. Carrots were promoted by the Government as patriotic way to sweeten one's cakes. In the United States, following an overproduction of canned carrots, the manufacturer needed creative ways to use up the canned carrots. In a classic tale of American home baking, he partnered with housewives to develop new recipes. Carrot cake recipes ensued. After World War II, carrot cake fell out of favor. It came back with a bang, along with granola and jogging, in the health craze of the 1970s. Because it contained so many healthy ingredients, carrot cake was presented as a healthy dessert, with dubious results.
What's Up with the Pineapple in this Old Fashioned Carrot Cake Recipe with Pineapple?
Fresh pineapple contains a magical enzyme named bromelin that does a wonderful job at tenderizing protein. None of that wizardry occurs in this cake, since we're using canned pineapple. The heat in the canning process destroys the enzyme — and there's virtually no protein in carrots. So, if you thought that this carrot cake was more tender because you included pineapple, you were dreaming (or you read too many sloppy baking science blogs). On the other hand, the pineapple does add just a nice mellow sweetness!
And Coconut, Really?
We, too, were anti-coconut in the context of carrot cake (but pro-coconut in many other contexts) until we tried this recipe. If you use unsweetened flaked coconut, you'll find that it adds just a bit of texture and a hint of coconut flavor, without being overpowering.
Cake Decorating
Not in the mood for a layer cake? You can bake this in a 9 x 13″ pan for an easy sheet cake. Simply reduce the icing quantities by half.
In search of a more petite carrot cake for your celebration? This recipe is for yoU: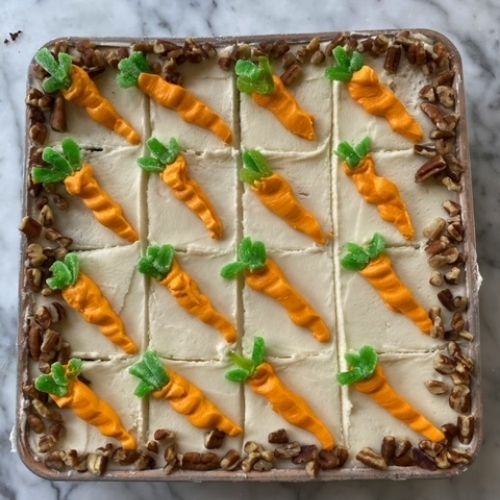 If you're making a layer cake, this cake looks very cute with crushed nuts along the side. In the photo above, we were serving this cake as a birthday cake, so we decorated with fresh flowers for a festive look. You can use a little bit of plastic wrap to keep non-edible flowers from touching your frosting. Love layer cakes? So do we! Check these out: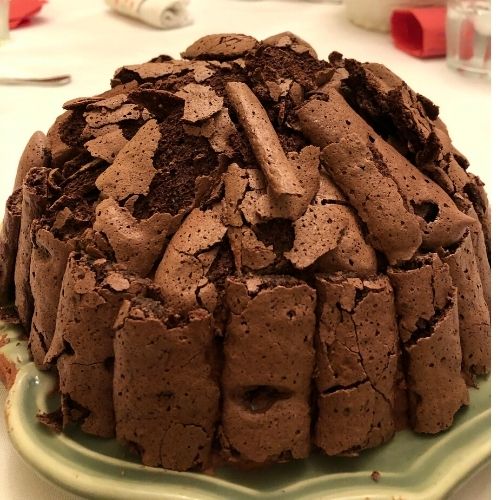 Carrot Grating Tips
If you haven't yet tried grating your carrot in a food processor using the grater attachment, we urge you to try it! You'll suddenly find yourself incorporating grated carrots into all manner of dishes. (French grated carrot salad, anyone? It's a wonderful antidote to carrot cake excesses). The food processor makes grating carrots so darn easy, and you won't find carrot bits in every nook and cranny of your kitchen (or is that just our over-enthusiastic hand grating?). If you don't have a food processor, we like to use a flat grater, balanced over the top of a large glass pyrex measuring cup.
Homemade Cream Cheese Frosting
We find traditional cream cheese frosting a bit cloying. It's SO sweet and SO heavy. So, we've included below our favorite recipe for a cream cheese-whipped cream frosting. We vary the proportions of cream cheese to whipped cream depending on the context. Here, it's more cream cheese forward to stand up to the sweetness of the fluffy carrot cake
Useful Tools for Making this Old Fashioned Carrot Cake Recipe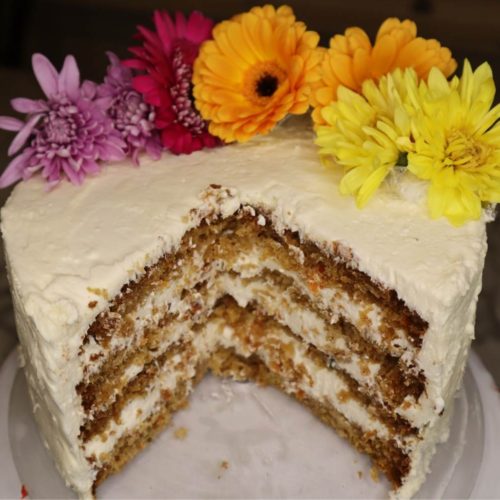 Old Fashioned Carrot Cake Recipe With Pineapple
This is our new favorite old recipe. The addition of pineapple (and coconut) results in a delicately flavored, very moist, carrot cake.
Equipment
2 8-inch round cake pans

parchment paper

cake stand

offset spatula

cake comb
Ingredients
For the carrot cake
2

cups

all-purpose flour

2

tsp

baking soda

1

tsp

baking powder

1

tsp

salt

2

tsp

ground cinnamon

1 3/4

cups

white sugar

1

cup

vegetable oil

3

large eggs

1

tsp

vanilla extract

2

cups

shredded carrots

(about 4-6 large carrots)

1

cup

unsweetened flaked coconut

1

cup

chopped walnuts

(optional)

1

8-oz can crushed pineapple

drained
For the Creamy Frosting:
16 oz

cream cheese

at room temperature

1/4

cup

sour cream

1

quart

heavy cream

1

cup

powdered sugar

1

tsp

vanilla extract
Instructions
To make the cake:
Preheat oven to 350 F. Grease and line the bottom of two 8-inch pan with parchment paper.

Sift together the dry ingredients in a large bowl.

Add the sugar, vegetable oil, eggs, and vanilla extract. Stir to combine.

Add in the carrots, flaked coconuts, walnuts (if using), and pineapple. Stir to combine.

Scrape half the cake batter into each prepared pan. Place the cake pans in the oven and bake for 45 minutes, rotating halfway through, until the cakes are golden brown and a cake tester inserted into the center of the cake comes out clean.

Remove the pans to a wire rack and let cool 5 minutes, before removing the cakes from the pans. Let fully cool and, if you have time, chill in the refrigerator or freezer to make the slicing easier.
To make the creamy frosting:
In the bowl of a stand mixer, using a paddle attachment, beat the softened cream cheese on medium speed until smooth. Add in the sour cream and powdered sugar and beat on low speed until fluffy and without lumps.

Switch to the whip attachment and whisk in the heavy cream and vanilla extract until the frosting is stiff, with a mousse-like texture.
To assemble:
Slice the tops off of each cake and then slice each cake in half. You should have four cake layers. Place one cake half on a cake stand. Cover the top of the first layer with icing. Top with another cake half. Repeat, alternating frosting and cake, ending with the flat bottom half of a cake. Ice the tops and sides and decorate.
Affiliate Disclosure: As Amazon Associates, we earn a small commission from qualifying purchases when you click on links embedded in this post.