This South African Pancake Recipe produces delicious thin pancakes that are a bit like a cross between French crepes and American pancakes.
A Short History of the Pannekoek
Pannekoek are the obvious descendants of Pannenkoek, or a Dutch pancake (not to be confused with a Dutch baby). Pannekoek clearly arrived in South Africa with the Dutch, who first established a trading post in the 17th century to refuel vessels en route between Holland and Indonesia. During the intervening 300 years, Pannenkoek (Dutch) became Pannekoek (Afrikaans).
In Holland, pancakes are very large (up to 12 inches) and served flat. They are often eaten in a restaurant that specializes in pancakes, known as a pannenkoekenhuis, with a knife and fork. They are served with both sweet and savory fillings – cheese and bacon are a particular favorite. One of our favorite memories of visiting Amsterdam involved an all-pancake meal: a savory pancake, followed by a sweet one. How's that for a pancake lover?
South African pancakes, on the other hand, generally are served with a sweet filling. They are served rolled and sprinkled with cinnamon sugar. We have never been to South Africa, but understand that they would typically be served as an on-the-go food, or at outdoor events, like a church bazaar (much like a French crepe, which is our favorite street food).
Pancake Taxonomy
This South African pancake recipe is like a cross between an American fluffy pancakes and a French delicate crepes. This makes this easy pancake recipe the perfect gateway for those who live in fear of flipping a French crepe (please, don't pretend that we're alone in this phobia). It's a little less thin and delicate, so holds together easily as you flip it. We like to make these South African pancakes in a non-stick metal hexclad pan, using a metal offset spatula to flip them, which makes the pancake making even easier.
Best Tools to Make this South African Pancake Recipe
Pancake Toppings
While the traditional topping for this South African recipe is cinnamon sugar and a slice of lemon, you can easily modify to suit your tastes. Here are some tasty topping ideas:
Maple syrup
Nutella
Ice Cream
Whipped cream
Fresh fruit
What Is Pancake Weather?
Many versions of this recipe proclaim that it is perfect "for a rainy day" as if it is a labor-intensive project requiring being stuck at home. By that token, it's also perfect for a Covid quarantine, but we digress. It's really not as it comes together easily and the pancakes cook very quickly. So, we hereby declare every day South African pancake recipe day. And, while we're on the topic of pancake weather, did you know that pancake ice is a thing?
Pancake-ing About
Love pancakes? Here are some other ideas to tickle your fancy: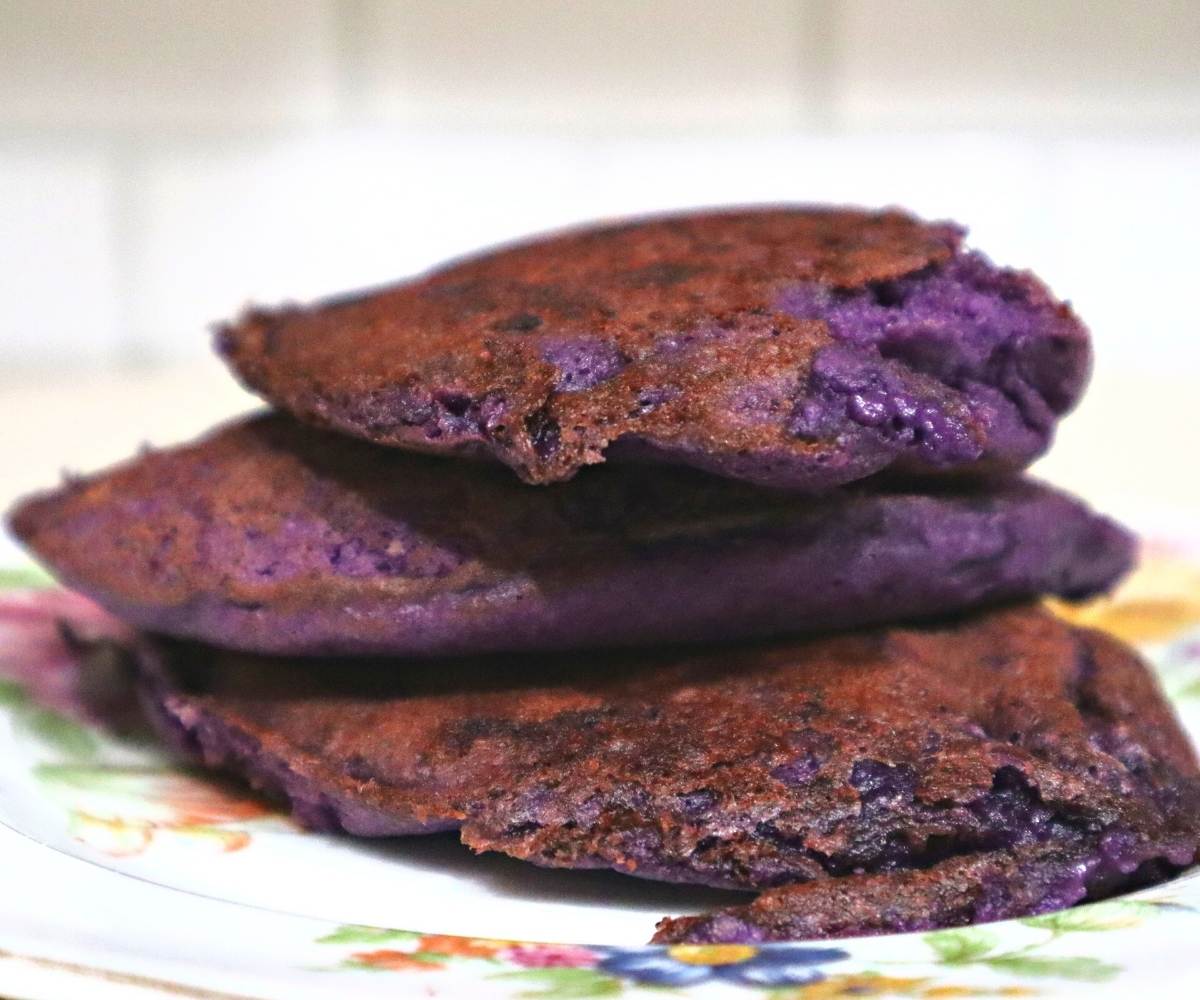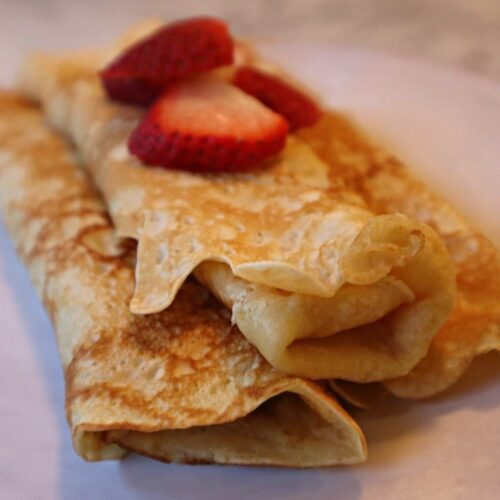 Pannekoek: A South African Pancake Recipe
These pannekoeken are like a cross between a fluffy American pancake and a French crepe. This makes them delicate and light, but a little easier to handle.
Equipment
12 inch nonstick skillet

offset spatula
Ingredients
For the Pannekoeken
1

cup

all purpose flour

1/2

tsp

salt

3/4

tsp

baking powder

2

large eggs

1

cup

milk

3

tbsp

melted butter

1

tbsp

sugar

1/2

tsp

vanilla
For the Filling
1/4

cup

granulated sugar

1

tbsp

ground cinnamon

1

lemon
Instructions
In a large bowl, using a balloon whisk, beat together the vanilla, sugar, melted butter, milk, and eggs.

Sift the dry ingredients (flour, salt, and baking powder) into the wet ingredients. Beat to thoroughly combine.

If you have time, let the batter rest for at least an hour to allow the gluten in the flour to relax. If you don't, carry on. Your pancakes will still be delicious.

The pannekoek batter should be quite liquidy and smooth. The consistency of the batter should be something like heavy cream. If it is too thick, you can add a little water to thin it.

Combine the cinnamon and sugar in a small bowl and set aside.

Heat a 12 inch non-stick pan over medium-low heat. You will know that the pan is hot enough when water dropped on the surface sizzles immediately. Arm yourself with a large metal offset spatula and a ladle, and prepare to pour and flip.

When the pan is hot, spray bottom of pan with cooking spray.

Pour a ladleful of pancake batter in a steady stream into the hot pan. Our ladle holds about a half cup of batter. Immediately swirl the pan to coat the bottom in a thin layer of batter.

Cook until small bubbles form throughout the surface of the pancake and the edges begin to lift away from the bottom of the pan. Use the offset spatula to flip the pancake. Allow it to cook another 30 seconds to one minute, until golden brown. You'll need to keep a close eye on the pancake, adjusting to ensure that you have the right temperature.

Remove the cooked pancake to a plate and add a sprinkling of cinnamon sugar and a drizzle of lemon juice. Roll it up, top it with a lemon slice, and consume immediately.
Notes
Hot Tip From a Reader:  A reader with extensive pannekoek-making experience has advised us that any leftover pancakes should be stored in the refrigerator, dusted with cinnamon sugar.  The cinnamon sugar will caramelize on the pancakes overnight, making a perfect breakfast for the next morning!
Affiliate Disclosure: As Amazon Associates, we earn a small commission from qualifying purchases when you click on links embedded in this post.