One of our favorite places in Los Angeles is Sycamore Kitchen. Among the plethora of delightful treats, our favorite is a lemon-thyme flourless almond cake. This flourless almond cake(let) is a shameless attempt to recreate one of our favorite desserts. Here, however, we allow the diner to pick between a passion fruit or chocolate flavored treat (or both!).
A Short History of this Flourless Almond Cake Recipe
We seem to bake and consume massive quantities of almond treats (see below). So, we were surprised by how little information we could find about the history of baking using almond meal. This cake's closest cousin is the French amandier cake. Amandier means "almond tree." This explains the cake's exclusive reliance on almond meal, instead of flour. The cake is in the "fondant" family of French pastries, which means it is extra dense with a moist crumb. Its rich texture comes from a hefty does of butter and eggs, as well as replacing wheat flour with almond flour. This flourless cake is a naturally gluten free recipe.
Of Almonds and Almond Cakes
While they may have refined it, the French don't seem to have invented cakes made with ground almonds. Almonds are native to Iran, and versions of almond cake still exist in Persian cooking. Traders brought almonds with them along the silk road, and by the early Bronze Age (2000 BCE), farmers had planted domesticated almond along the Eastern Mediterranean in modern-day Israel and Lebanon. We know this because archaeologists have found nuts at sites around the Mediterranean, most famously in King Tut's tomb. Through war, colonization, and trade, almonds spread from the Eastern Mediterranean to first Greece. The Romans brought them from Greece back to Italy, and then to France and Spain. Spanish missionaries later brought almonds with them to California.
Versions of this cake zig-zagged the Mediterranean during the early modern period. Variations can be found in Egyptian, Portuguese, Libyan, Spanish, and Italian cooking, among many others. North African versions seem to hold the butter, and include an orange flavoring and sometimes olive oil. Modern European versions typically include dairy (butter or cheese) and a chemical leavener. Whichever the origins of your almond flour cake, you will find it to be an easy recipe, requiring a handful of simple ingredients.
Fun Almond Facts
1) What's the difference between almond flour and almond meal?
Per Bob's Red Mill, makers of both, virtually none. Bakers use almond flour and almond meal relatively interchangeably. Almond flour is slightly more finely ground. In some cases, almond flour is made with blanched peeled almonds, and almond meal is made with whole (unpeeled) almonds.
2) Where are almonds grown?
Although almonds are native to Iran, 80% of almonds today are cultivated in California.
3) What flavors pair well with almonds?
We're proposing a deep dark chocolate ganache and a passion fruit curd here, but almond pairs well with so many other flavors. Here are some other toppings you could include in your almond cakelets:
raspberry jam
cherry jam
orange curd
lemon curd
4) Serving suggestions
These adorable little sweets are the definition of a snack cake, since they can be consumed in a few greedy bites. Serve with fresh fruit or fresh berries for afternoon tea. Or, as a diminutive end to a big festive meal.
More Almond Cakes!
We love almond flavor and texture. If you're looking for more almond flour recipes, here are some of our favorite options: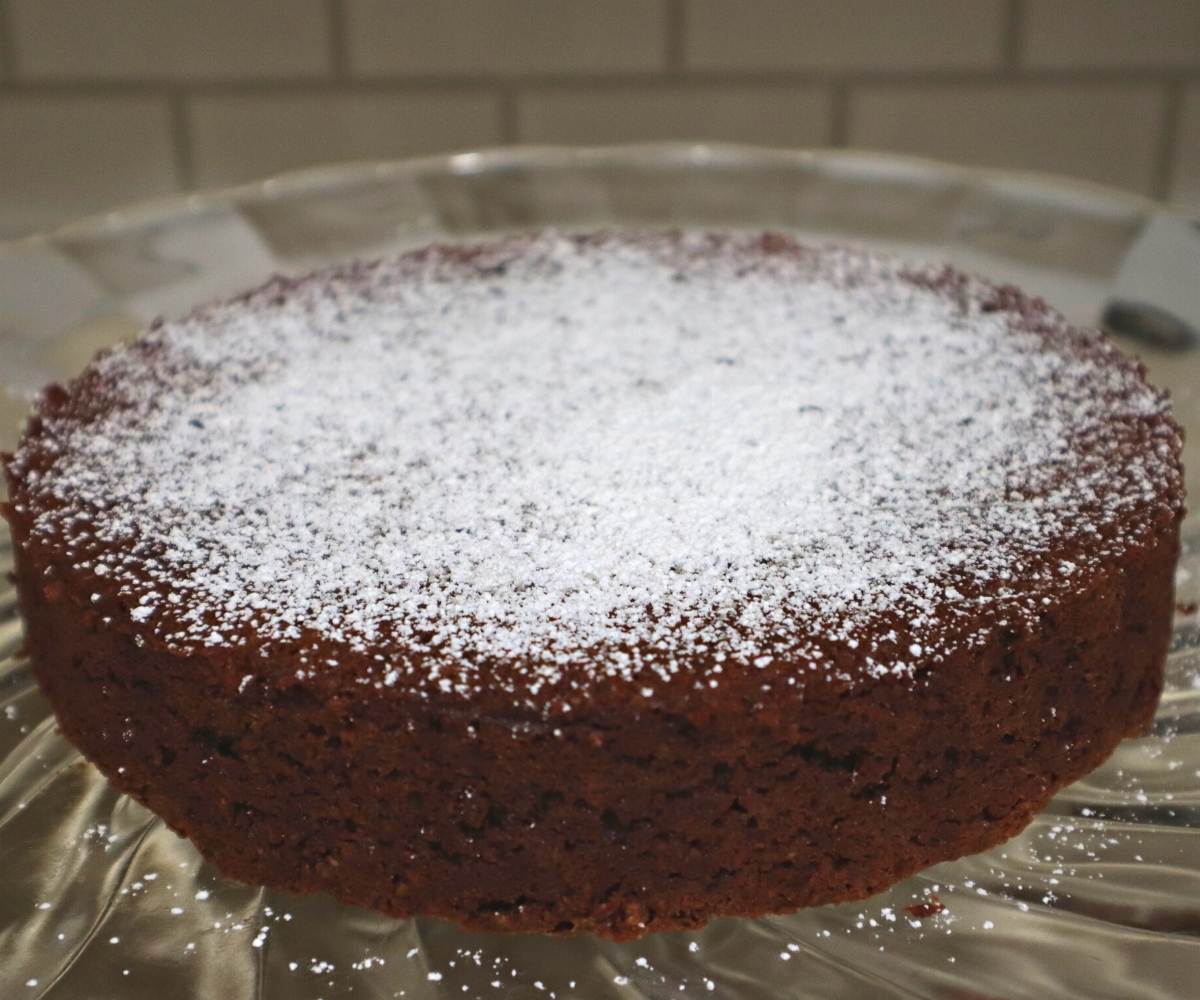 Useful Tools for Making this Flourless Almond Cake Recipe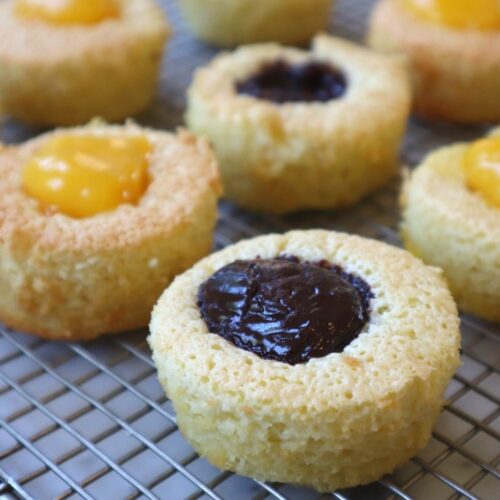 Chocolate and Passionfruit Flourless Almond Cake (lets) Recipe
These buttery, moist, flourless almond cakes are the snacking cakes of your dreams. You can fill them with any flavor you like.
Equipment
cupcake pan

mini cookie scoop
Ingredients
For the chocolate ganache
1/3

cup

heavy cream

3

oz

bittersweet chocolate

finely chopped
For the passionfruit curd
1/2

cup

granulated sugar

3

large egg yolks at room temperature

1/3

cup

passion fruit puree

1/4

cup

unsalted butter

1/4

tsp

salt
For the flourless almond cake (lets)
6

tbsp

melted unsalted butter

3/4

cup

almond flour or meal

3/4

cup

confectioners' sugar

1

pinch

of salt

2

large eggs at room temperature

a few drops of almond extract

1/2

tsp

vanilla extract

3

tbsp

cornstarch

1 1/4

tsp

baking powder

2

large egg whites

2

tbsp

granulated sugar
Instructions
Make passion fruit curd
Fill a medium sauce pot with 2 inches of water. Bring to a simmer. Set a metal bowl over the pot, making sure the bottom of the bowl doesn't touch the water.

Add the sugar, egg yolks, and passion fruit to the bowl. Whisk until eggs are incorporated. Add the butter and salt. Continue to gently heat egg yolk mixture until the butter has melted, stirring occasionally.

Once the butter has melted, switch to a wooden spoon. Stir continuously for about 8-10 minutes, until it has thickened enough that when you dip a spoon in the curd and then run your finger through it, your finger mark remains.

Remove from heat and strain thorugh a fine mesh seive into a small bowl. Cover with plastic wrap, adhering the wrap to the surface of the curd to prevent a crust from forming. Chill in the fridge at least two hours to thicken and cool.

Passion fruit curd can be made several weeks ahead of time. This recipe makes more than you will need for the almond cakelets, so be sure to enjoy some with your morning toast.
Make the chocolate ganache
In a heavy-bottomed saucepan, heat cream until bubbling. Remove from heat and add chocolate. Let sit for 1 minute. Stir until smooth. Transfer to a small container and freeze untilfirm, at least 30 minutes. Once chilled, use a small cookie scoop to scoop into 3/4-inch balls. Place on a plate in refrigerator until needed.

Chocolate ganache balls can be made up to a week ahead.
Make the cakelets
Heat oven to 350 degrees. Spray muffin tin with nonstick cooking spray.

Using a food processor, mix dry ingredients (almond flour, confectioners' sugar, cornstarch, baking powder and salt), about 30 seconds. Add eggs, vanilla, and almond extract, processing until smooth. Pulse in butter. Scrape the mixture into a large bowl.

In a separate bowl, using a hand-held mixer, or in the bowl of an electric mixer using the whisk attachment, whisk egg whites on low speed until foamy. Add sugar. Continue beating eggs whites on medium-high speed until stiff peaks form.

Using a rubber spatula, fold a third of the beaten egg whites into the almond mixture. Then fold in another third, followed by the final third. Ensure that no streaks remain, but do not overfold as the egg whites will keep your cakelets from being too heavy.

Use an ice cream scoop to measure batter into the prepared pan. Bake for 10 minutes.

Remove from oven, place 1 ball of ganache in half of each of the cakelets. Push the ganache ball halfway down into the batter. Use a small cookie scoop to portion out a tablespoon of passion fruit curd into the remaining half of the cakelets.

Return to oven and bake until light brown and a toothpick inserted into the cake (not the chocolate or the curd!) comes out clean and the top of the cake is golden brown, another 8-10 minutes.

Allow the cakelets to cool in the pan for 10-15 minutes. Run a sharp knife around the edge of each cakelet, then transfer to a wire rack to fully cool.

Just before serving, top each passion fruit cakelet with an extra scoop of passion fruit curd.

Sprinkle cakelets with powdered sugar just before serving, if desired.
Affiliate Disclosure: As Amazon Associates, we earn a small commission from qualifying purchases when you click on links embedded in this post.