While you can find thin pancakes throughout Europe, crepes are perhaps most associated with France. There are two kinds of French crepe recipes – a buckwheat variety for savory fillings, and a plain flour kind, for sweet fillings. We love both, but if you're writing a blog devoted to sweets, it's best to focus on sweet crepes!
A Short History of French Crepes
Like all famous desserts, French crepes have a ridiculous and improbable origin story. While we don't know who invented them, we do know that French crepes come to us from the French northern region of Brittany. Apparently a Breton housewife dribbled some porridge on the stove top. Rather than wiping it off like any normal human, she cooked it, decided it was tasty, and the rest is history. The word "crepe" comes from the Latin word "crespus," or crispy. The term surely refers to the crispy edges that one can find on a well prepared crepe.
How To Eat Crepes
While you can find crepes on most street corners in France, if you are lucky enough to travel to Brittany (or its neighbor Normandy), you will find dedicated creperies (or crepe restaurants), which feature an all-crepe menu. Savory crepes (made with a buckwheat flour) come with a range of cheese, vegetable, and protein options as fillings. Dessert crepes come are filled with a wide array of delicious options — nutella, jam, lemon juice and sugar, maple syrup, fresh fruit, to name a few. You must, of course, consume the entire meal with Norman hard cider.
A French crepe is usually made on a very large electric cooking surface (roughly two feet in diameter). The crepe maker uses a T-shaped wooden stick to spread the batter thinly. The crepe is cooked until the first side is golden brown, then flipped with an offset spatula. While the second side cooks, toppings are added, then the crepe is folded into four. On a street corner, the crepe is then stuffed into a small paper bag and surrounded with paper napkins, so you can eat your crepe while you walk. If you want to eat an authentic French crepe, be sure to fold it, rather than roll it. At home, a crepe is make in a flat shallow pan with copious amounts of butter to make it easier to get in flip
Crepe Day
Like all great foods, crepes also have a dedicated day, La Chandeleur (Candlemas). You might say that crepes are the original food to have their own dedicated day, since crepes became associated with Candelmas back in the 5th century, when Pope Gelasius I first handed them out to pilgrims (apparently crepes had already made their way from Brittany to Rome by that point? Or, the story might just be apocryphal.). Like all great holidays, Candlemas is associated with scary rumors. If you can carry a candle back from church, you won't die in the coming year. If you can successfully hold a coin in one hand while flipping a crepe with the other, you'll have a prosperous year. Rumor has it that on February 2nd, 90% of French people consume a crepe. We find this statistic a little improbable, but that shouldn't keep you from joining the crepe-eating masses and enjoying a crepe on February 2nd, or any other day really.
1980s Crepe Party
Growing up, weekend mornings were a frequent occasion for a crepe party. Our mother was the proud owner of a Tefal branded electric crepe maker. You could dip the teflon surface in the batter, let it cook, and then flip it off, with nary a concern about a stuck crepe. The downside of all of this is that we may have eaten our weight in teflon as the device aged.
Pancaking It Up
Crepes are, of course, the French equivalent of an American pancake. Looking for more pancake recipes? Check these out: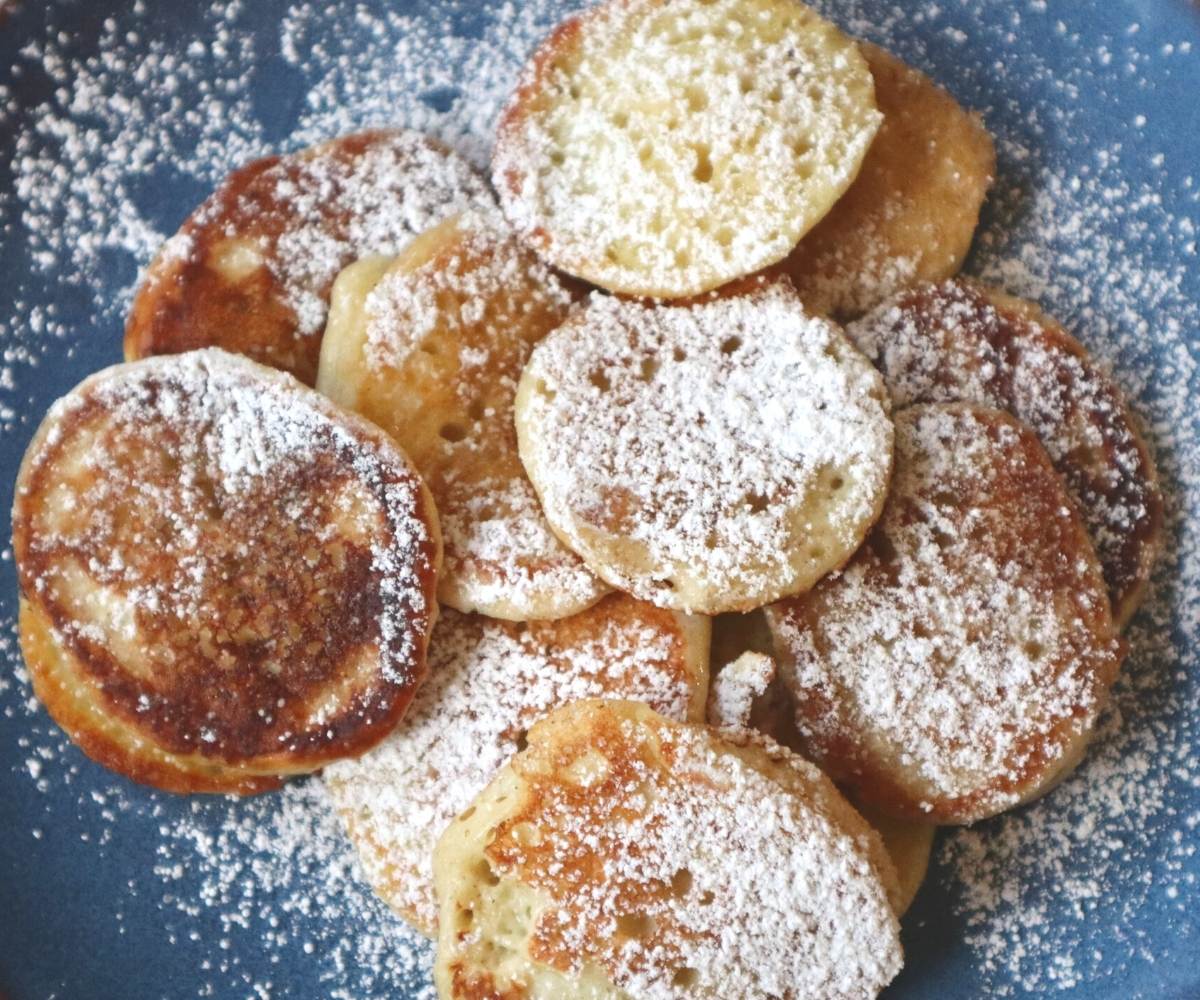 Useful Tools for Making Your Favorite French Crepe Recipes
If you make crepes on a regular (say, weekly) basis, you may find it worth your while to invest in one of those fancy crepe pans. If not, the good news is that any old skillet will do.
Best of The French Crepe Recipes
While thin pancakes can be found throughout Europe, crepes are perhaps most associated with France. There are two kinds of French crepe recipes commonly found in France – a savory buckwheat variety for savory fillings, and a plain flour kind, for sweet fillings. We love both, but if you're writing a blog devoted to sweets, it's best to focus on sweet crepes!
Equipment
1 crepe pan

1 offset spatula
Ingredients
2

tbsp

unsalted butter

melted, plus more for frying

1

cup

all-purpose flour

1 1/2

cups

whole milk

1

large egg

1

pinch

of salt
Instructions
Put the flour, milk, salt, and egg in a blender and whizz to form a smooth batter. If you don't have a blender, simply pour the ingredients in a large bowl and whisk to fully combine.

Pour into a liquid measuring cup or jug from which you plan to pour out the batter as you cook. Our mother liked to let the crepe batter rest in the fridge overnight at this stage. Letting it rest will help the flour absorb the liquid and the gluten to relax. If you're short on time, just let it sit for 10 minutes while you melt the butter and let it cool. Stir the melted butter into the batter.

Heat your pan (this can be a special French crepe pan, or a nonstick pan, or any frying pan with a flat bottom and shallow sides) on medium heat. Melt a little butter in the bottom of the pan and wipe it off with a paper towel.

Ladle 2-3 tbsp batter into the center of the pan and quickly hold it up and swirl it so that the batter coats the base of the pan, forming a thin layer.

Let the crepe cook for a minute until the edges of the crepe are fully cooked and beginning to crisp, then flip crepe. Cook for an additional 30 seconds. Remove to a layer of parchment paper.

Continue cooking the remaining batter. Enjoy as you cook. The crepe will also keep between layers of parchment if you are cooking for a crowd.
Notes
Leftover batter can be covered in plastic wrap and kept in the fridge for several days.
Leftover cooked crepes also keep well covered in plastic wrap and can be reheated in the microwave.
Affiliate Disclosure: As Amazon Associates, we earn a small commission from qualifying purchases when you click on links embedded in this post.