This traditional German crumb cake recipe consists of a yeast-based dough topped with a butter-sugar crumble (aka streusel). Streuselkuchen, by its German name, is typically thin and baked on large sheet pans and cut into squares or rectangles.
A Short History of German Crumb Cake
Alfons Schubeck perfectly summarized the somewhat mysterious history of German crumb cake in The German Cookbook: "Although there is no written evidence that crumb cake was invented in Germany, its emergence is attributed to the cuisine of Silesia in the 19th century, which at that time was still [German]." German crumb cake recipes come in many flavors and variations, from apple cake, to sour cherry, to just plain old butter coffee cake. German bakers also sometimes add stone fruit, such as plums.
The word streusel comes from the German word "streuen" (to strew). It consists of flour and sugar cut with butter, which when baked, becomes a delicious crumbly topping. In Germany, streusel cakes are typically consumed in the afternoon with a cup of coffee. In America, we enjoy our coffee cakes at breakfast. We appreciated a warning on one of the recipes we read in researching this post that "German yeast dough contains large amounts of butter and sugar; it is not healthy."
More Breakfast Cakes
This german streusel cake is a good option if you are making breakfast for a crowd. Looking for more ideas for cakes that you can eat for breakfast? Here are a few great ideas!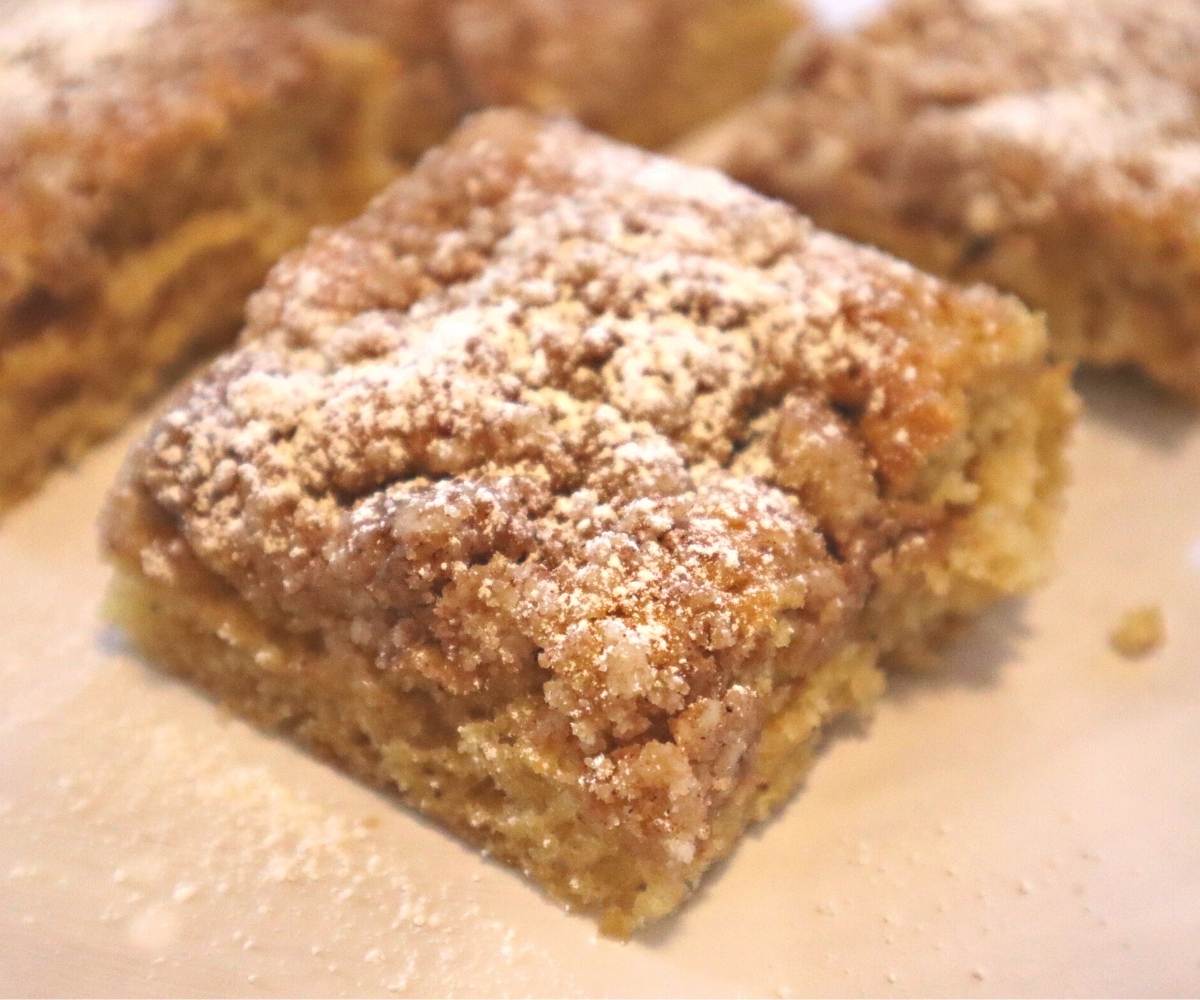 For the Love of German Baking
Love German cake recipes? Here are some more of our favorites!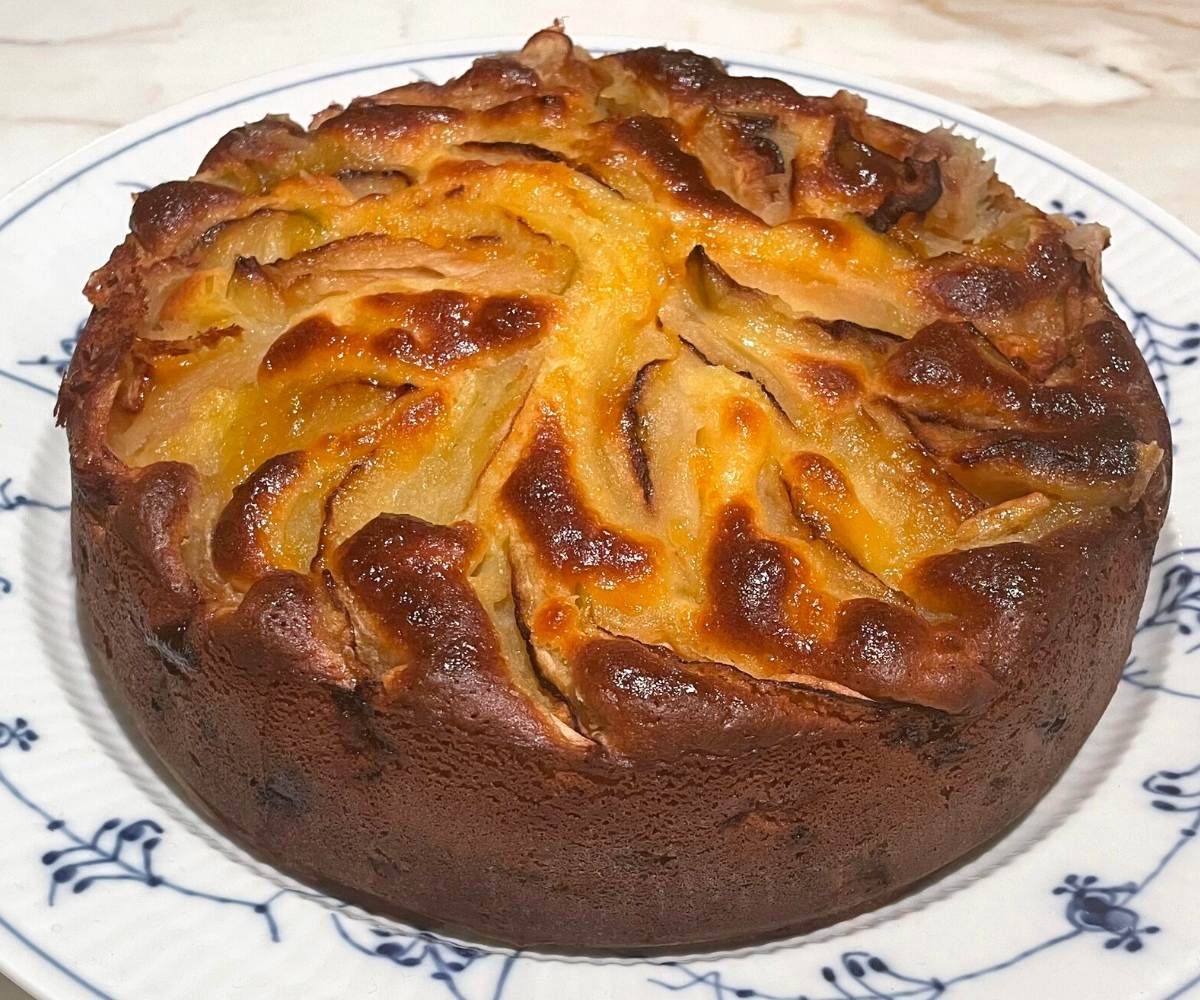 Tools for Making This German Crumb Cake Recipe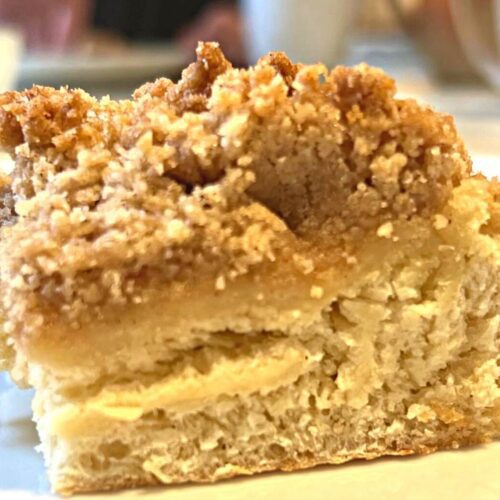 German Crumb Cake Recipe
This German crumb cake recipe consists in a layer of sweet yeast-based dough topped with crunchy crumbly streusel.
Equipment
9 x 13 inch pan

parchment paper
Ingredients
For the dough:
2/3

cup

milk

warm

3

cups

all purpose flour

2 1/2

tsp

active dry yeast

1/3

cup

granulated sugar

1

tsp

vanilla extract

a pinch of salt

1/3

cup

butter

at room temperature

1

medium-sized egg

at room temperature
For the streusel topping:
1/4

cup

milk or cold water to brush on dough

1

cup

cold butter

1/3

cup

white sugar

1/3

cup

brown sugar

1 2/3

cups

all-purpose flour
Instructions
Warm the milk in the microwave on the stove to around 105-115 F. Ensure that the temperature is below 140 F as yeast can be killed off at high temperatures.

Add the yeast to the warmed milk and let stand for 5-10 minutes until it begins to bubble.

In the bowl of a stand mixer using the dough hook attachment, or in a large bowl using a rubber spatula or your hands, knead together the flour, sugar, and yeast mixture. Continue kneading until well combined.

Add the vanilla, soft butter, egg, and salt and continue kneading for 5 minutes until the dough no longer sticks to the sides of the bowl.

Use your hands to shape the dough into a ball. Put the dough back in the bowl and place a clean kitchen towel over the top of the bowl. Set the bowl in a warm draft-free place and let the dough rise for an hour.

At the 45 minute mark, preheat oven to 350 F. Grease and line a 9 x 13 inch pan with parchment paper.

Remove the ball of dough to a well floured work surface and knead several times, then roll to fit inside the pan.

Put the dough in the pan, and let it rest for an additional 15 minutes.

Meanwhile, prepare the streusel by whisking together the flour and sugar in a small bowl. Use your finger tips to rub the butter into the flour mixture until crumbs begin to form.

Once the dough has rested, brush it with milk or cold water, then sprinkle the top of the dough with a generous layer of streusel. The liquid will help the streusel stick to the yeast dough.

Bake the cake on an oven rack in the center position of the oven for around 25-30 minutes until the crumble topping is golden brown.Remove the cake from the oven and let it cool on a wire rack.

Dust the cake with powdered sugar just before serving.
Notes
This cake can dry out easily, so store it in an airtight container and eat it as soon as you can!
Vanilla extract is the traditional flavor agent here, but you can substitute almond extract or orange flower water.
Affiliate Disclosure: As Amazon Associates, we earn a small commission from qualifying purchases when you click on links embedded in this post.