This homemade strawberry waffles recipe relies on a quick stovetop strawberry jam to concentrate the strawberry flavor. The result are crispy waffles, studded with a gooey strawberry deliciousness.
The Ins and Outs of Stovetop Strawberry Jam
While the extra step of cooking the fresh strawberries on the stove may seem a bit absurd, it concentrates the natural sugar in the fresh fruit, and removes much of the water. This extra step ensures a much better texture and flavor for your waffles. Because you're pre-cooking the strawberries, it's fine to use frozen strawberries for this recipe, rather than fresh ones. The nice thing about this quick strawberry jam is that you can make a vat of it and use it for tons of great recipes! Here are a few of our favorites: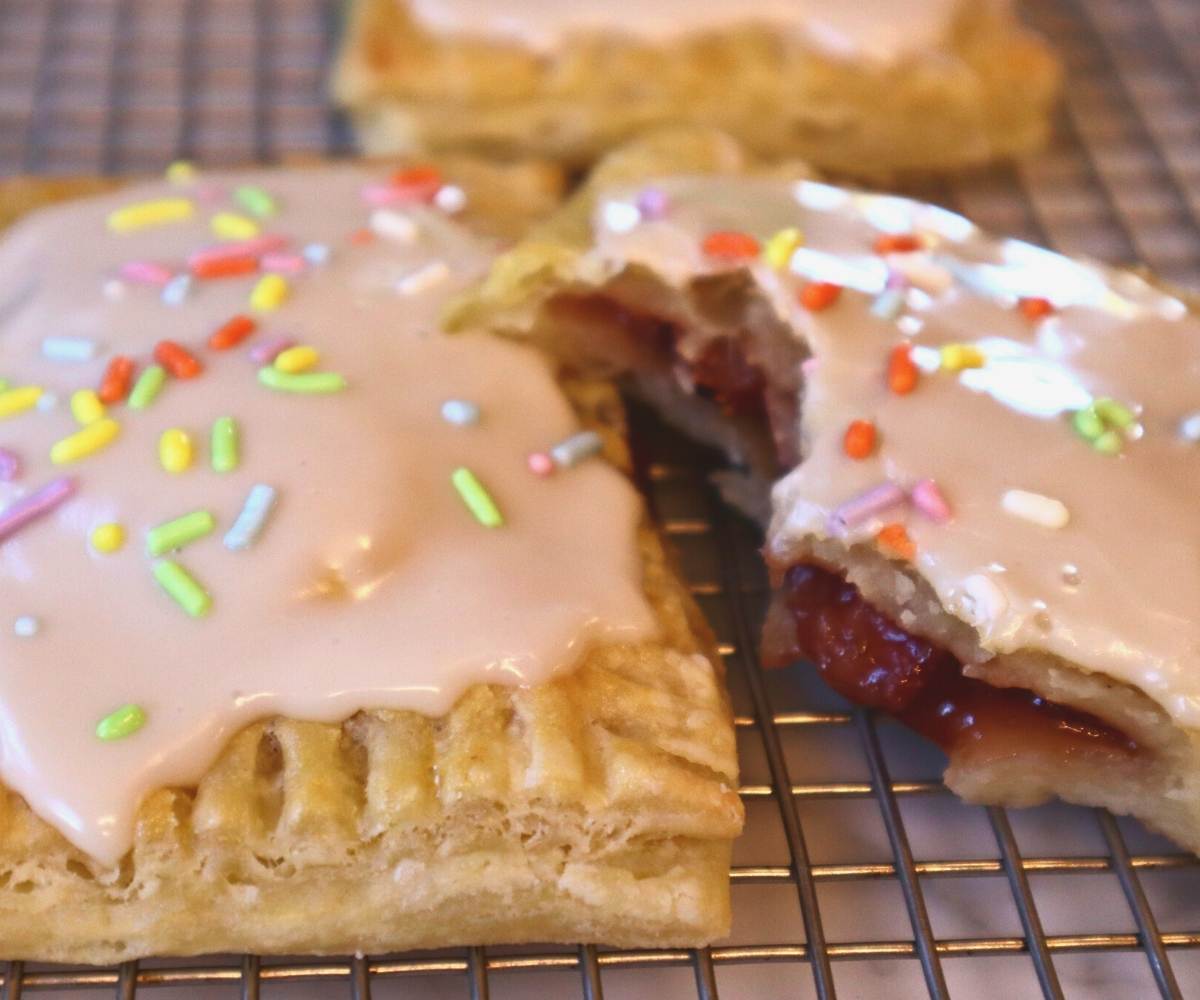 Storing This Strawberry Waffles Recipe
We are embarrassed by the array of waffles you might dig out from our freezer. The truth of the matter is that leftover waffles freeze wonderfully, can be stored for up to 2 months in a freezer bag, and can be revived with a quick trip to the toaster oven on a weekday morning, ensuring that a delicious waffly breakfast is not just a Sunday brunch thing.
Waffle Tips
1) Buy a great waffle maker. Check out our top 7 criteria in picking a waffle maker. If you're in the market for a new one, here are two of our favorites (spoiler alert):
2) Don't forget to spray your hot waffle iron with a nonstick cooking spray before you pour the waffle batter in. There's nothing worse than a stuck waffle.
3) Don't open your Belgian waffle iron while the waffle is cooking! It's tempting to check on your waffle's progress, but for the love of God, trust the indicator light. When you open the waffle maker mid-stream, you allow the hot air to escape, slowing your cookin time and reducing crucial crispiness.
More Waffles!
Did this recipe inspire to add more waffles to your life? Here are some other great waffle ideas!
What to Serve with This Strawberry Waffles Recipe
We like to serve waffles with a side of something savory, like bacon. Because this Belgian waffle is already quite sweet from the homemade strawberry jam, you won't need to top it with maple syrup, but a bit of whipped cream and fresh berries are always welcome.
Making It Festive
For Valentine's Day, (or just for fun) you can add a few drops of red food coloring to the batter to give your homemade waffles an adorable pinkish hue.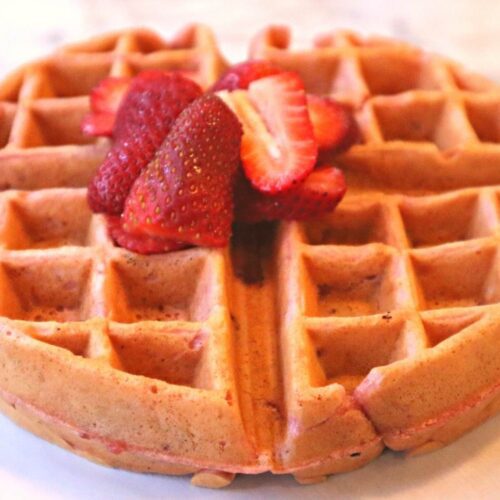 Homemade Strawberry Waffles Recipe
This homemade strawberry waffles recipe is sure to brighten up your weekend. Crispy waffles are swirled with a homemade strawberry jam for gooey strawberry goodness in every bite!
Ingredients
For the homemade strawberry jam:
10

fresh or frozen strawberries

1

tbsp

sugar

1/2

tsp

vanilla
For the waffle batter:
2

eggs

1 3/4

cups

milk

1/2

cup

vegetable oil

1/2

tsp

vanilla extract

1

tbsp

sugar

2

cups

all-purpose flour

1/4

cup

cornstarch

4

tsp

baking powder

1/4

tsp

salt
Instructions
Put the strawberries, sugar, and vanilla extract in a small pot and let simmer on low heat, stirring occasionally, until the strawberries can be mashed with the back of a spoon and the jam has a sticky texture. Place in a small metal bowl and put in refrigerator to cool while you prepare the waffle batter. The jam can be made ahead and stored in an airtight container for several days.

Preheat your Belgian waffle maker.

In a large bowl, whisk together the eggs, milk, vegetable oil, vanilla extract, and sugar.

Sift the dry ingredients into the wet ingredients.

Whisk together until fully combined.

Fold the homemade strawberry jam into the waffle batter and stir gently until just combined. Chunks of strawberry jam will remain. Don't worry – they will taste delicious!

Stir in a few drops of red food coloring, if desired.

Spray the hot waffle iron with nonstick cooking spray. Pour the waffle batter into the waffle iron (exact quantity will depend on your waffle iron. Ours needed about a half cup of batter).Cook according to your waffle iron's instructions.

Remove the waffle from the iron and eat immediately!
Affiliate Disclosure: As Amazon Associates, we earn a small commission from qualifying purchases when you click on links embedded in this post.