Everyone has a favorite food that they remember from their childhood. One of our favorites were Haribo liquorice allsorts. We bought them with purloined change from the candy store around the store from our school. The (very smart) shopkeeper sold individual pieces of candy for 1 cent apiece and made a (very small) fortune. For graduates of LAUSD schools, the old fashioned coffee cake recipe (1954) from the school cafeteria was just that.
How Did You Get Your Hands On This Old-Fashioned Coffee Cake Recipe?
There were universal cheers when Superintendent Austin Beutner tweeted this recipe in 2018. Sceptics accused him of using the recipe to distract from an impending strike. But, we'll take the bait! Who wouldn't want a recipe for a soft cake with a crunchy cinnamon streusel that comes together in about 45 minutes? We have slightly modernized the mimeographed original recipe card that Beutner tweeted. We'll spare you the terse and slightly cryptic instructions.
1954 – Year of the Best Coffee Cake Recipes
1954 was the year of coffee cakes. LAUSD introducing its world famous version. A 15-year-old girl from Chicago named Renny Powell won second place in the junior division of the Pillsbury Grand Bake-Off. She named her blueberry coffee cake recipe "blueberry boy bait". Judges complimented Renny on the "darling name" of her cake and asked where it came from. According to Renny, she and her best friend would bake the cake in the hope that it would attract "nice young men" to take them out on dates. So, if you are on the hunt for a teenage boy, Renny's tender blueberry coffee cake may be the one for you.
A Short History of Coffee Cakes and Coffee Chats
Coffee arrived in Europe in the 17th century. Eastern and Northern Europe already had a deep tradition of sweet yeasted breads (known as kuchen or kugelhopf, and the perfect compliment to bitter coffee). A passion for coffee spread quickly in those regions. By the end of the 18th century, coffee was more popular than any other beverage – including beer! Immigrants from Germany (inventors of the kaffeeklatsch, or coffee chat), Holland, and Sweden brought coffee cake to the United States. American versions of coffee cake typically use chemical leaveners, rather than yeast, and incorporate sour cream or buttermilk, resulting in a moist cake-like texture.
Variations on a Coffee Cake Theme
Love coffee cake? So do we! here are a few more coffee cakes.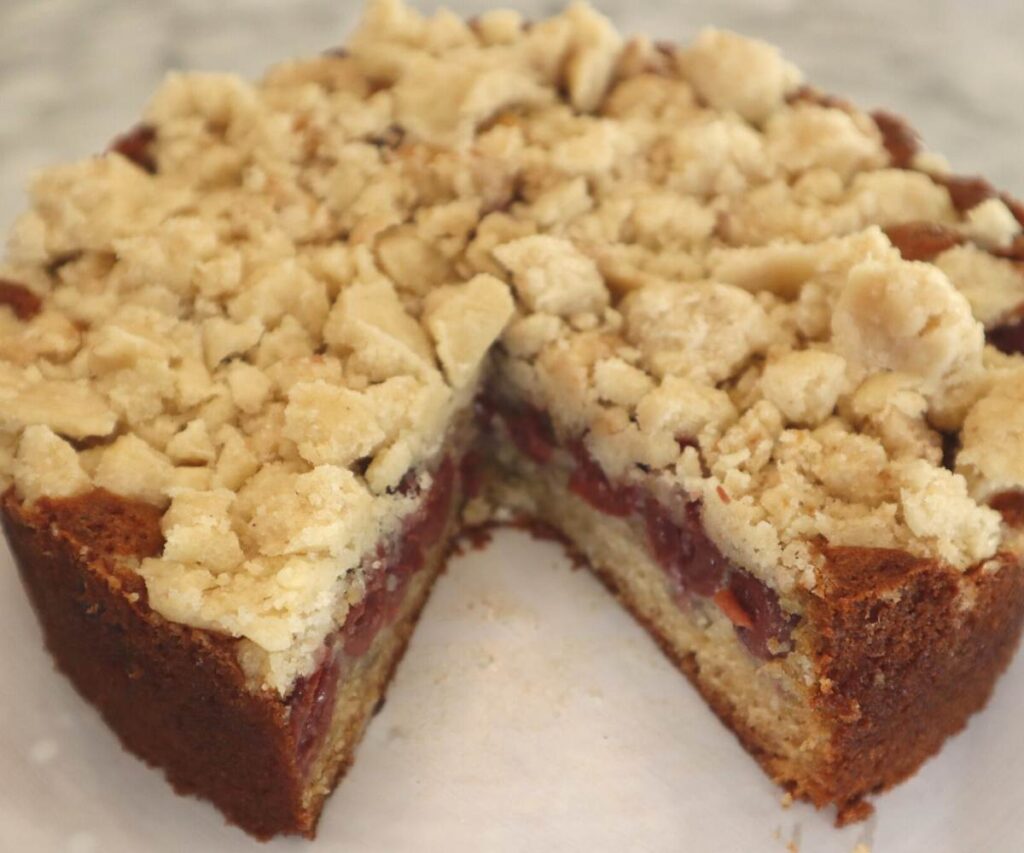 Looking For More Breakfast Ideas?
Check these out!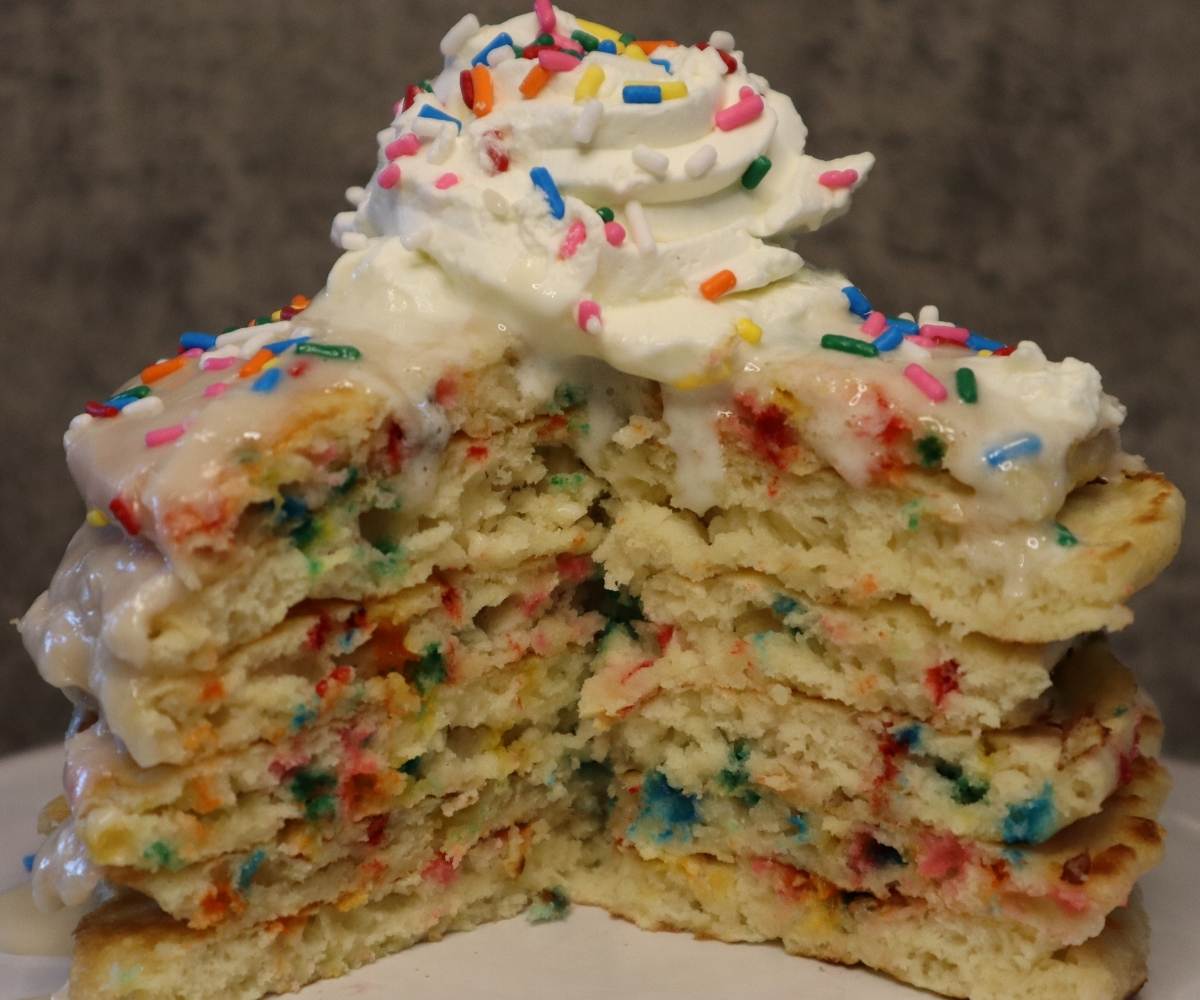 Useful Tools for Making this Old-Fashioned Coffee Cake Recipe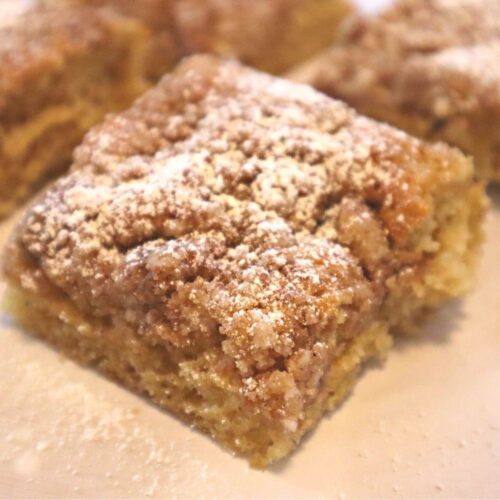 Old Fashioned Coffee Cake Recipe (1954)
This old fashioned coffee cake recipe comes to us from the Los Angeles Unified School District, where it has been beloved by generations of students since the 1950s.
Equipment
9 x 13 inch pan

parchment paper
Ingredients
2 1/2

cups

all-purpose flour

1

cup

brown sugar, packed

1

cup

sugar

1

tsp

salt

1

tsp

nutmeg

3/4

cup

vegetable oil

1/2

tsp

cinnamon

1

tsp

baking soda

1

tsp

baking powder

1

large egg, at room temperature

1

cup

buttermilk
Instructions
Preheat oven to 350 F and grease a 9 x 13-inch cake pan with butter. Line with parchment paper.

In a large bowl, mix flour, granulated sugar, brown sugar, salt, nutmeg, and vegetable oil. Stir with a rubber spatula until crumbly. Set 1/2 cup aside in a small bowl, and combine with cinnamon.

Add the remaining ingredients into the the large bowl and stir to combine.

Pour the coffee cake batter into the prepared pan and smooth the top of the batter. Scatter the streusel mixture over the top of the cake batter, ensuring that there are some big crumbs for extra crunch.

Bake the cake on an oven rack in the center of the oven for 25 to 30 minutes until golden brown and a cake tester inserted in the center comes out clean.

Remove to a wire rack to cool for 5 minutes.

Remove the crumb cake from the pan and cut the cake into 15 slices and sprinkle the top of the warm cake with confectioners sugar.
Affiliate Disclosure: As Amazon Associates, we earn a small commission from qualifying purchases when you click on links embedded in this post.