A Very Short History of the Mochi Muffin Recipe
Third Culture Bakery in the Bay Area asserts that it invented and trademarked the mochi muffin recipe back in 2014, making this perhaps our second favorite San Francisco treat, right after the legendary It's It. The internet seems not terribly interested in this fact and recipes for mochi muffins abound. Chef Sam Butarbutar says that the mochi muffin is based on an Indonesian dessert that his mother made growing up, and to us it tastes just like a Hawaiian Butter Mochi in muffin form.
A Butter Mochi in Muffin Form
Given the intriguing path that Kau Kau Chronicles outline of the Hawaiian butter mochi from its Goan origins East to Malaysia, Indonesia, the Philippines, and eventually, to Hawaii via colonial trade routes, it's seems very likely that Chef Butarbutar's mother's dessert and the Hawaiian Butter Mochi share some culinary DNA. The advantage of the muffin format, over the more traditional slices of Hawaiian Butter Mochi, is that there is far more surface area to form a caramelly crispy crust — all the better to contrast with the chewy quality of the interior. Also, by calling it a "muffin," this item has magically become appropriate for breakfast. If this idea makes your toes tingle with anticipation, this mochi muffin recipe is for you.
Playing Around with Mochi Muffins
We live with a number of very small chocoholics, so we tend to make this recipe with mini chocolate chips mixed in. It is equally good (and perhaps a wee bit less decadent) with a fruit mix in, like blueberries or chopped frozen strawberries. The crumble topping is also optional, but creates a nice crunchy contrast to the chewy interior. Third Culture Bakery sprinkles white sesame seeds and black sesame seeds over the top of their mochi muffins for a slightly less buttery but equally crunchy effect.
About Mochi Flour
If you haven't yet tried baking with sweet rice flour or mochi flour, it is a magical ingredient. Aside from being naturally gluten free, it gives baked goods a slightly sweet flavor and chewy texture. It is made from short grain rice that has been ground into a fine powder. Many bakers like Koda Farms brand, which can be readily found in Asian grocery stores. Bob's Red Mill also makes a sweet rice flour that can be purchased at Amazon or most health food stores. Please do not try replace sweet rice flour with regular rice flour, as the results will not be the same!
Wondering what to do with your leftover mochi flour? Obviously the answer is to make Hawaiian Butter Mochi!
Mo' Muffins
In search of some other morning treat ideas? Check these out!
Useful Tools for Making this Recipe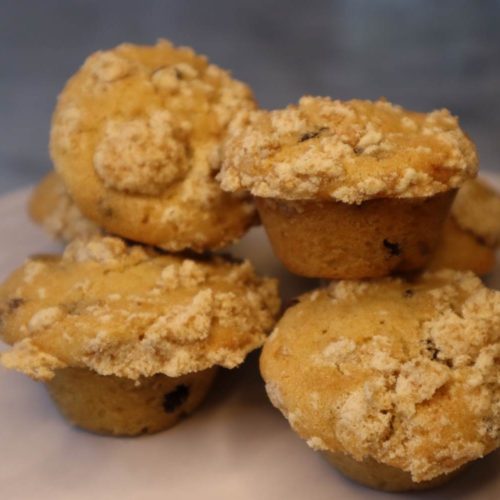 Mochi Muffin Recipe
Have you ever wondered what a Hawaiian Butter Mochi would taste like in muffin form? The answer is DELICIOUS.
Ingredients
For the crumble topping
4

tbsp

unsalted butter

1/2

cup

sweet rice flour

(aka glutinous rice flour or mochiko flour)

2

tbsp

light brown sugar
For the muffins
1/2

cup

unsalted butter

1

14-oz can full-fat coconut milk

1/2

cup

granulated sugar

1/4

cup

organic dark brown sugar

1

tsp

vanilla extract

1/4

tsp

salt

2

large eggs

at room temperature

2

tsp

baking powder

2

cups

sweet rice flour

1

cup

mini chocolate chips or berries
Instructions
Preheat oven to 350 F. Grease a muffin tin.

First, make the crumble topping: Cut the butter into 1/4-inch cubes. Combine all of the ingredients and use your finger tips to rub the butter combination into the flour and sugar until the mixture starts to come together in clumps.

Place butter and coconut milk in a medium saucepan and heat over medium heat until the butter is fully melted into the coconut milk. Remove from heat and pour into a large mixing bowl.

Add the sugar, light brown sugar, vanilla extract, salt and eggs. Whisk until well incorporated.

In a separate bowl, sift together the dry ingredients (baking powder and sweet rice flour).

Add the dry mixture into the wet ingredients. Gently fold in the chocolate chips or berries.

Scoop the batter into each muffin cup of the prepared muffin tin. Divide the crumble evenly among the muffin tops. Gently smack the muffin pan on the counter 1-2 times to remove excess air bubbles.

Place on oven rack in the center of the oven. Bake 40-45 minutes until the edges start to brown and an inserted skewer comes out clean.

Cool on wire rack for 10 minutes before serving.
Notes
These muffins can be kept, but not well, in an airtight container. The next day, they will be quite a bit drier. They can be revived a little bit in the microwave, but really, the best way to enjoy these chewy mochi muffins is right out the pan just after they've cooled.
Affiliate Disclosure: As Amazon Associates, we earn a small commission from qualifying purchases when you click on links embedded in this post.