There's a lot of mystery surrounding the sand tart cookie recipe. It's unclear, for example where they came from, or why we call them sand tarts. What is clear, however, is that they are very delicious.
A Very Short History of the Sand Tart Cookie Recipe
We know very little about sand tart cookies other than that the recipe is very old, without much written record. There are two distinct regional cookie variations, of which the most common is Pennsylvania Dutch Sand Tarts. Bakers roll these sugar cookies very thin, dust them with cinnamon sugar, and decorate them with an almond or pecan, held in place with an egg wash. The Lehigh Valley & Allentown Morning Call quotes "some researcher" (always a dubious turn of phrase) as agreeing that the word sand tart may derive from "saints hearts," because early versions of the cookie were originally heart shaped. The Lancaster County (or old German style) of these crispy cookies is particularly popular around the holiday season. A second variation on sand tarts cookies comes to us from the Southeast. The Southeastern version has a crescent shape dusted in powdered sugar. Norwegian Sandbakkelse are a final potential recipe source for sand tarts. They are very similar in their thinness and buttery-ness, but rather than being rolled are pressed into tart-shaped molds.
About Our Version of Sand Tarts
Our version of sand tarts takes inspiration from sand dollars. Sand dollars (also, ironically known as sand cookies), are a species of flat, burrowing sea urchins. We would find them by the dozen at our favorite Northern California beach, so they have a special place in our hearts. The sand dollar shape is easy and fun to make. You can employ little fingers in the placing of sliced almonds on the cookie in the distinctive sand dollar pattern. Because we wanted our sand dollars extra sandy, we rolled them in cinnamon sugar, then flattened them, and then then dipped them again. This cookie can be made with minimal equipment (no rolling pin! no cookie cutters !) without requiring any sacrifice in flavor or texture.
Cookies, Cookies, Cookies!
Love cookies? Here are some other tasty ideas!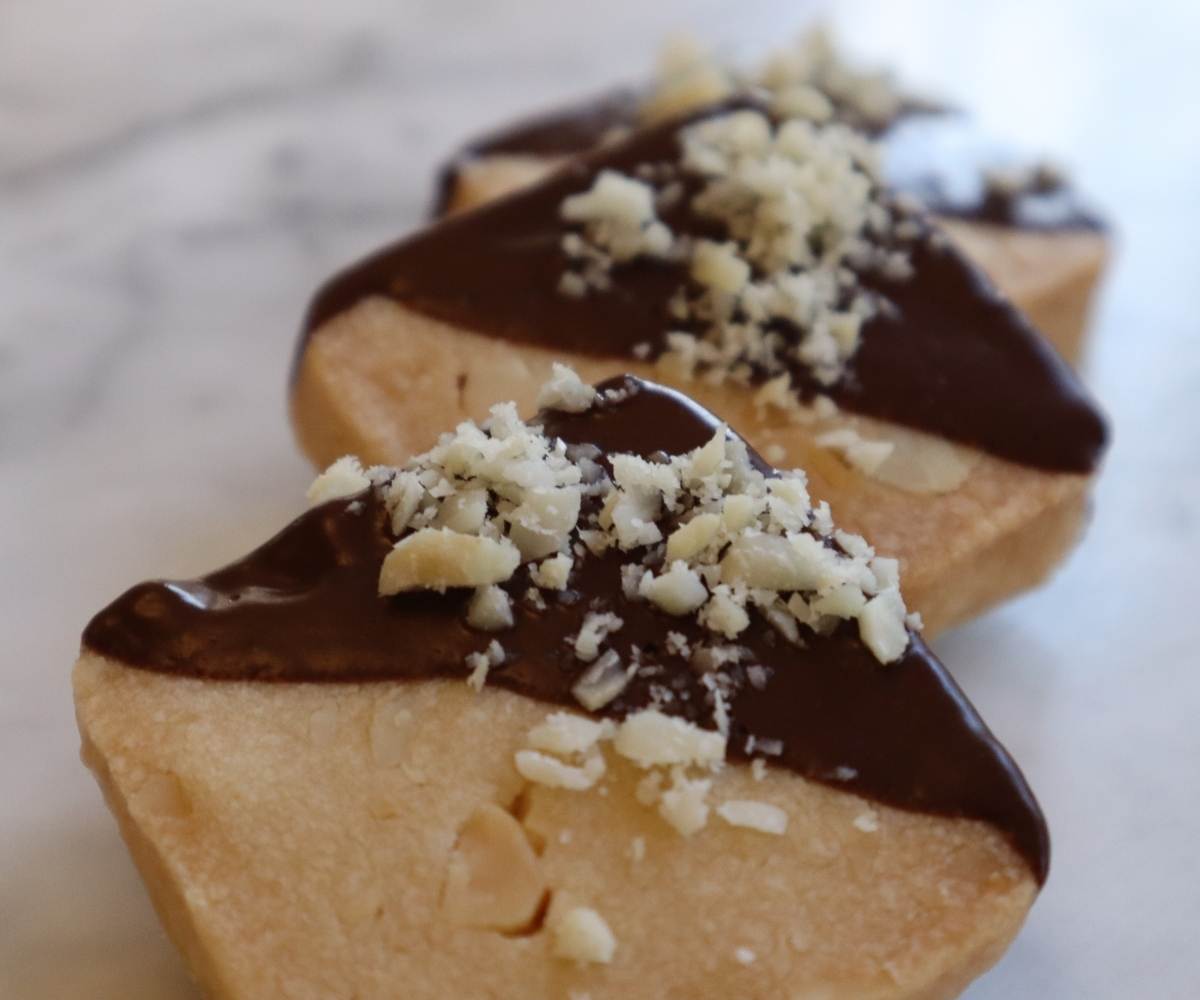 Useful Tools for Making this Sand Tart Cookie Recipe
First and foremost, you'll need a cookie scoop! Wondering what kind of cookie scoop to buy? Check out our in-depth analysis here. And, here are a few other useful tools…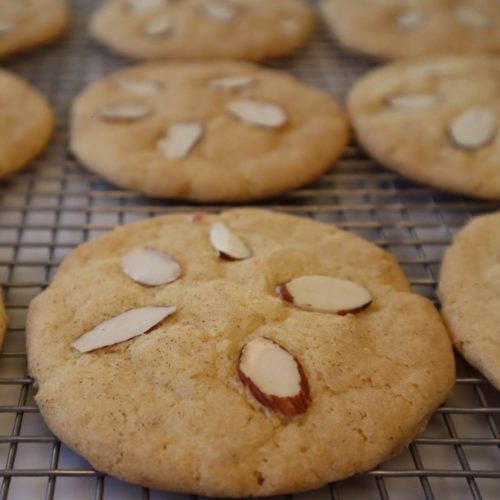 Sand Tart Cookie Recipe
These sand tart cookies are buttery, crispy, and cinnamon-y!
Ingredients
1/2

cup

butter

3/4

cup

white sugar

1

large egg

1/2

tsp

vanilla extract

1

cup

all purpose flour

1/4

tsp

baking soda

1/8

tsp

salt
For rolling and dipping:
1 1/2

tsp

sugar

1/4

tsp

cinnamon

sliced almonds
Instructions
Mix room temperature unsalted butter and sugar in the bowl of a stand mixer using the paddle attachment, or in a large bowl using a hand mixer, on medium speed, until fluffy.

Gradually add eggs and vanilla, beating until well combined.

Sift flour, baking soda, and salt into the bowl. Mix sifted flour mixture into butter mixture on low speed until a soft dough is formed.

Wrap dough tightly in plastic wrap and chill for 2 hours or up to overnight.

When you are ready to bake, preheat oven to 350 F. Line cookie sheets with parchment paper or a silicone baking mat.

Stir together cinnamon sugar topping in a small bowl. Use a 2 tsp cookie scoop to shape dough into small balls. Roll cookie dough balls in the cinnamon sugar mixture, then place on prepared cookie sheet, 3 inches apart. Use the flat bottom of a cup or measuring cup to flatten each dough ball to 1/4 inch thickness. Dip again in cinnamon sugar mixture, then add almond slices to form sand dollar's star-shaped pattern.

Bake cookies 10-12 minutes until lightly browned around the edges. Cool 5 minutes in pan, then transfer cookies to a wire rack to fully cool.
Notes
These cookies keep well in an airtight container for several days.
Affiliate Disclosure: As Amazon Associates, we earn a small commission from qualifying purchases when you click on links embedded in this post.