Looking for a light but delicious way to start the morning? We can think of nothing better than this japanese fluffy pancakes recipe!
24 Hour Pancakes (A Short History of Pancakes in Japan)
Pancakes have a long and illustrious history in Japan. Japanese cooks first started frying bits of dough sweetened with red bean as part of the tea ceremony in the 16th century. Perhaps the most famous Japanese version of a pancake (until now!) okonomiyaki, a savory pancake made with an egg, flour, and cabbage batter, emerged during periods of scarcity in the 20th century.
More recently, Japanese chefs applied the same technique with which the heavy American version of a cheesecake was transformed into the delicious jiggly Japanese version we know and love to pancakes. To make fluffy Japanese souffle pancakes, Japanese chefs added whipped egg whites (the key ingredient!) to a traditional pancake batter. With the help of the egg whites, the pancake batter rises extraordinarily high, resulting in a pillowy-soft jiggly version of a pancake, also known as pancake heaven. We heartily approve of the fact that Japanese diners eat these pancakes all day long – not just for breakfast, an innovation that we hope will migrate to the United States along with the opening of Japanese pancake-serving cafes and tea shops.
About this Recipe
This souffle pancake recipe is a bit labor intensive between the whipping of egg whites and the careful slow cooking. We recommend saving this project for a lazy weekend morning. We promise that your hard work will be rewarded with the fluffiest pancakes you have ever tasted. While beating and folding egg whites can seem intimidating, we promise it's not that hard. We found that the trickiest part is waiting until the pancakes are fully cooked to taste them! These were plenty sweet on their own, and especially delightful topped with a bit of whipped cream and some berries.
Pancake Alternatives
Looking for more pancake ideas? Check these options out! Seeing all these pancake recipes may provoke a burning desire to learn more about proper pancake cooking temperatures and techniques. If so, be sure to stop by our pancake tips post.
Inspired by this dish to try more fluffy Japanese treats? Try our jiggly cake!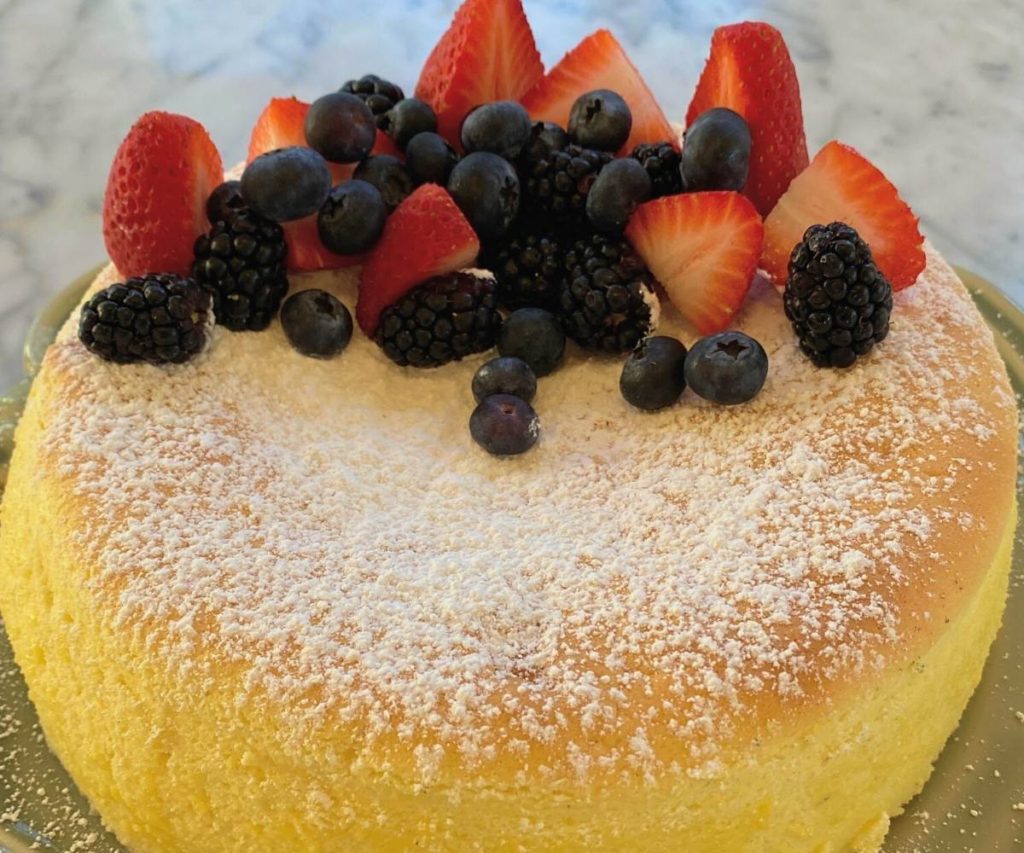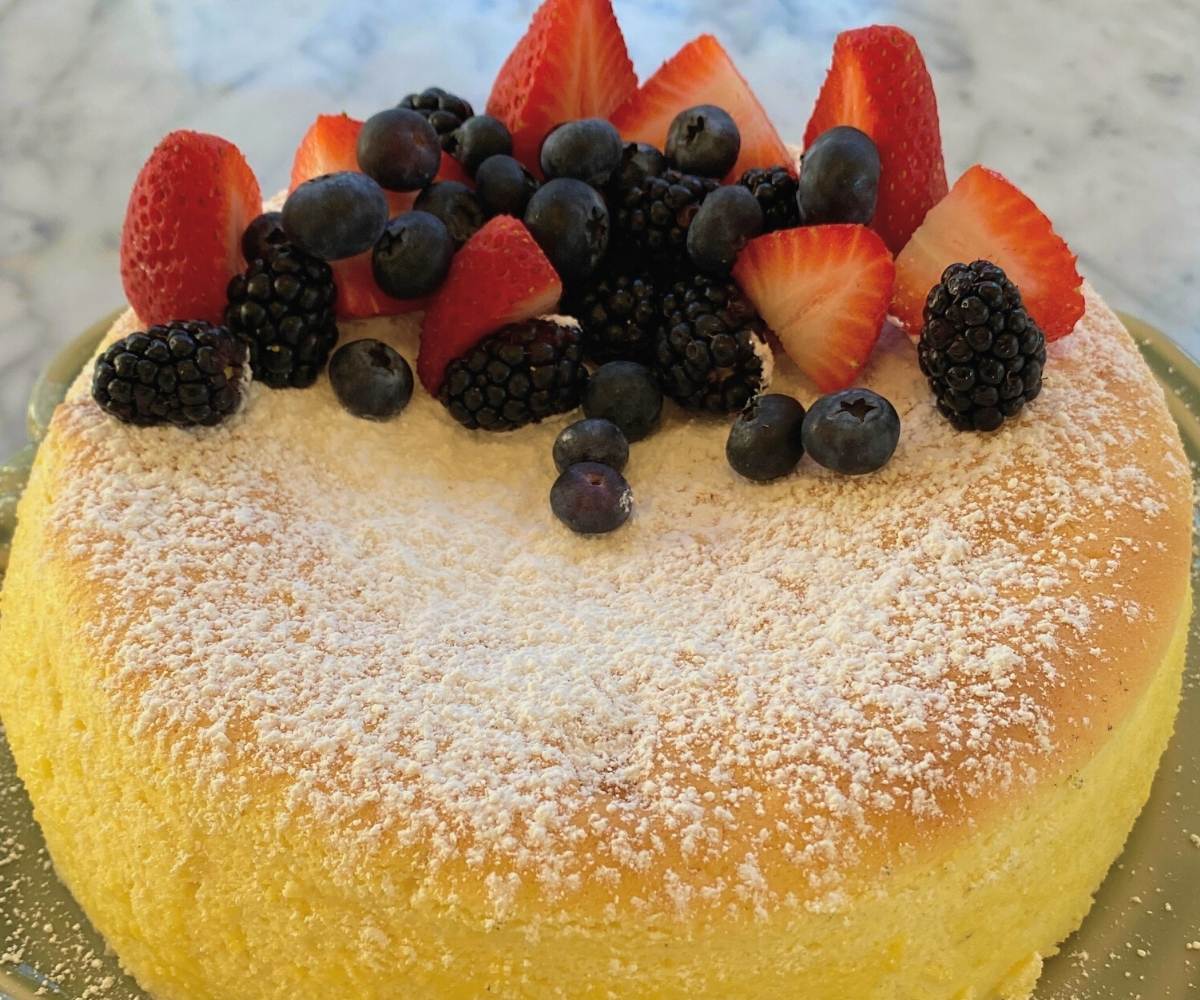 Useful Tools for Making this Japanese Pancakes Recipe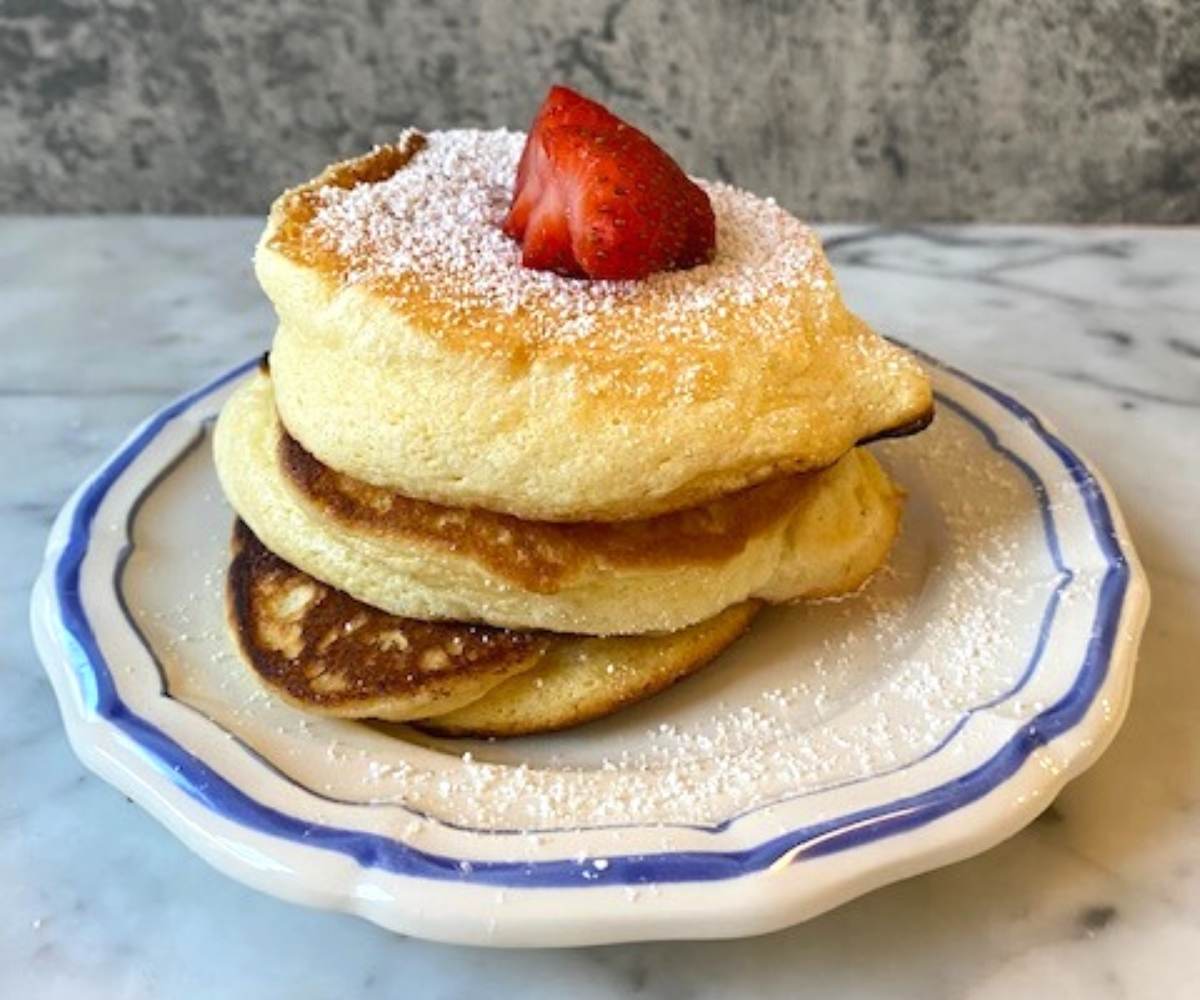 Japanese Fluffy Pancakes Recipe
These fluffy Japanese fluffy pancakes will make you forget any heavy pancake you have ever tasted. They are like eating clouds for breakfast.
Ingredients
4

large eggs

3

tbsp

whole milk

1/2

tsp

vanilla extract

1/2

cup

cake flour

1

tsp

baking powder

1/4

tsp

cream of tartar

4

tbsp

sugar

2

tbsp

vegetable oil
Instructions
Separate egg whites and yolks. Put the whites in the bowl of a stand mixer or a large metal bowl. Put the yolks in a separate bowl.

Chill the egg whites in the refrigerator or freezer while you prepare the pancake batter.

To the egg yolks, add milk, vanilla and oil and whisk until thick and frothy.

Sift the dry ingredients (cake flour and baking powder) into the egg yolk and milk mixture. Whisk thoroughly to combine and set the pancake mix aside.

Remove the egg whites from the refrigerator or freezer and, using a hand mixer or an electric mixer with the whisk attachment, beat egg whites until frothy. Add the cream of tartar and keep whipping until the bubbles begin to tighten.

Add in the sugar and turn speed up to medium-high speed. Whip egg whites until glossy and stiff peaks form.

Spray a large nonstick skillet (we used a 12-inch skillet) with nonstick cooking spray and heat on the lowest heat setting. Do this step before you combine the egg whites and the pancake batter so that the pan will be nice and hot when you are ready.

Stir one-third of the beaten egg whites into the pancake batter until just combined.

Fold in half the remaining egg whites, followed by the remaining egg whites. Do not stir! Fold gently until fully combined.

Using a large serving spoon, scoop a mound of dough into the pan to make four pancakes. Once you've scooped all four, the dough should have set a little bit, so add another scoop on top of the first scoop. Add a third scoop on top of each pancake once the second scoop has set a little bit.

Set timer for 2 minutes and add 1 tbsp water to the pan. Keep the heat on a low temperature. Cover with a lid.

After 2 minutes, add a fourth and final scoop to the top of each pancake. If the water has evaporated, add another tablespoon.

Set timer for 4-5 minutes and cover again with a lid. When the timer goes off, check that the bottom of the pancake is a nice golden brown. If so, use a flat spatula to gently lift and flip the pancake. If the bottom is not fully browned, let cook for another minute or two.

Once you have flipped the pancakes, add another tablespoon of water and cook for a further 4-5 minutes.

Transfer to a serving plate and, for best results, eat immediately, topped with powdered sugar, whipped cream, or fresh berries or some other kind of fresh fruit. The souffle pancakes will sink fairly quickly, once they lose their heat.

Repeat with the rest of the batter to make a second batch of pancakes.
Affiliate Disclosure: As Amazon Associates, we earn a small commission from qualifying purchases when you click on links embedded in this post.