This gluten free pancakes recipe probably won't win any prizes in the looks department. It makes up for it in the flavor (oaty and sweet) and texture (crunchy exterior and creamy interior) departments.
Not Your (Scottish) Grandma's Oatcakes
The thought of oats and pancakes may recall the tooth-breakingly tough Scottish oatcakes. However, this recipe will chase all fears of oatcake-induced dental work from your mind. The secret to this easy gluten-free pancake recipe is to start by letting the oats hang out overnight in a bowl of buttermilk. Much like your favorite fried chicken, the high protein content in the oatmeal is tenderized by the acids in the buttermilk. The result is a surprisingly silky texture. This means that unlike your average gluten free pancakes recipe, these pancakes will melt in your mouth.
Pancaking About
Looking for more pancake recipes? Check these out:
Gluten Free Delights
Looking for more gluten-free baking options? Check these guys out!
Useful Tools for Making this Overnight Oat Gluten Free Pancake
Feeling Nervous About Frying Up Pancakes?
Check out our list of pancake-making tips. Or, soothe your nerves with this spirited discussion of whether waffles are better than pancakes. You can also add your own opinion in the comments, please!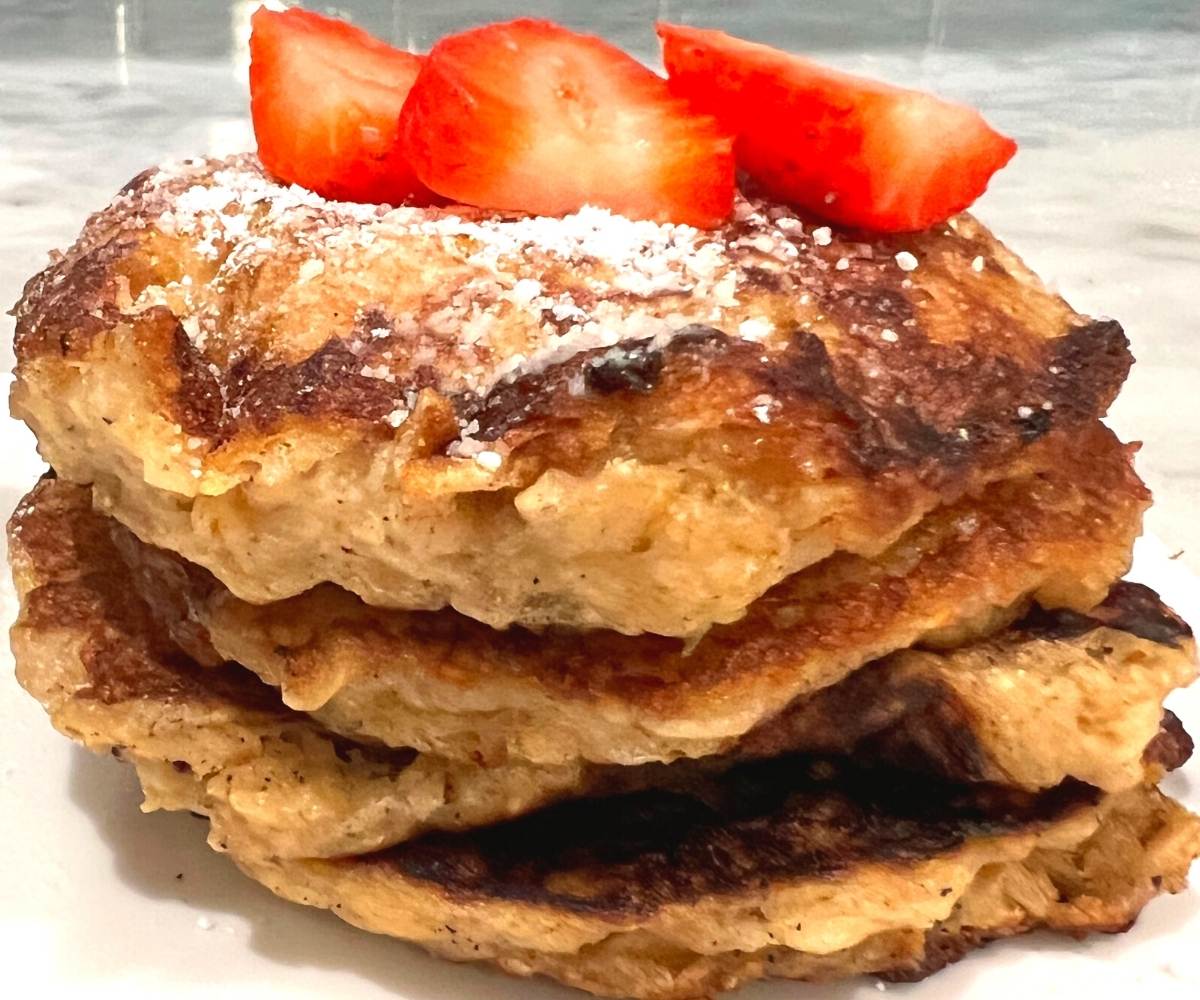 Overnight Oat Gluten Free Pancake
These gluten free pancakes get their tender texture from oats soaked in buttermilk overnight.
Ingredients
2

cups

rolled oats

2

cups

buttermilk

1

tsp

vanilla extract

2

large eggs

lightly beaten, at room temperature

1/2

cup

vegetable oil or melted coconut oil

1/2

cup

oat flour

you can make your own by simply grinding up rolled oats in the food processor

2

tbsp

brown sugar

1

tsp

baking powder

1/2

tsp

salt

1

tsp

baking soda

1

tsp

cinnamon
Instructions
The night before, combine the oats and buttermilk together in a large mixing bowl. Cover the large bowl tightly with plastic wrap and leave to rest in the refrigerator overnight.

The next morning, stir in the remaining wet ingredients into the buttermilk mixture. Then, sift in the dry ingredients. Stir to combine.

Set a large nonstick pan over medium-low heat to medium heat and melt 1/2 tsp each of butter and oil, or grease a hot griddle.

We like to make small pancakes, using 1/4 cup batter per pancake. This fits 4 at a time in our 12-inch skillet. Drop pancake batter in the skillet and sprinkle on fruit or chocolate chips. Cook until air bubbles form on the top of the pancakes and the outer edges begin to set. Flip the pancakes. Continue cooking until the second side is golden brown. When fully cooked, the pancakes will not squish when gently prodded with your finger or the back of a spoon.

We like to cut the first pancake open to be sure is is cooked through. Adjust the heat level as needed. Repeat with remaining batter until you have enough pancakes!

Top with powdered sugar, fresh fruit, or warm maple syrup and enjoy!
Notes
Storage notes for the gluten free pancakes recipe: 
This batter keeps for several days in an airtight container, making it a great recipe for busy mornings! Alternatively, you can freeze cooked pancakes in a well-sealed freezer bag. Reheat in a hot pan or toaster oven for a super speedy weekday morning treat.
Affiliate Disclosure: As Amazon Associates, we earn a small commission from qualifying purchases when you click on links embedded in this post.