This mochi pancake recipe combines two of our favorite foods – mochi and pancakes! These chewy pancakes are one of our favorite breakfast treats.
What is this Mochi Stuff?
Mochi refers to mochiko flour, also known as mochi flour, glutinous rice flour, or Japanese sweet rice flour (phew!). To make mochiko flour, you grind up short grain rice. Mochi flour gives whatever food it graces a slightly chewy texture. You might be tempted to replace the mochi rice flour with regular flour, or regular rice flour. Please don't. You won't get that unique texture.
Glutinous rice powder is very popular throughout Asia. The Japanese dish, mochi, is perhaps the most famous iteration. Many traditional cakes and treats from the South India, the Philippines, and Indonesia include mochi flour. Japanese versions of mochi tend to lean more heavily on the mochi flour, giving them an extra chewy texture (and making them naturally gluten free). American versions combine mochi flour with all-purpose flour for a springy, but not too chewy, texture. In the US, mochiko four's most famous use is Hawaiian Butter Mochi. However, some wise Hawaiian chef also thought to introduce mochi flour into a traditional American pancake, and these delicious pancakes ere born. Trader Joe's Ube Mochi Pancakes introduced mochi pancakes to the masses.
What Are Some Fun Ways to Use Up Mochi Flour?
So glad you asked! Here are some of our favorite mochi-inspired recipes:
Looking for More Pancake Ideas?
Check these out! Seeing all these pancake recipes may provoke a burning desire to learn more about proper pancake cooking temperatures and techniques. If so, be sure to stop by our pancake tips post.
What Are Your Favorite Toppings for these Delicious Mochi Pancakes?
The mochi flour itself is naturally sweet, and there is a hefty dose of sugar in these pancakes, so we actually enjoy them plain or with fresh fruit! If you want to fancy it up, a pile of whipped cream topped with a little flaked coconut sounds pretty nice to us. We consider ourselves to have enormous sweet tooths, but this is one of the few instances where no additional sugar is needed. You can skip the maple syrup!
Useful Tools to Make this Mochi Pancake Recipe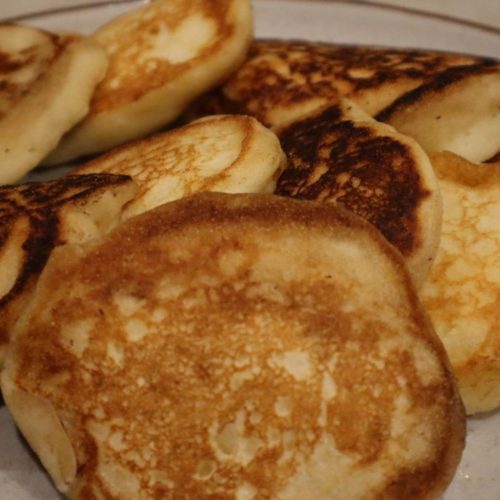 Mochi Pancake Recipe
This mochi pancake recipe combines the chewy texture of a mochi with an all-American pancake.
Ingredients
1

cup

all purpose flour

1

cup

mochiko flour

1/4

cup

granulated sugar

2

tsp

baking powder

1/4

tsp

salt

1 1/4

cup

milk

you can substitute coconut milk for a mild coconutty flavor and dairy-free pancake

2

large eggs

2

tbsp

butter, melted

1 1/2

tsp

vanilla extract
Instructions
Sift dry ingredients (flour, mochiko flour, baking powder, salt, and sugar) into a mixing bowl. Whisk to combine. In a medium-size bowl, whisk together the wet ingredients (milk, eggs, melted butter, and vanilla extract) until well combined.

Add the milk mixture to the flour mixture and stir with a rubber spatula until well combined. The batter will be very thick.

Preheat a nonstick pan over low-medium heat and melt 1 tsp butter or coconut oil and swirl around the pan. The frying pan is ready when, if you flick a few droplets of water onto the cooking surface, it sizzles.

Scoop two tablespoonfuls of pancake batter into the pan to make each small pancake. Generally, we can fit 3-4 pancakes in a 10 inch skillet. Cover the pan to let the pancakes steam for 1-2 minutes, or until the center of the pancake bubbles. Flip and cook pancakes an additional 1-2 minutes until the second side is golden brown. Remove pancake to a plate and, for best results, eat immediately.

Continue making pancakes with the rest of the batter, pouring remaining batter in 2 tablespoonful increments into the pan and cooking the pancakes.
Affiliate Disclosure: As Amazon Associates, we earn a small commission from qualifying purchases when you click on links embedded in this post.