You make this oatmeal cooking with oil, instead of butter. Using oil instead makes the dough come together in a snap with minimal equipment. You'll be rewarded with delicious chewy oatmeal cookies with almost no effort.
About This Recipe
There are times in life when you just need a cookie, but you just don't have all your kitchen toys. These are a great option.
We're writing this post from Palm Springs, where we're in the process of setting up a new short term rental. We've spent the day painting walls and ceilings. We made not one, but three trips to Home Depot (which to us is like the third circle of hell). Tonight we decided that we all deserved some homemade cookies as a reward. Most of our belongings are currenlty in storage. We had a set of bowls, a sheet pan, and a spatula. So, we had to make the simplest recipe that we knew — butterless oatmeal cookies.
We love that because these cookies rely on oil, you don't need an electric mixer. Even elbow grease, frankly, is optional. The best part about these classic cookies is that you can buy everything you need to make them at the grocery store. These oatmeal chocolate chip cookies received rave reviews from the whole family.
All About Oats in Cookies
We love oats in cookies. We vacillate between preferring chewy cookies (rolled oats for a chewy texture, please) and soft cookies (quick oats, thank you). If you like your oats even more discrete, you might consider our leftover oatmeal cookies. We would hesitate to call these the best oatmeal cookies. This is only because picking a favorite oatmeal cookie would be like picking a favorite child. If you are looking for healthy oatmeal cookies, these really aren't your jam – but check out our no bake granola bar recipe, or our breakfast cookies.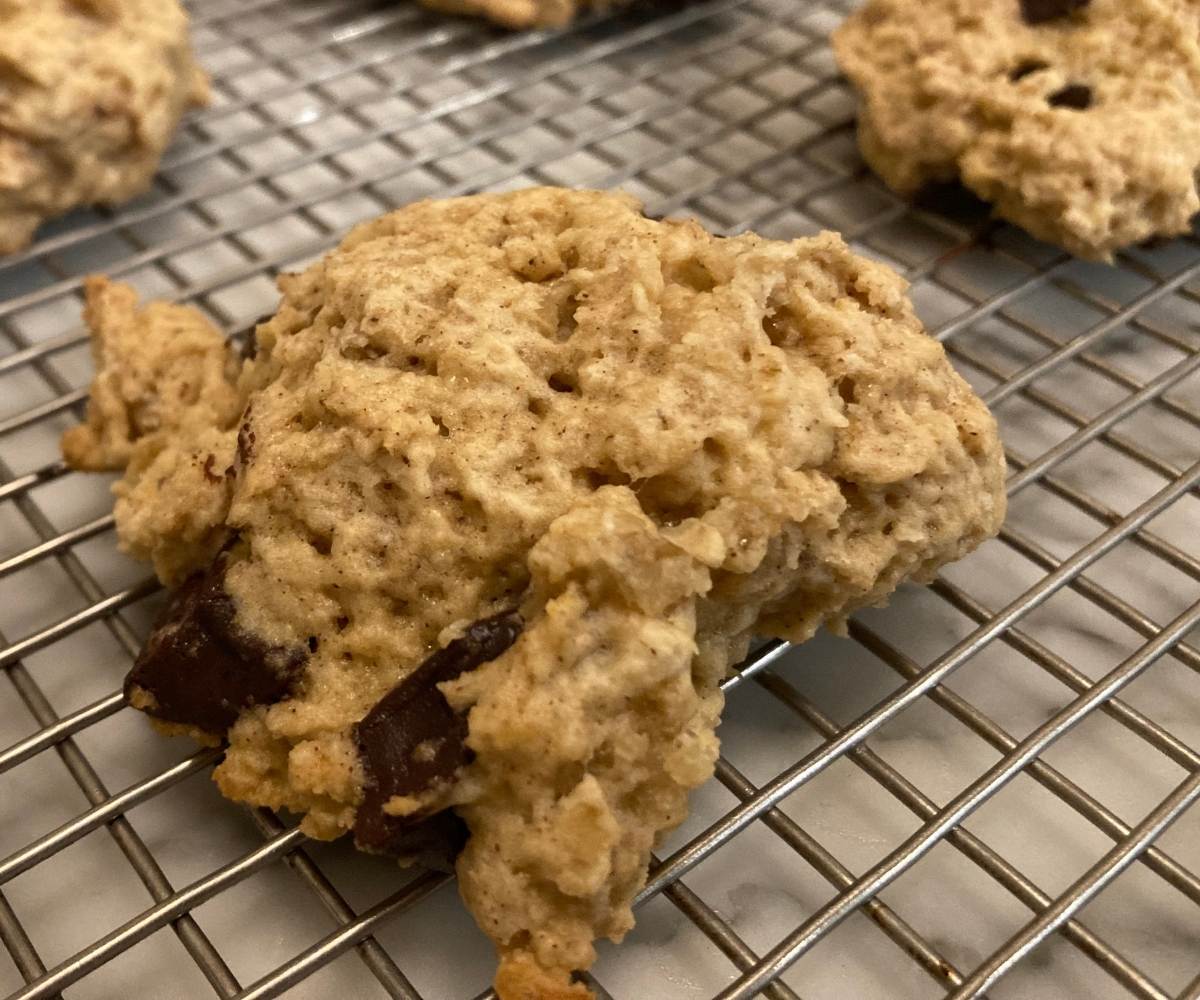 Cookies, Cookies, Cookies
Looking for more cookie inspiration? Look no further!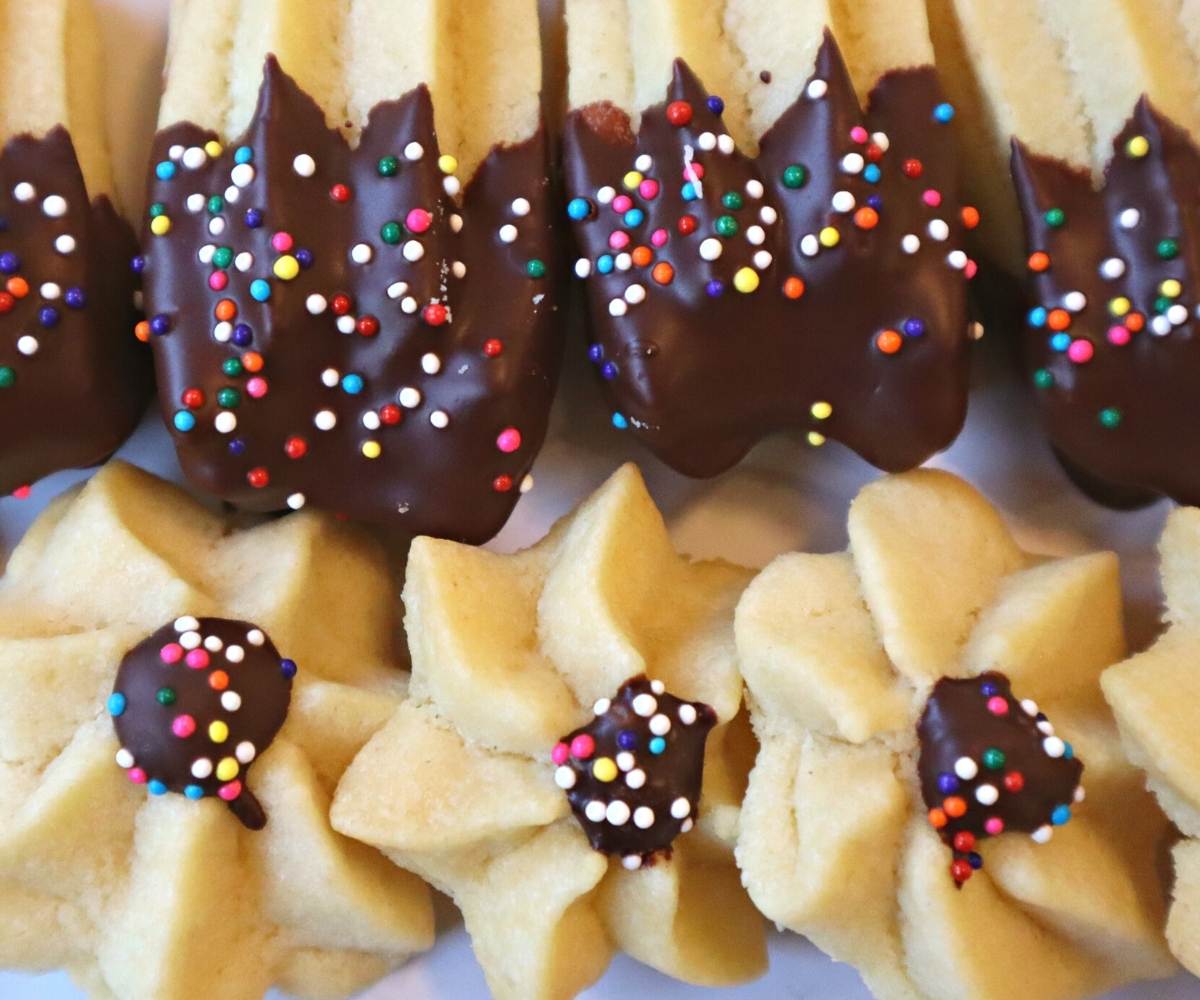 Your Favorite Mix-Ins
In a way, oatmeal cookies are really just a vehicle for mix-ins (kind of like ice cream). Our favorite is chocolate chips, to which we often add unsweetend flaked coconut. Others may prefer dried fruit, or nuts. We can't promise that we won't judge, but we will do so silently.
Useful Tools for Making These Easy Oatmeal Cookies Without Butter
Welcome Home Oatmeal Cookies Without Butter
These oatmeal cookies require minimal equipment to deliver maximum deliciousness.
Equipment
baking sheet

parchment paper

silicone baking mat
Ingredients
2 1/2

cups

old-fashioned oats or quick cooking oats

depending on your mood

1

tsp

baking soda

1

tsp

salt

1

cup

all-purpose flour

1

tsp

cinnamon

optional

3/4

cup

of brown sugar

light brown sugar or dark brown sugar

1/2

cup

white sugar

3/4

cup

vegetable oil

canola oil, or melted coconut oil

1

large egg at room temperature

1/2

cup

each mix-ins

chocolate chips, raisins, coconut, nuts, etc.
Instructions
Preheat oven to 350 F and line cookie sheets with parchment paper or a silicone baking mat.

Using a wooden spoon, combine oil, eggs, sugars and vanilla in a large mixing bowl.

Sift the dry ingredients (baking soda, salt, cinnamon, all-purpose flour) into the wet mixture.

Stir in the oats, along with the mix-ins of your choice into the cookie dough.

Use a medium cookie scooper to portion cookie batter onto the prepared baking sheets. If you don't have a cookie scoop, use a tablespoon to form small balls. Leave at least two inches around each ball, as these cookies do like to spread a little bit.

Bake oatmeal cookies in preheated oven for 12-15 minutes. Cool for 5 minutes on baking sheet, then remove to a wire rack to fully cool. Try not to eat the whole batch in one sitting.
Affiliate Disclosure: As Amazon Associates, we earn a small commission from qualifying purchases when you click on links embedded in this post.