Do you prefer your pancakes petite and puffy? This mini Dutch pancakes recipe is for you.
A Short History of Poffertjes
At some point, Catholic monks in Southern Holland decided that those dry communion wafers just weren't cutting it. We're going to guess at some time around the Reformation, when there may have been some competition for parishioners. The first printed version of this recipe appeared in 1700, so our theory may be correct. The monks began experimenting with other communion-wafer sized options that might taste better. They eventually developed these adorable little pancakes. Early versions of this recipe relied on buckwheat flour, which would also have made them very affordable. In Holland, these little treats are known as "poffertjes" or "brothers," after their inventors.
Poffertjes Today
Today, they are typically cooked in a special poffertjes pan. This is a cast iron pan that has little divots. The divots allow the pancakes to rise a little mor eand give them an adorable rounded shape. If you don't happen to have this special pan, you can sub in a Danish aebelskiver or Japanese takoyaki pan. We've even heard of people using a cake pop maker. Or, if you're a heathen like us, you can just make them in a normal frying pan. This will save you having to squeeze a traditional poffertjes pan in your pantry. Unlike many other pancake recipes, which have typically been modernized to include baking powder rather than yeast, poffertjes are still typically leavened with yeast. These Dutch mini pancakes are a street food. They are often served at fairs as an afternoon snack, topped with a pat of butter and sprinkled with powdered sugar.
Cooking Tips for this Mini Dutch Pancakes Recipe
We found that a small cookie scoop (roughly 2 tsp) was perfect for portioning out the dough. Alternatively, you could pour your batter in a squeeze bottle or a piping bag for better control.
If you are not a morning person, you may find it better to assemble this batter the night before. It can rise slowly in the refrigerator overnight. The batter also keeps very well in the refrigerator for several days.
Playing Around
Savory versions of these pancakes are also very popular in Holland. You could withhold the sugar and substitute in 1/4 cup of grated cheese, diced cooked bacon, and/or a few tablespoons of chives, along with some freshly ground black pepper. We're team sweets all the time so confess that we have not experimented extensively with this possibility.
Pancakes, Pancakes, Pancakes!
Love pancakes so much that you need to know about ALL the pancakes? So do we! Here are some of our favorites: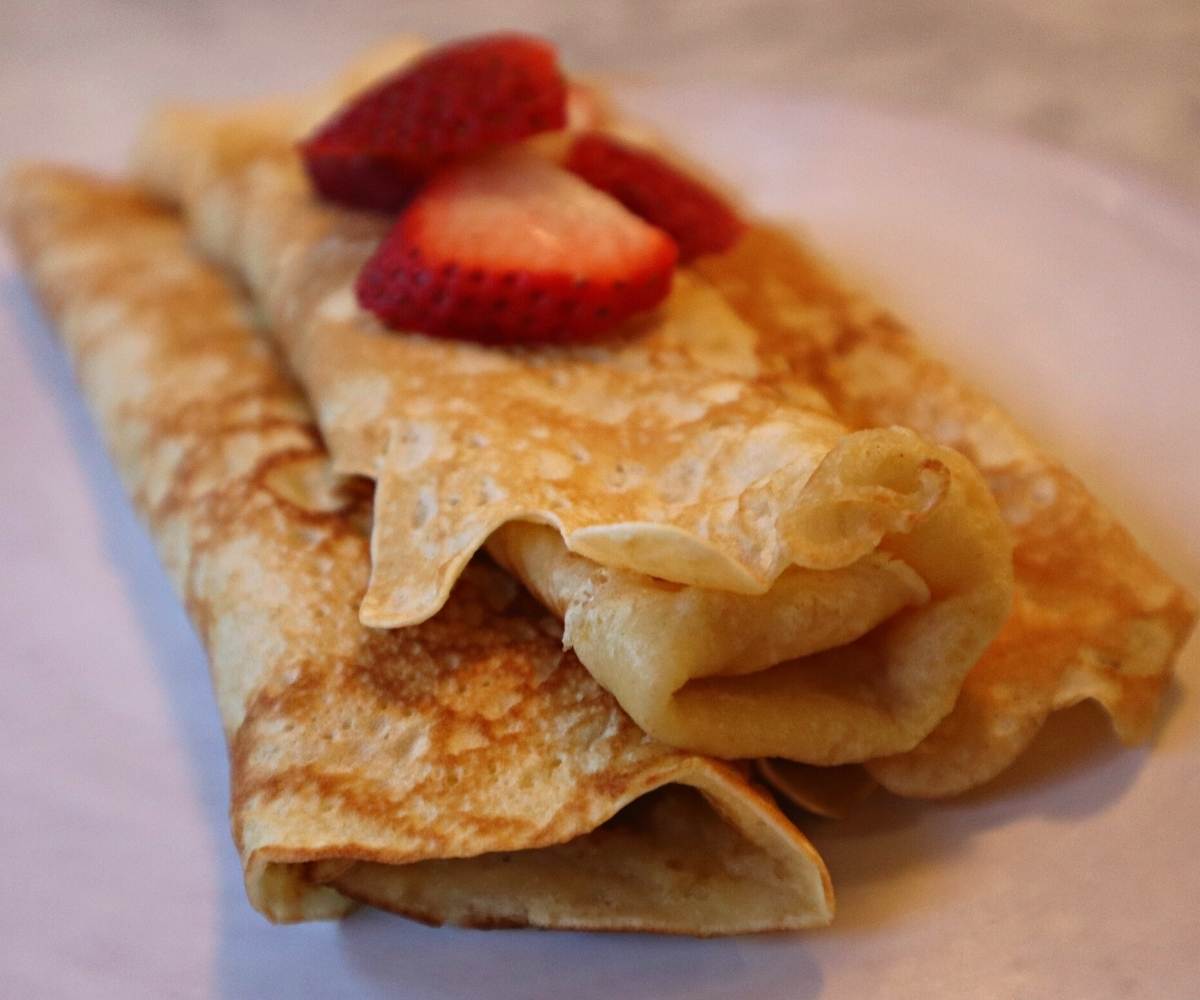 Useful Tools
If you are a frequent consumer of mini pancakes, you may want to consider buying a poffertjes pan. They are easy to find on Amazon:
If you want to continue with a minimalist (relatively speaking) pantry, here is our favorite non-stick skillet, and a small cookie scoop to make the batter portioning easy.
Poffertjes: A Mini Dutch Pancakes Recipe
These mini Dutch pancakes are tiny, adorable, and tasty.
Equipment
poffertjes pan

small cookie scoop
Ingredients
1 1/2

cups

milk

heated to about 105 F (be careful not to overheat the milk, as temperatures of 140 F and over will kill the yeast)

2 1/4

tsp

yeast

you can use instant yeast or active dry yeast

1 3/4

cups

all-purpose flour

2

tbsp

granulated sugar

1

pinch

salt

1

large egg
To serve:
unsalted butter

confectioners' sugar
Instructions
In a small bowl, add yeast to the warm milk and stir to combine. Let sit for about 10-15 minutes until frothy.

Whisk together the dry ingredients (flour, sugar and salt) in a large mixing bowl. Add the milk-yeast mixture and egg. Stir with a whisk until smooth.

Cover the bowl with plastic wrap and let sit at room temperature until bubbly and doubled in size, about 1 hour, or in the refrigerator overnight.

Heat the poffertjes pan or just a regular old 12-inch skillet over medium heat until hot, 3-4 minutes. If you are using a poffertjes pan, brush the cavities with melted butter or spray with oil. If you're using a skillet, melt a generous knob of butter in the hot pan. Pour enough batter to fill each cavity, or measure out and pour about 2 tsp of pancake batter into the frying pan to form each poffertje. Let the poffertjes batter cook until the top surface is covered with bubbles (2 minutes). Flip and let cook another 2 minutes until golden brown.

Remove tiny pancakes to a plate and sprinkle with confectioners' sugar and top with butter. Yum!
Notes
This batter keeps well in the refrigerator for several days, so you can enjoy your miniature pancakes on weekday mornings, without the fuss of making the dough fresh.
Affiliate Disclosure: As Amazon Associates, we earn a small commission from qualifying purchases when you click on links embedded in this post.