Have you ever wondered what a pandan-scented cloud would taste like? Well, that's what this cake is. It's so light and fluffy that you could *almost* sail away. This pandan cake recipe is so light that you will feel almost no guilt after consuming several slices (almost being the operative word, here!).
What is Pandan?
Pandan is a tropical plant. Its green leaf has a sweet and mild flavor. In Asia it is used much like vanilla in the West, as an additive flavor to sweets. Since pandan leaf can be hard to come by, but pandan extract (also known as pandan paste) is easily available on Amazon or at your local Asian grocery, this recipe relies on pandan extract for its green color and pandan flavor.
Where Does Pandan Cake Come From?
Pandan cake is very popular throughout Southeast Asia. In 2017, CNN controversially named pandan cake the national cake of Singapore and Malaysia. This led to angry reactions from the residents of Indonesia, who claim pandan cake as their own. A version of pandan cake that is layered with young coconut shoots, known as Buko Pandan Cake, is also very popular in the Philippines. Some versions of this cake use coconut milk, rather than dairy milk.
What is a Chiffon Cake?
Harry Baker, a Los Angeles insurance agent, invented the cake in the 1920s. Given on his name, one wonders whether Baker had been genetically pre-programmed to make this exciting contribution to baking history. In any case, Baker sold his cakes to the famous hat-shaped Brown Derby restaurant and private parties. News of this new light yet moist cake traveled fast. The cake became very popular, but Baker refused for many years to share its secret.
Finally, in 1948, he sold the recipe to General Mills, so that "Betty Crocker could give the secret to the women of America." General Mills introduced Chiffon Cake to the American public in 1948, calling it "the first new cake in 100 years." The emphasis on the women needing the cake seems especially ironic, given Baker's success and gender, but we digress. Baker's secret was twofold: he replaced butter with vegetable oil, and added beaten egg whites to the batter. This mash-up of a traditional butter cake and an angel food cake creates a cake that is light and fluffy, but still very moist.
Love Pandan?
Make these pandan waffles!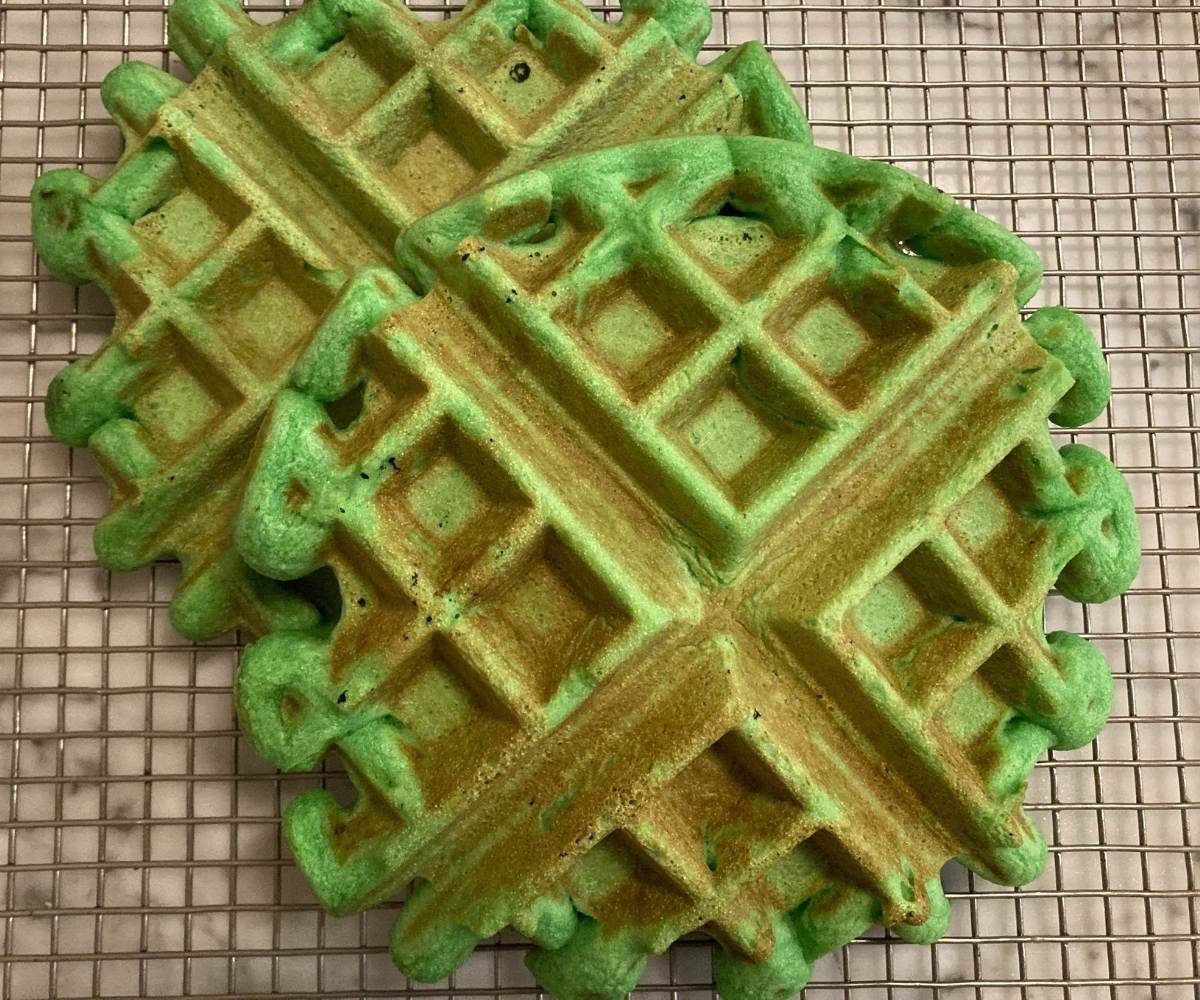 Love Layer Cakes?
Inspired to try more fun layer cakes? Check these fun baking projects out: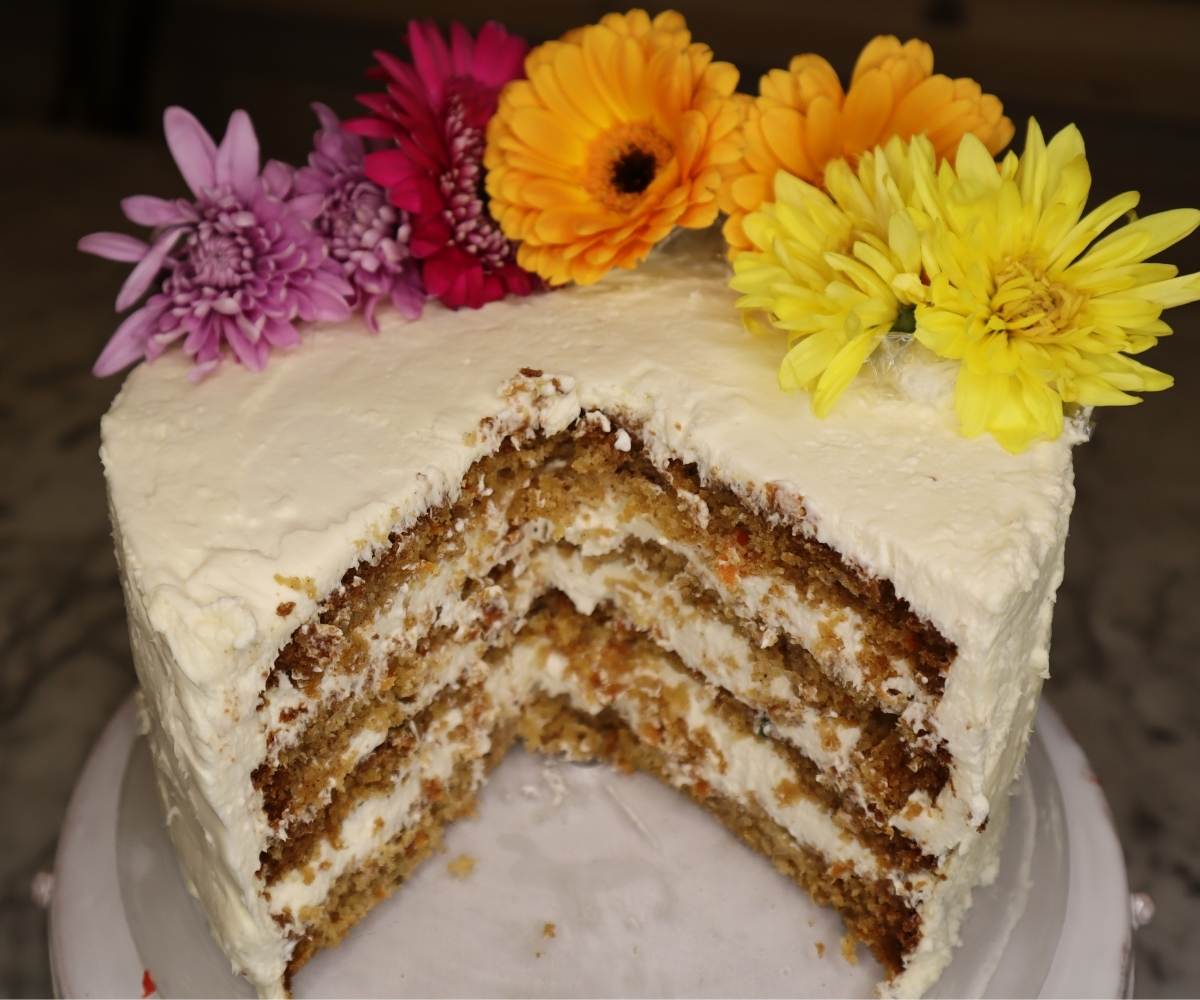 Useful Tools for Making this Pandan Cake Recipe
Soft and Fluffy Pandan Cake Recipe
This light yet extraordinarily moist pandan cake is not too sweet and have a lovely mild pandan flavor. the vibrant green hue is the cherry on top.
Equipment
2 8-inch round cake pans

cake stand

disposable piping bag

1/2 inch round icing tip

1/4 inch star tip

cake scraper
Ingredients
For the cake:
1

cup

cake flour

3/4

cup

sugar

divided

1

tsp

baking powder

1/4

tsp

salt

1/3

cup

corn oil or vegetable oil

4

large eggs

separated

1/3

cup

water

1

tsp

pandan essence

1/4

tsp

green food coloring

optional

1/4

cup

milk

1/4

tsp

cream of tartar
For the frosting:
1

pound

cream cheese at room temperature

1/2

pound

powdered sugar

1

pound

heavy cream
To decorate:
1/4

cup

flaked coconut

unsweetened
Instructions
Make the cake:
Preheat oven to 350 F. Line grease and line the bottoms of two 8-inch round pans with parchment paper. Position oven rack in the center of the oven.

In a large bowl, whisk together oil, egg yolks, water, pandan flavoring, green food coloring (if using), water, and milk.

Sift the dry ingredients (cake flour, 1/4 cup (50 g) sugar, baking powder, and salt) into the egg yolk batter. Whisk to combine.

In the bowl of a stand mixer using the whip attachment, or in a medium bowl using an electric hand mixer, beat the egg whites with cream of tartar at medium speed until frothy. Increase to high speed, then add the sugar gradually. Beat until a stiff peak forms.

Fold the beaten egg whites into the egg yolk mixture.

Pour the cake batter into the prepared pans and tap the filled cake pan on the counter to remove any large air bubbles.

Bake in the preheated oven for 25 minutes until the surface of the cake springs back when lightly touched and the edges begin to pull away from the side of the pan.

Remove from oven and let the cake cool on a wire rack for 10 minutes. Remove the cooled cake from the pan. If making ahead, wrap tightly in plastic wrap and store in the refrigerator or freezer until you are ready to frost.
Prepare the icing:
Beat the cream cheese and powdered sugar in a stand mixer using the paddle attachment until smooth.

Switch to the whisk attachment, and pour in the heavy cream. Beat until fluffy and a mousse-like texture forms.

Set aside a small bowl of the frosting to use for decorating.

Add the pandan extract and beat until well combined and no streaks remain. Put the pandan frosting in a piping bag with a half inch round tip.
To assemble:
Trim the cakes and place a cake layer on a cake stand. Pipe a thick layer of frosting over the cake, then top with the second cake. Pipe frosting over the top of the cake and sides and use an offset spatula or cake scraper to smooth the frosting.

Use the cake scraper to cover the sides of the cake with the flaked coconut.

Use a star tip to pipe decorations on the cake in green and white.
Notes
This cake keeps extraordinarily well in a airtight container in the refrigerator.  Ours lasted for several days, until we couldn't keep our hands off it any longer.
Affiliate Disclosure: As Amazon Associates, we earn a small commission from qualifying purchases when you click on links embedded in this post.