Have you ever wished you could enjoy your mochi in steaming, crunchy, waffle form? Well, your wish is our command!
A Short History of this Mochi Waffle Recipe
Unlike the 2021 television production Mochi + Waffle, this recipe does not feature cute puppets and Michelle Obama. However, like Mochi + Waffle, this recipe received rave reviews. Indeed, mochi and waffles really are a winning combination, since they allow us to combine the chewy texture and mild sweetness of butter mochi with the crispy exterior of waffles.
Please do not confuse this mochi waffle with a moffle, which is another combination of mochi and waffles. The Moffle consists of mochi rice cake toasted in a waffle iron. In this recipe, we simply replace the all purpose flour in a classic waffle recipe with mochiko flour, or sweet glutinous rice flour, and add in some coconut milk.
What is Mochi?
Mochiko Flour, or sweet rice flour, is made by pounding sweet glutinous rice into a flour. Mochiko flour has a different flavor and texture from regular rice flour, so please don't confuse the two! Because the rice is naturally gluten free, these waffles are gluten free. You can buy mochiko flour in Asian grocery stores, or on Amazon. We like either the Bob's Red Mill or Koda Farms brand.
Mo' Mochi
Looking for more mochi recipes? Check these Out: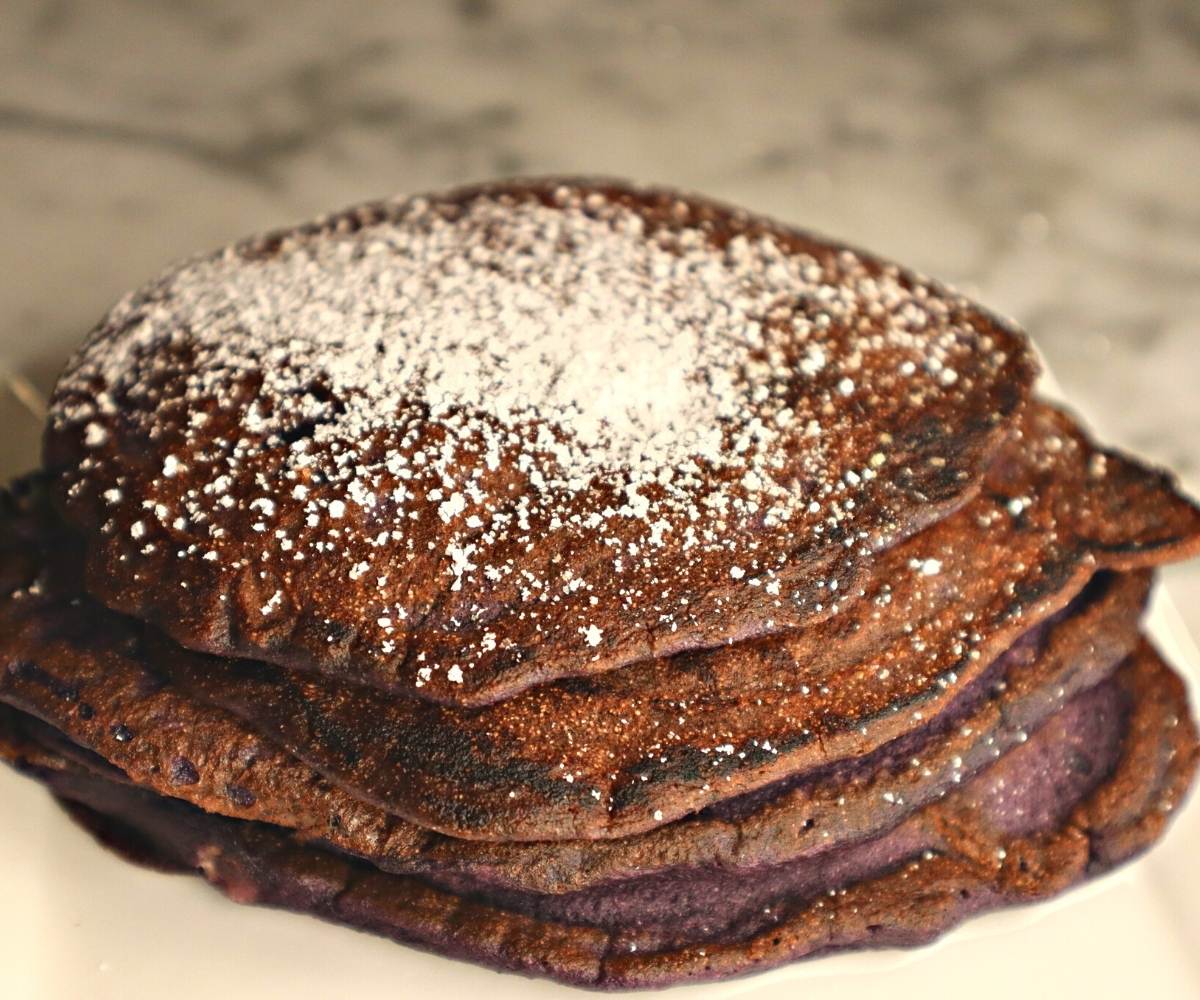 Waffling About
Looking for more waffle recipes?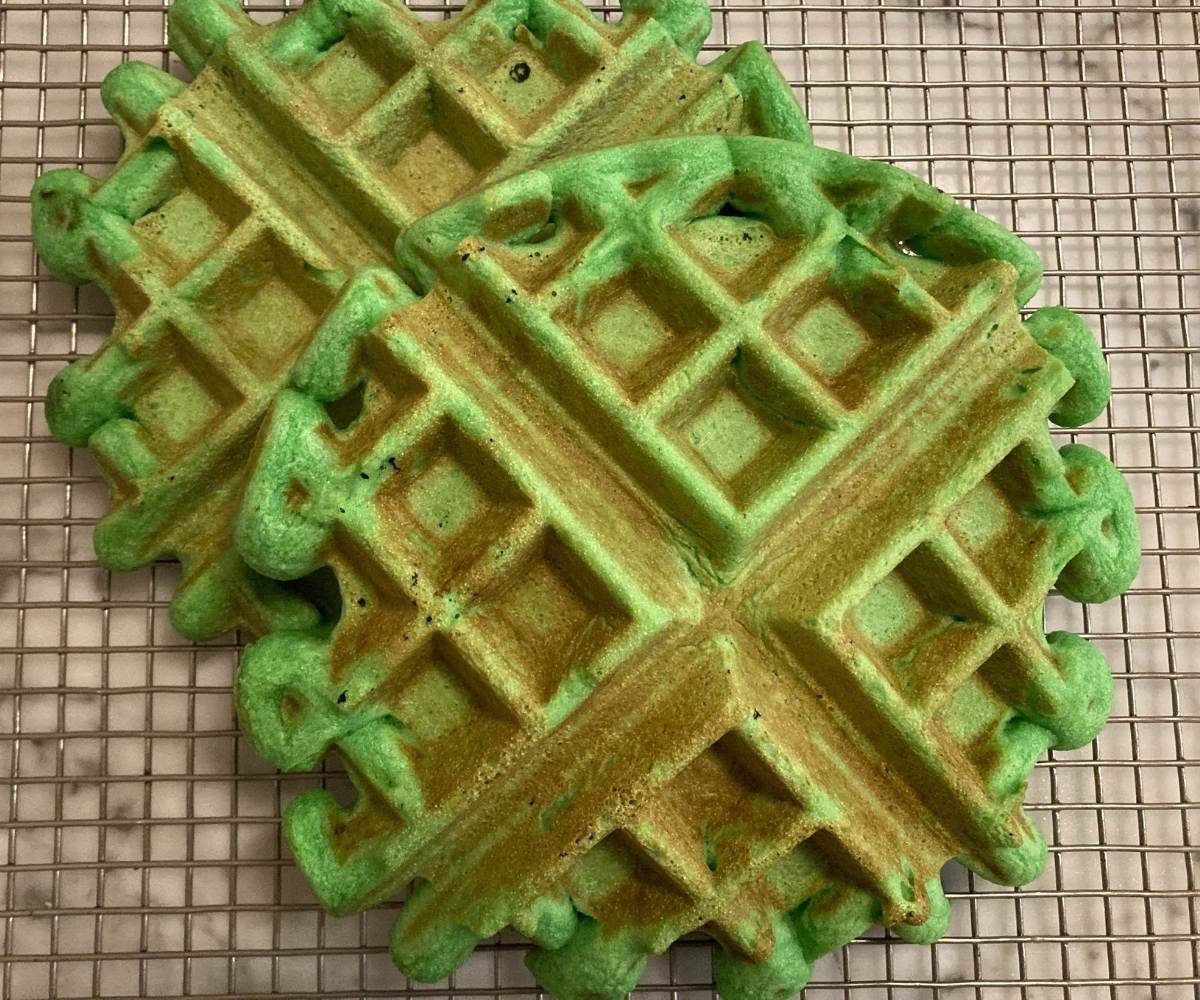 While we're on the topic of waffles, are you in search of a new waffle maker? If so, check out our analysis of the top criteria one should consider in buying a new waffle maker.
Toppings for Chewy Mochi Waffles
Unlike American waffles, these mochi waffles don't need maple syrup! This chewy mochi waffle recipe is quite rich, so we like it served with a little bit of fresh fruit. It's also very tasty to take these sweet waffles to the savory side, by melting some cheddar cheese on top and sprinkling it with a bit of cooked bacon. If you were enjoying these for dessert, rather than breakfast, you could go all-out with some chocolate syrup or ice cream.
Useful Tools for Making the Best Mochi Waffles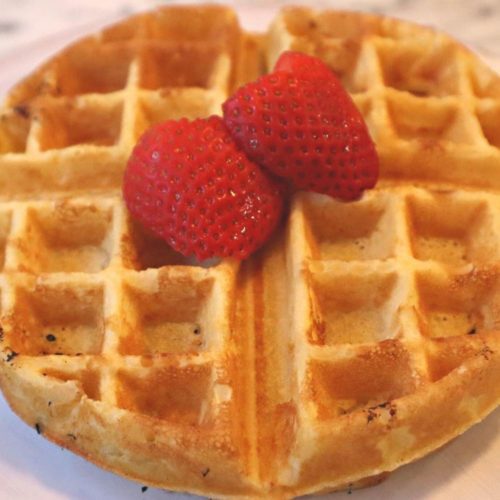 Mochi Waffle Recipe
This mochi waffle recipe produces waffles that are lightly sweet, chewy on the inside, and crunchy on the outside. A waffle eater's dream!
Ingredients
1 1/4

cups

mochiko flour

1/4

cup

sugar

1 1/2

tsp

baking powder

1/4

tsp

salt

1/2

cup

coconut milk

2

tbsp

melted butter

3/4

cup

milk

1

large egg

1/2

tsp

vanilla extract
Instructions
Fire up your waffle iron on medium heat and let it heat up while you mix together the batter.

Sift the dry ingredients (mochiko flour, sugar, baking powder, and salt) together into a large bowl.

Make a well in the center, and stir in the coconut milk, melted butter, milk, egg, and vanilla extract. Stir until thoroughly combined. The mochi waffle batter will be fairly runny and a bright white color.

Spray the waffle iron with non-stick spray. Pour the amount of batter specified by your waffle iron manufacturer onto the waffle iron and follow your waffle iron's instructions to cook.
Notes
These delicious mochi waffles are best served immediately, when their crispy edges are at their crispiest!
These waffles are quite rich, so even though the recipe only makes enough for four, you may well find yourself with leftovers. You can store the uncooked batter in an airtight container in the refrigerator for several days. Or, you can freeze the cooked waffles in a freezer-safe bag and revive them in the toaster oven as needed.
Affiliate Disclosure: As Amazon Associates, we earn a small commission from qualifying purchases when you click on links embedded in this post.