This white chocolate raspberry cookies recipe is the perfect combination of sweet and sour. These cookies use a traditional chocolate chip cookie base, but replace the dark chocolate chips with raspberries and white chocolate chunks. The super sweet white chocolate chips are perfectly balanced by the tangy raspberry pieces.
A Short History of White Chocolate
Like so many great dessert items, white chocolate emerged from a glut of an industrial product. After World War I, Nestle was faced with a surfeit of powdered milk. What is a corporation to do? Clearly, turn it into something edible and tasty. In its simplest form, white chocolate consists only of cocoa butter, milk, and sugar. The cooca butter is a byproduct of the cocoa powder production process so, all in all, white chocolate is a stupendously efficient food. Despite this, because white chocolate doesn't contain cocoa solids (as milk and dark chocolate do), white chocolate is often mocked as being the non-chocolate chocolate. These cookies should put any mocking to rest. It's likely that we'll never know what genius first paired raspberries with white chocolate, but we wish we knew so we could thank them for these cookies.
Drop Cookies
This white chocolate raspberry cookies recipe is a variation on a drop cookie, so called because dough is dropped by the spoonful (or scoopful, in our case), onto the baking sheet, rather than rolled and cut. Drop cookies are easy and quick to make. Want more drop cookie ideas? Check these out: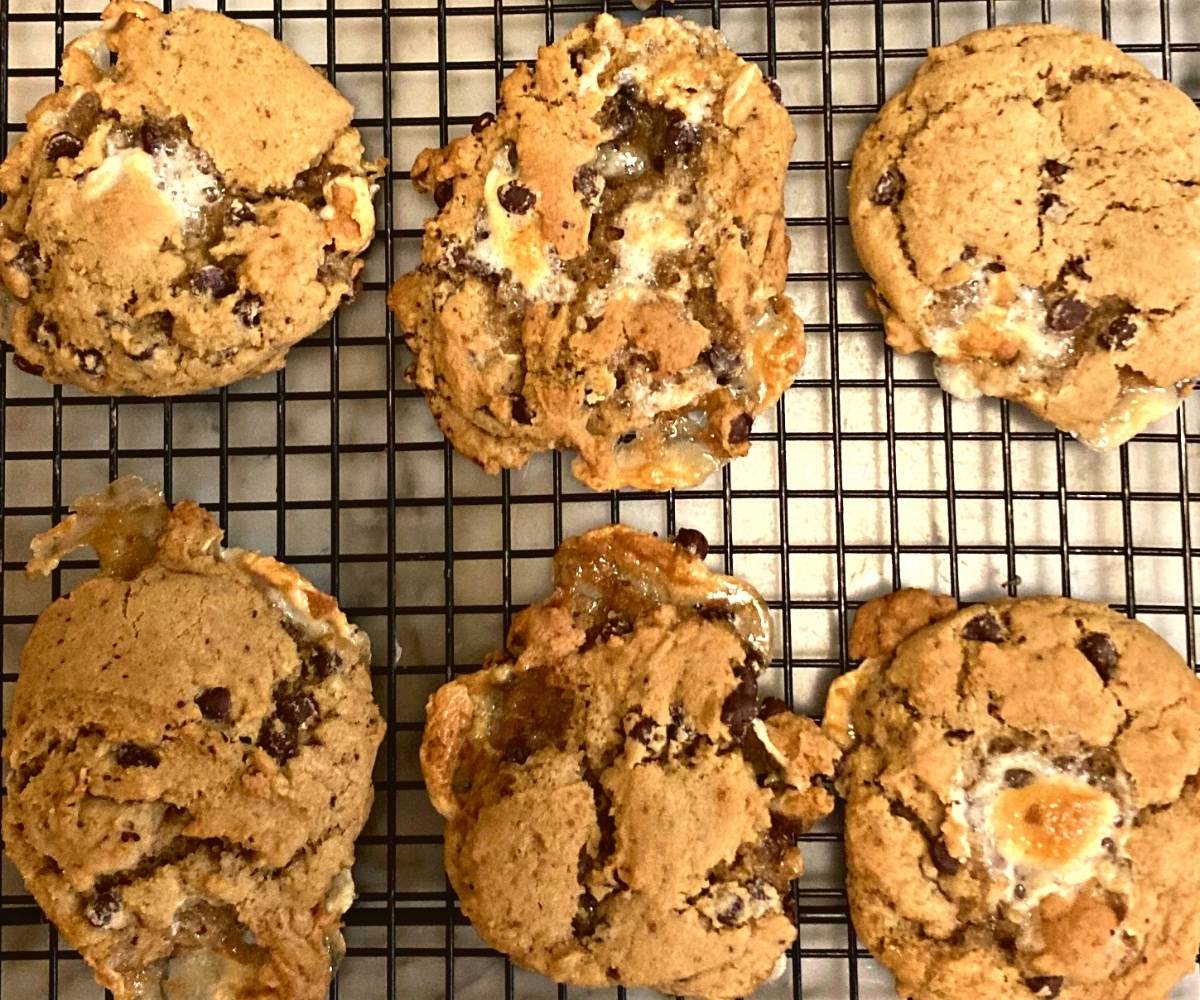 Useful Tools for Making this White Chocolate Raspberry Cookies Recipe
First and foremost, you'll need a cookie scoop! Wondering what kind of cookie scoop to buy? Check out our in-depth analysis here. And, here are a few other useful tools…
White Chocolate Raspberry Cookies Recipe
This white chocolate raspberry cookies recipe makes a chewy cookie, studded with chunks of sweet white chocolate and tangy raspberries.
Equipment
baking sheet

parchment paper

silicone baking mat

large cookie scoop
Ingredients
8

tbsp

room temperature butter

(unsalted)

1/2

cup

white sugar

1/4

cup

brown sugar, packed

1

tsp

vanilla extract

1

large egg

1 3/4

cups

all purpose flour

1/2

tsp

baking soda

1/4

tsp

baking powder

1/8

tsp

salt

1/2

cup

white chocolate chips or roughly chopped white chocolate

1/2

cup

fresh raspberries

roughly chopped
Instructions
Preheat oven to 350 F and line a baking tray with parchment paper or a silicone mat.

In the bowl of a stand mixer, using the paddle attachment, or in a large mixing bowl using a handheld mixer, cream together the butter, brown sugar, and white sugar, until smooth and fluffy.

Add the egg and vanilla extract, scraping down the bowl. Beat until well combined.

Remove the bowl from the mixer and sift in the dry ingredients (flour, baking soda, baking powder, salt). Return the bowl to the mixer and beat until just combined.

Remove the bowl from the mixer and gently stir in the chunks of white chocolate, followed by the raspberry pieces.

Use a large cookie scoop (1 1/2 inch diameter, 3 tablespoons of dough) to scoop 10 balls of cookie batter onto the cookie sheet. Leave plenty of room, as these cookie dough balls will roughly double in size as they bake.

Bake in the heated oven for 12-15 minutes, until golden brown and lightly puffed. Remove from oven and let cool for 5 minutes on the baking sheet. Place on a wire rack to fully cool.
Notes
We love these delicious cookies so much that we would argue that they are appropriate at any time of year, but their red color makes them extra festive around the christmas season or at valentine's day
.
These chewy cookies keep well for several days in an airtight container. For longer storage, consider freezing trays of the unbaked cookie dough mixture and then baking off as needed.
Affiliate Disclosure: As Amazon Associates, we earn a small commission from qualifying purchases when you click on links embedded in this post.