Have you every wished that your dark chocolate strawberry truffle came in dessert, rather than candy form? Well, good news. This strawberry brownies recipe is the perfect thing. This sweet treat has the perfect flavor contrast between the rich, fudgy brownies, and three kinds of real strawberry flavor (jam, fresh strawberries, and freeze-dried strawberries). These easy strawberry brownies are a special treat for chocoholics and strawberry lovers alike, making them a hit at all special occasions. With its adorable strawberry heart decoration, this decadent dessert recipe is also the perfect way to end your valentine's day.
Why do Strawberries and Chocolate Taste So Good Together?
British Chef Heston Blumenthal is credited with positing the theory that foods that form pleasing flavor combinations do so because they share chemical compounds responsible for flavoring. In a study testing this hypothesis, researchers found that this held true in many Western cuisines, but did not hold true in East Asian cuisines. In East Asian food, the likelihood of a food being found with another decreased with the number of shared chemical compounds. Perhaps our food preferences, like our points of view, only really tell us the perspective from which we are coming at the the issue (or the meal). Or, perhaps food is much more complex than a series of flavor chemicals, since a variety of other factors can contribute to our enjoyment of a dish – texture or textural differences, and smell, prime among them.
A Short History of Chocolates and Strawberries
While we think of chocolate-covered strawberries as a timeless treat, they are, in fact, a modern invention. A woman named Lorraine Lorusso is widely credited with inventing them in the 1960s, while working as a candy buyer for a Chicago grocery store, Stop & Shop. From this unexciting beginning, chocolate-covered strawberries have risen to become a classic treat. These classic fudgy brownies have a dense texture and get lots of strawberry flavor from fresh strawberries, strawberry jam, and freeze dried strawberry powder.
More Chocolate Treats
Can't get enough chocolate in your life? Here are some more of our chocolatiest favorites.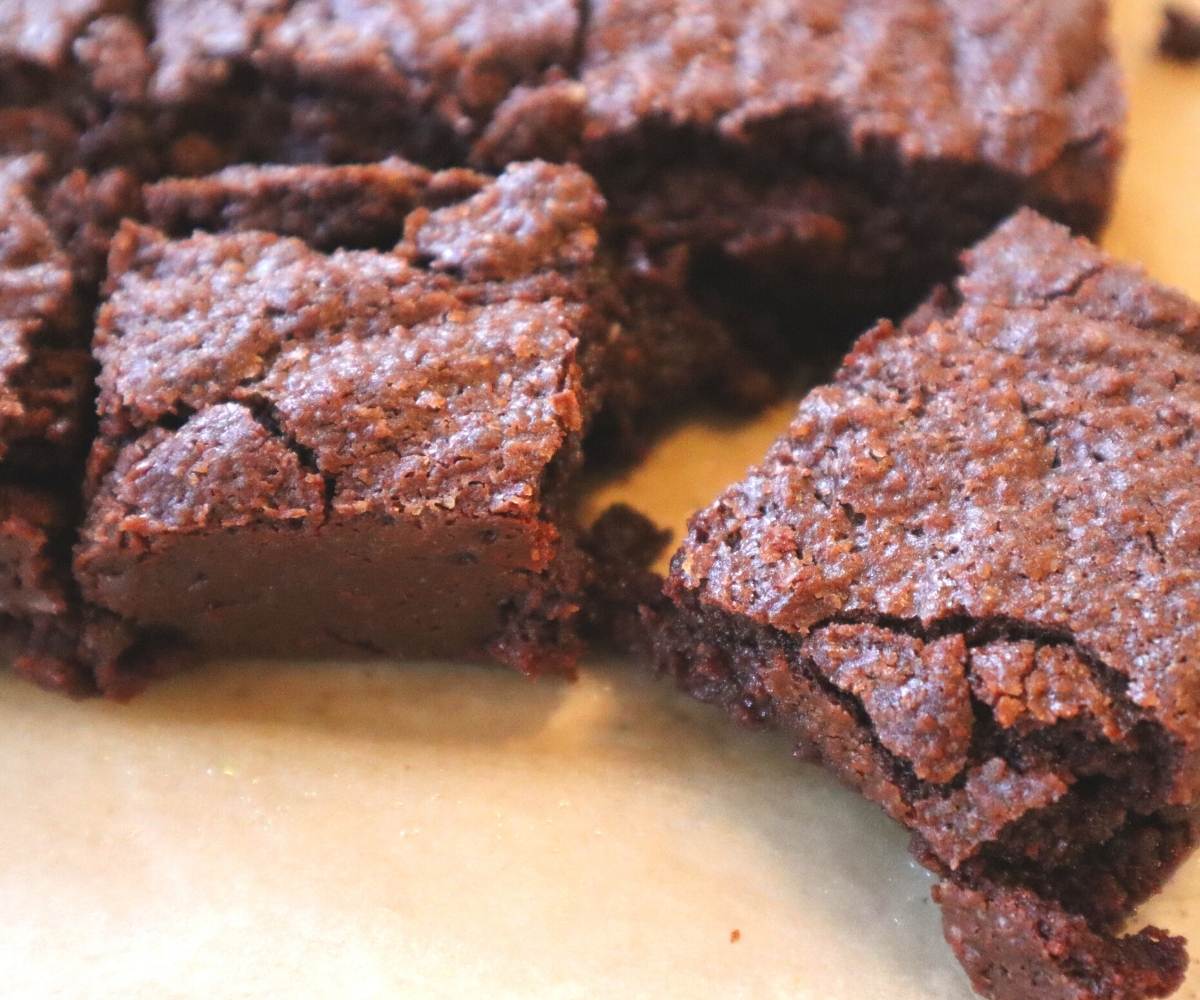 More Strawberry Desserts
Want more strawberry treats in your life? Look no further! Here are some of our favorite strawberry recipes.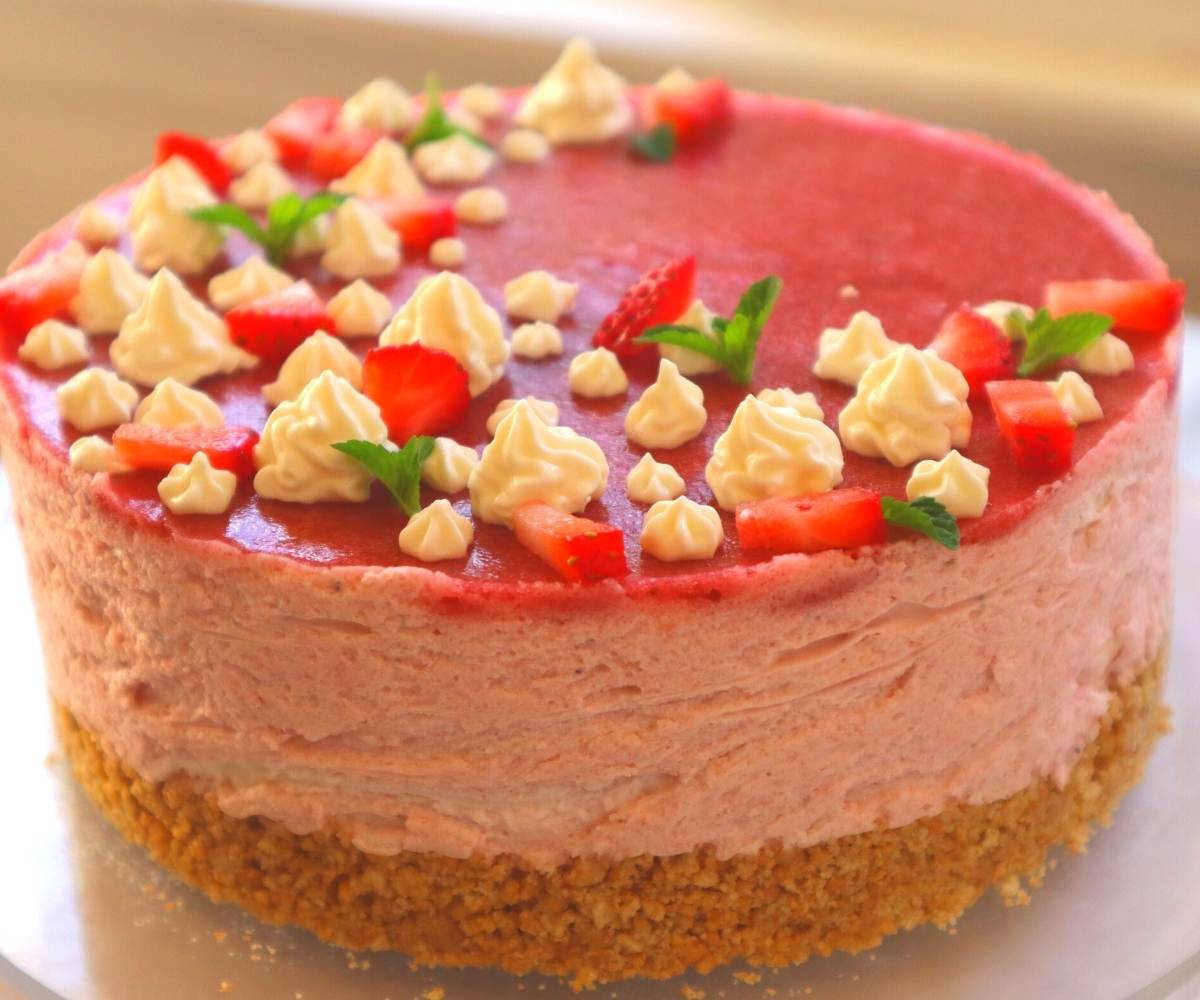 Useful Tools for Making this Strawberry Brownies Recipe
Strawberry Brownies Recipe
Have you every wished that you your dark chocolate strawberry truffle came in dessert, rather than candy form? Well, good news. This strawberry brownies recipe is the perfect thing.
Ingredients
12

tbsp

unsalted butter

6

oz

unsweetened chocolate

2

cups

sugar

2

tsp

pure vanilla extract

3

large eggs at room temperature

1

cup

all-purpose flour

1/2

tsp

flaky sea salt

1 3/4

cups

coarsley chopped semi-sweet chocolate

divided in half

1/4

cup

strawberry jam

6

fresh strawberries

hulled and sliced

1/4

cup

freeze-dried strawberries
Instructions
Preheat oven to 350 F. Grease and line an 8 x 8 inch square baking pan with parchment paper.

Place a large bowl over a pot of simmering water. Add the butter and the chocolate. Stir occassionally the butter is fully melted, then remove from heat. Stir the chocolate into the melted butter until fully combined.

Stir in sugar, vanilla extract, and eggs. Sift in the remaining dry ingredients (flour and salt), and stir to combine. Stir half the chopped semi-sweet chocolate into the batter.

Pour half the brownie batter into the prepared baking dish. Top with strawberry slices, setting aside 6-8 slices to decorate the top.

Pour the remaining half of the brownie batter over the top. Dollop the jam by tablespoon full on top of the brownies. Use a fork or a skewer to swirl the jam into teh brownie batter.

Scatter the chopped semi-sweet chocolate over the top, then decorate with sliced strawberries.

Bake 40 to 50 minutes until puffed and the center of the brownies is just barely set. While the brownies are baking, grind freeze dried strawberries in the food processor until they form a thin powder.

While the brownies are still warm, sprinkle with freeze dried strawberry powder.
Notes
Once the brownies are fully cooled, slice into 16 squares (they are small, but very rich!). Pro tip: chill the brownies in the refrigerator or even freezer to make it easy to get very clean slices. Serve cooled brownies topped with a scoop of vanilla ice cream.
These delicious treats will keep very well in an an airtight container or wrapped tightly in plastic wrap for several days.
Affiliate Disclosure: As Amazon Associates, we earn a small commission from qualifying purchases when you click on links embedded in this post.