Want to make homemade belgian waffles without baking powder? Try this brussels waffle recipe, which relies on yeast and sparkling water as a leavening agent, instead.
A Short History of this Brussels Waffle Recipe
The history of waffles in Belgium is long and illustrious. The first written mention of waffles can be dated back to the 17th century. Waffles seem to have really hit their stride in the 19th century when many "gauffreries" (or waffle shops — you know you're serious about waffles when you have a separate name for stores that sell them) opened along the seashore. Should you not take Belgium's claim to waffle fame seriously, perhaps you will be convinced by the fact that Belgium is home to not one but two distinct regional varieties of waffles. Liege waffles are made with a heavy brioche-like dough and studded with pearl sugar, while Brussels waffles are Liege's lighter cousin. Today, we're making a Brussels waffle recipe. We use both yeast and carbonated water to leaven the Brussels waffle, for a delicate flavor and airy texture.
What we Americans call today a "Belgian Waffle" bears little resemblance to its original Belgian cousin. In Belgium today, waffles are a street food. They are served without all of the fixings that we Americans enjoy for easier eating-while-walking. In the United States, we use the Belgian waffle's traditional deep pockets to house as much maple syrup as possible.
Waffling Around
Does all this talk of waffle shops make you want to explore your options before committing? Check out these other waffle ideas!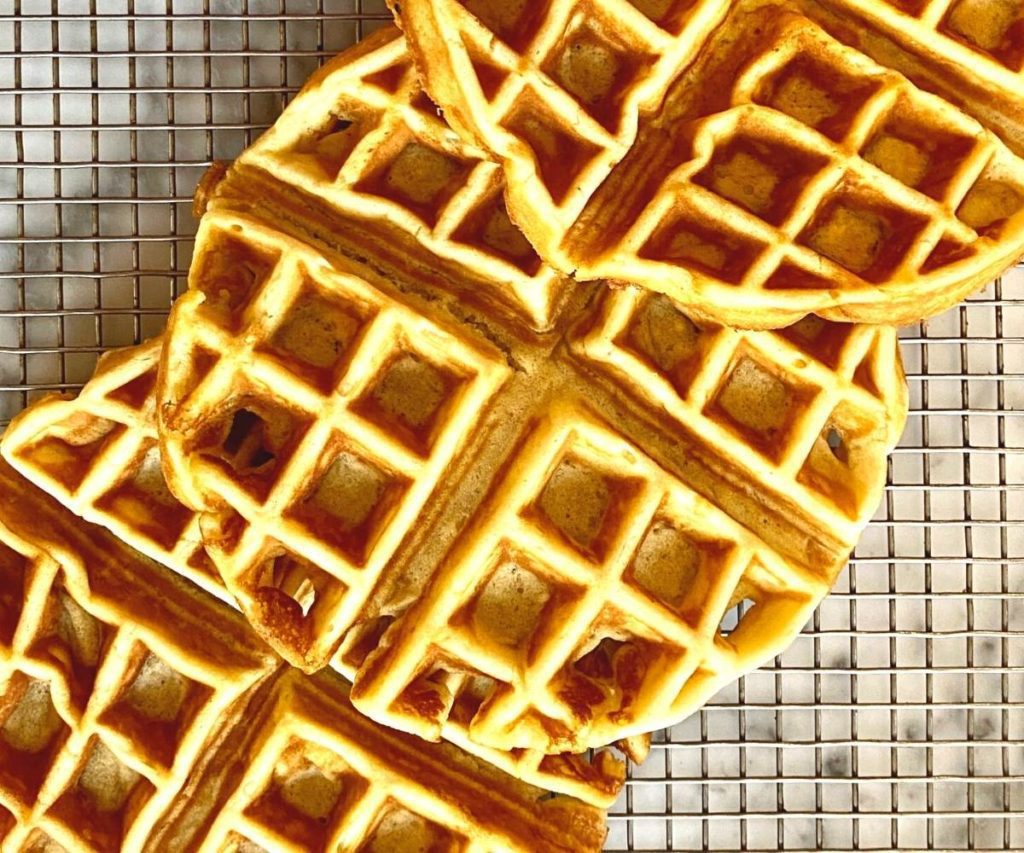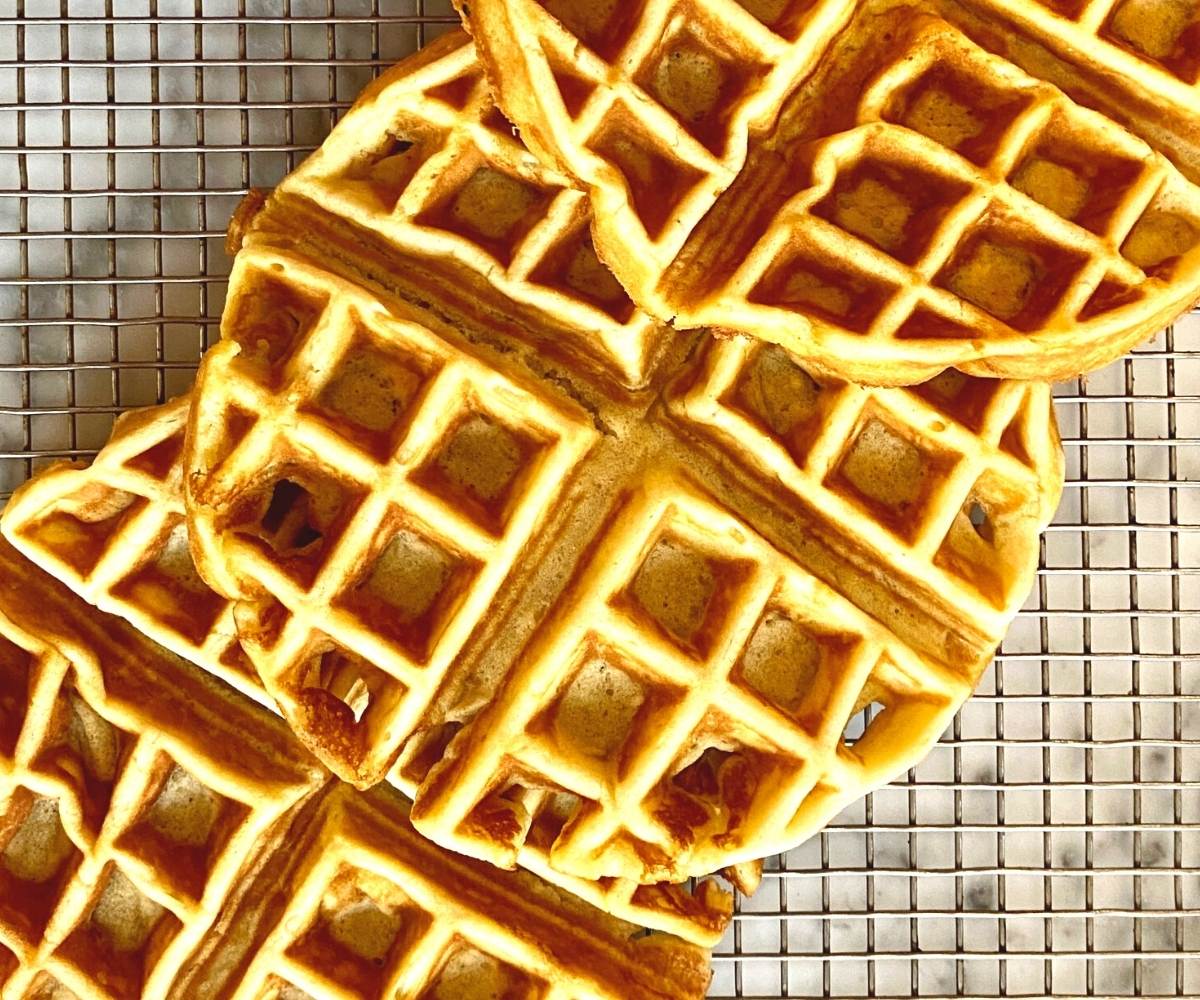 Useful Tools in Making This Recipe
You'll need a waffle iron to make this recipe. Need to buy one? Be sure to check out our Top 7 Criteria in Buying a Waffle Maker!
Here were the two winning waffle makers: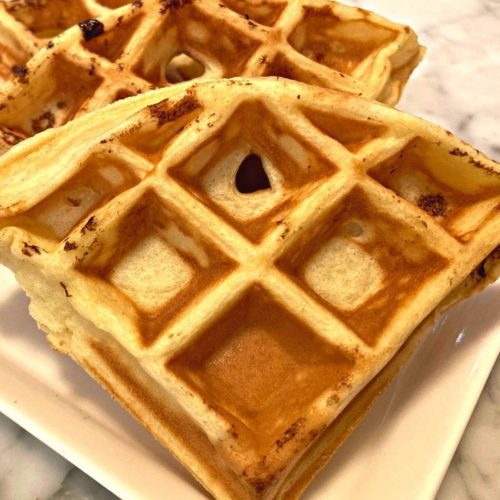 Brussels Waffle Recipe
This Brussels style waffle is leavened with yeast and carbonated water for a light and fluffy interior and a crunchy exterior.
Ingredients
2

tsp

active dry yeast

3/4

cup

whole milk

warmed to bout 90 F

3

tbsp

sugar

1

tsp

vanilla extract

7

tbsp

melted butter

1 1/2

cups

all purpose flour

2

eggs

1

pinch

salt

3/4

cup

sparkling water
Instructions
Dissolve yeast in lukewarm milk and cover and rest for 20 minutes or until bubbles appear.

Separate the eggs, adding the egg yolks to the yeasted milk, along with the melted butter, vanilla extract, and dry ingredients (flour, salt, sugar). Set egg whites aside.

Mix well using a rubber spatula, then cover the bowl and let the batter rest in a warm place until the dough has doubled in size (roughly one hour, or up to overnight in the refrigerator covered in plastic wrap).

Preheat your belgian waffle maker.

Beat the egg whites until frothy, then add the beaten egg whites and sparkling water to the yeast dough to make it runny.

Spray the preheated waffle iron with nonstick cooking spray, then pour 1 cup batter into the hot waffle iron and cook the Belgian waffle batter until your waffle is golden brown and crispy.

For best results, eat immediately dusted with powdered sugar!

If you are making waffles for a crowd, put your homemade waffles on a baking sheet in an oven preheated to 200 F to keep warm.
Affiliate Disclosure: As Amazon Associates, we earn a small commission from qualifying purchases when you click on links embedded in this post.