Do you love waffles but wish they were a bit more…well, chocolatey? We have that problem, too. So, today we're sharing our favorite chocolate waffle recipe.
About this Chocolate Waffle Recipe
This chocolate waffle recipe seems to have traveled far from its Belgian origins. Belgian waffles were traditionally leavened with yeast and contain unholy amounts of butter and sugar. These, ironically, are a bit lighter, but what they lack in yeast and butter, they make up for in chocolatey goodness. The rich chocolate flavor of the waffles comes from just a little bit of unsweetened cocoa powder.
Belgian Waffles and Belgian Chocolate
Although not traditional in waffles, given Belgium's leading role in chocolate production, adding chocolate to a waffle batter feels…well…natural. Chocolate arrived in Belgium very early. In the 17th century, what is now Belgium was part of the greater Spanish empire and therefore was an early consumer of cocoa beans, brought back from early Spanish trips to the New World. In the 19th century, Belgian chocolatiers perfected chocolate making for the mass market. Jean Neuhaus (claimed by the Belgians as their own, but actually Swiss) invented the praline and his wife (perhaps more crucially) developed the "ballotin" the special cardboard box that fancy chocolates live in. Belgium is today home to more than 2,000 chocolate shops (this, in a country roughly the size of the state of Maryland) and supplies more than 20% of the world's industrial chocolate.
Chocolate Waffle Recipe Defies Meal Categories!
While some might say that these chocolate waffles should be dessert waffles, we proudly insist that they are the perfect breakfast. That said, should you feel the need to add some of our favorite toppings – chocolate sauce, whipped cream, chocolate chips, or fresh fruit, they could potentially drift into dessert territory.
Waffling Around
Looking for more waffle recipes? Check out some other fluffy waffles we've shared here: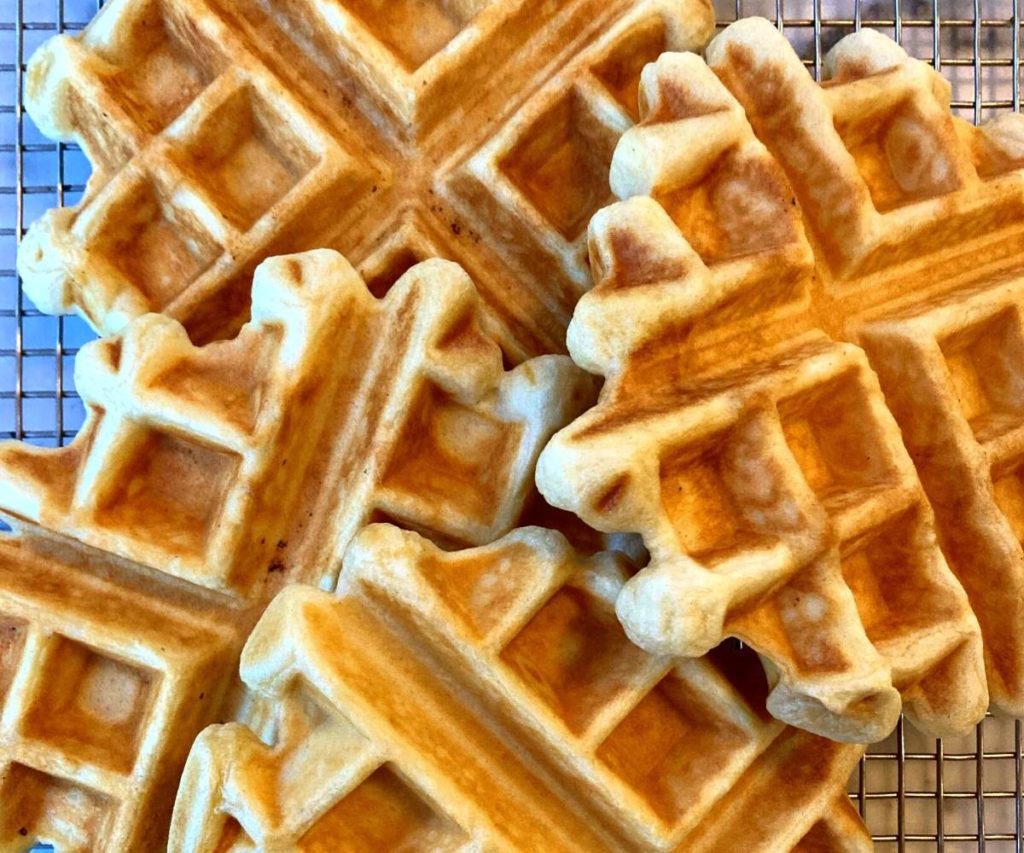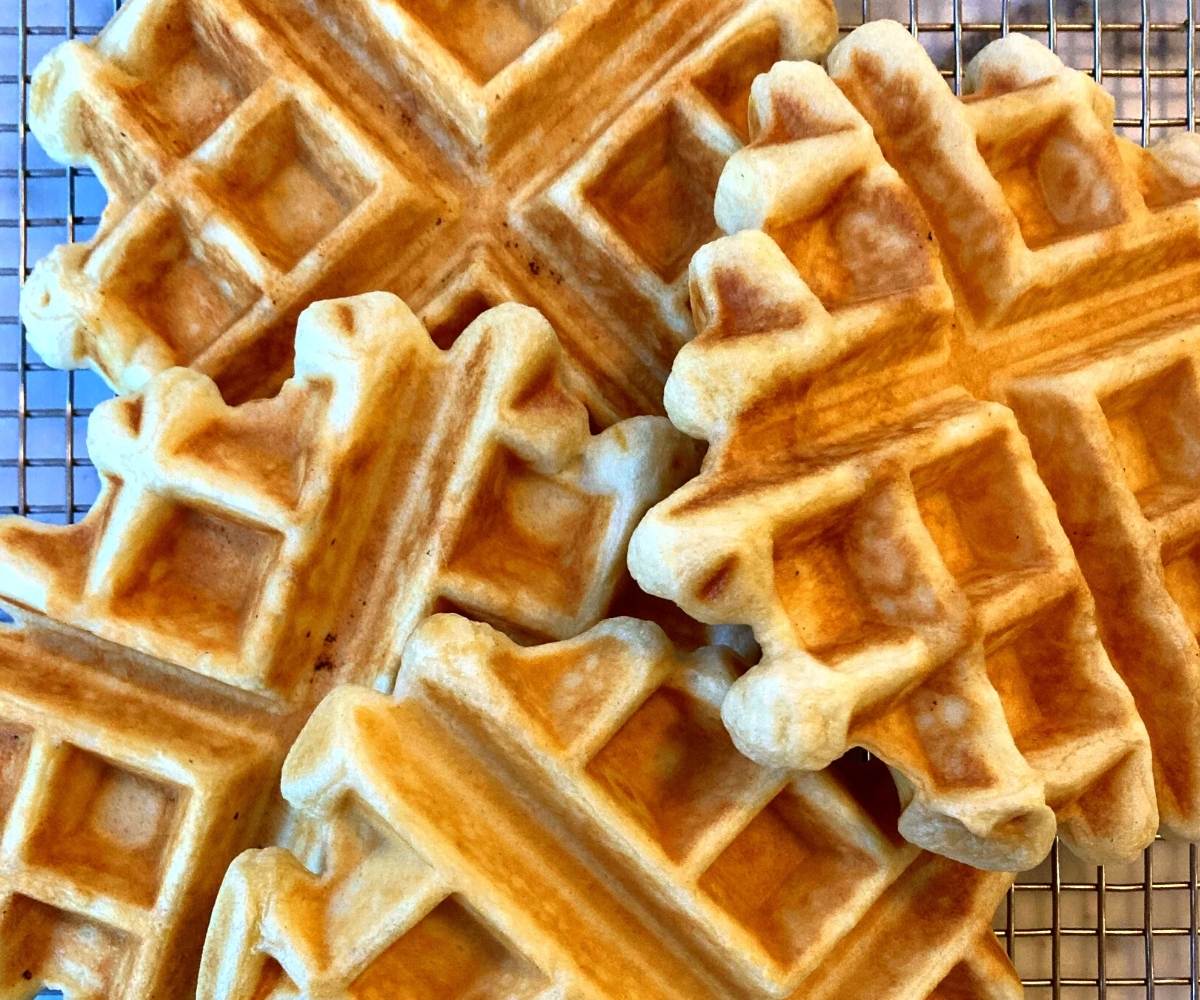 Useful Tools in Making This Recipe
You'll need a waffle iron to make this recipe. Need to buy one? Be sure to check out our Top 7 Criteria in Buying a Waffle Maker!
Here were the two winning waffle makers: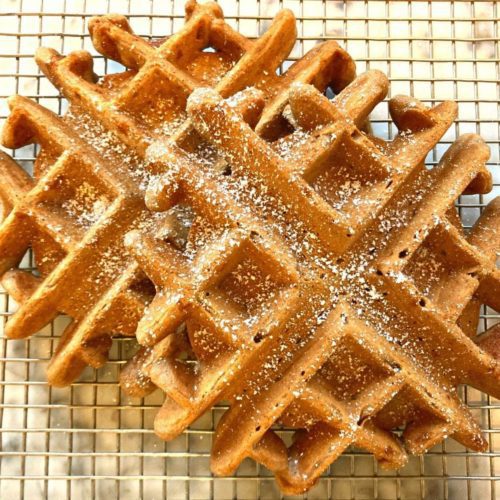 Chocolate Waffle Recipe
This chocolate waffle recipe is for the choco-holics out there, who need chocolate at every meal, including breakfast!
Ingredients
1 1/2

cups

all-purpose flour

3

tsp

baking powder

1/2

tsp

salt

1/2

cup

white sugar

3

tbsp

unsweetened cocoa powder

1

cup

milk

2

large eggs

at room temperature

4

tbsp

unsalted butter
Instructions
Preheat your Belgian waffle maker.

Place butter in a microwave safe bowl and melt in microwave. Set aside to cool.

In a large bowl, sift together the flour, baking powder, salt, sugar and cocoa.

Stir the wet ingredients (eggs, milk, melted butter) into the dry ingredients, mixing until well combined.

Spray preheated waffle iron with nonstick spray.

Pour batter onto the center of the iron by 1/3 cup of waffle batter and close lid. Follow manufacturer's directions to cook until golden brown.
Notes
For best results, eat these crispy chocolate waffles immediately, but if you are making them for a crowd, place on a baking sheet in an oven preheated to 200 F to keep warm. To store leftovers, cool on a wire rack and then refrigerate of freeze. Leftover waffles can be reheated and crisped up in a toaster oven.
Affiliate Disclosure: As Amazon Associates, we earn a small commission from qualifying purchases when you click on links embedded in this post.