Most pancake recipes call for buttermilk to give them a tender texture. But, most people don't keep buttermilk lying around their refrigerator. A can of evaporated milk, however, lasts forever. Many of us, whether we know it or not, have one rattling around the back of their cabinet.
What is Evaporated Milk?
Evaporated milk is made by simmering milk until it loses 60% of its water. Homogenization then integrates the fat molecules into the liquid so that they don't separate over time. This gives evaporated milk a much longer shelf life. The milk is then packaged in cans and sterilized. The heating process gives the milk a thicker, creamier texture and a very mild caramel flavor, without any additional fat.
Why Evaporated Milk in Pancakes?
The thick, creamy texture of the evaporated milk makes it an ideal ingredient in homemade pancakes. The resulting pancakes are tender and just a little sweet, without any additional fat.
How Do I Use Up the Rest of the Evaporated Milk?
Wondering how to use up the rest of the can? Here are a few ideas:
1) Evaporated milk is wonderful in coffee. It tastes like half and half, with way less self-indulgence.
2) Pumpkin pie!
3) Tres leches cake
What's the Difference Between Evaporated and Condensed Milk?
Evaporated and condensed milk start the same way. Milk is simmered to remove 60% of the water. However, sugar is added to condensed milk,. No sugar is added to the evaporated milk.
A Short History of Evaporated Milk
In the nineteenth century, drinking milk was an iffy proposition. Fresh milk from cows was teeming with bacteria and spoiled quickly. Getting sick from spoiled milk was so common that it had it's own name: "milksick." A young dairy farmer, Gail Borden, invented evaporated milk following a transatlantic voyage that was so rough that the cows became seasick and did not produce milk. In the late nineteenth and early twentieth centuries canned evaporated milk was critical for feeding armed forces.
Can I Store This Pancake Batter?
Yes, assuming that your eggs were not on the brink of expiry, this pancake batter should keep for several days in an airtight container in the refrigerator.
I Couldn't Find Evaporate Milk In My Pantry But I Still Need Pancakes!
No problem! We've got you covered: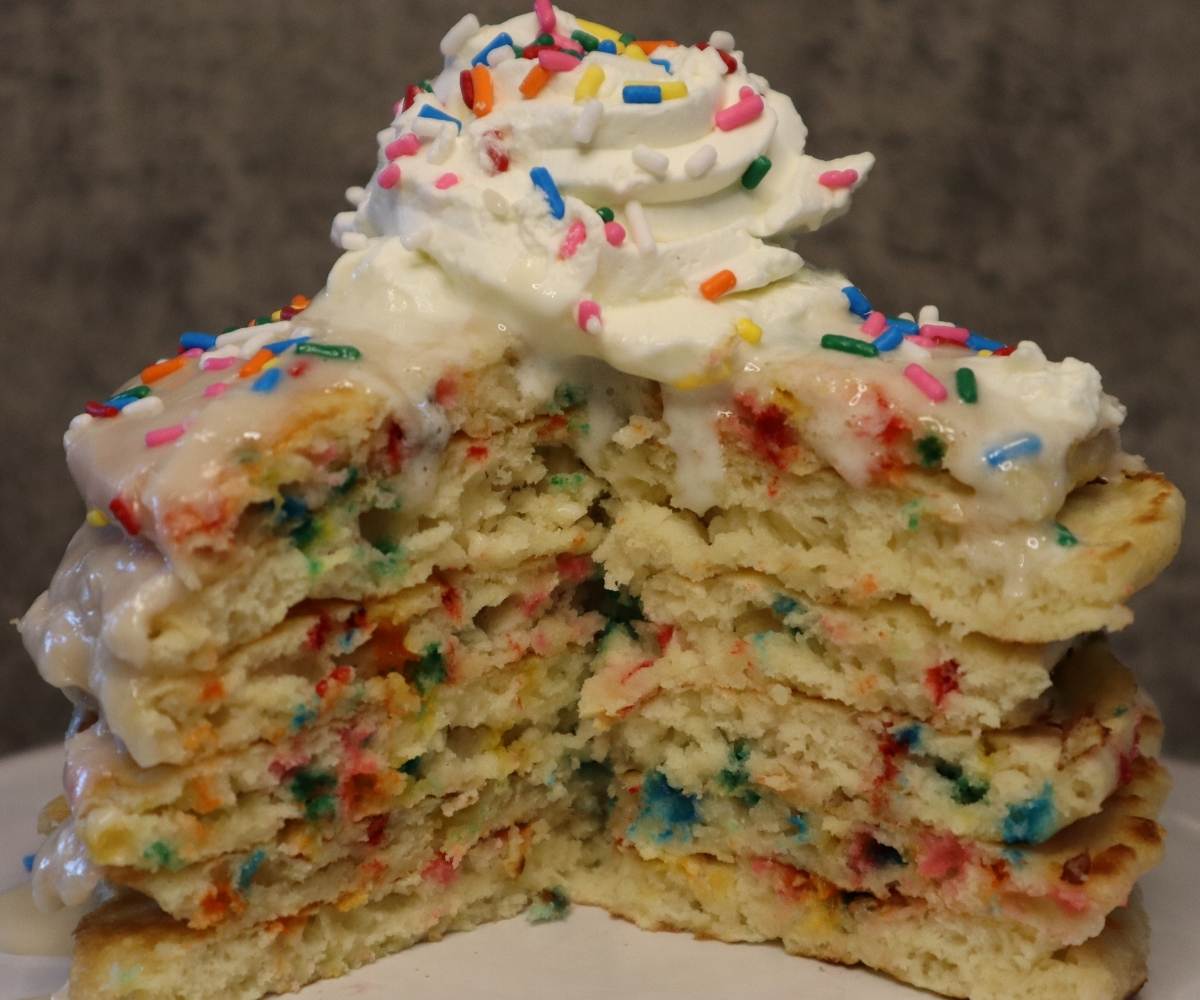 Useful Tools for Making these Evaporated Milk Pancakes
Pancake Recipe With Evaporated Milk
This pancake recipe includes evaporated milk, which gives it a tender texture and mild sweetness.
Equipment
large non-stick frying pan
Ingredients
2

cups

all-purpose flour

2

tsp

baking powder

1

tsp

baking soda

1

tsp

salt

4

tbps

unsalted butter

4

tbsp

sugar

2

large eggs

1

cup

evaporated milk

1/2

tsp

vanilla extract

1

cup

water
Instructions
Melt butter in microwave.

In a large bowl, whisk together melted butter, sugar, eggs, vanilla extract, and evaporated milk.

Sift dry ingredients (flour, baking powder, soda, salt) into the wet ingredients. Combine flour mixture with wet ingredients.

If the batter is thicker than you prefer, add up to 1 cup water, until the batter reaches the desired consistency.

Heat a 12-inch skillet or non-stick pan over medium heat. You'll know that the pan is ready when you flick water into it and it sizzles.

Spray the preheated pan with vegetable oil based cooking spray.

Pour a quarter cup batter per pancake into the pan. Pour a few tablespoons of water into the pan and cover it. Let the pancakes cook undisturbed 2-3 minutes until the top of the pancakes are covered with small bubbles throughout and the bottom surface is golden brown.

Flip the pancakes and let cook an additional 2-3 minutes until the bottom is golden brown.

Serve immediately with the topping of your choice — banana slices, fresh blueberries, whipped cream, or maple syrup.

If you are making these pancakes for a crowd, you can keep them warm in a warm oven heated to 150 F. Try not to do so for too long, however, as they can dry out.
Affiliate Disclosure: As Amazon Associates, we earn a small commission from qualifying purchases when you click on links embedded in this post.