If you were to dream of marshmallows, what would your dreams look like? Ours would be a buttery sesame blondie studded with gooey marshmallows and sprinkled with a crunch of sesame seeds over the top.
A Short History of Blondies
Blondies are Brownies' older, wiser, sister. We say this not as older sisters, but as consumers of blondies, of course. In any case, blondies, emerged in the late 19th century, at a time that molasses was a common sweetener. A recipe for blondies (named Brownies, in the book, perhaps because of their molasses-tinted hue) was first published in Fannie Farmer's 1896 The Boston Cooking-School Book.
The popularity of the name "brownie," which was applied to all manner of things including the "brownie" camera, seems very mysterious to us at a distance of 150 years. Palmer Cox wrote a wildly popular series of books with adorable elfin characters named Brownies, inspiring all kinds of brownie-named things. These 19th century Brownies were perhaps the great grandparents of the Trolls of the 1990s. We're just glad we didn't grow up eating "troll" cakes.
By 1906, Farmer updated her book and included two recipes for "brownies," one chocolate, and one vanilla. The name "blondie," short for "blonde brownies" seems to have emerged as the popularity of chocolate brownies soared, and as molasses was gradually replaced with brown sugar, giving the blondie its iconic blonde color.
It took another 100 years for brilliant pastry chefs around the world to begin experimenting with combining the savory flavor of sesame with the uber sweetness of blondies. And so, tahini blondies were born.
Aside from their cute names, blondies and brownies are perhaps such a favorite recipe because they are so darn easy. They come together in just minutes. Simply melt the butter, then fold in the rest of the simple ingredients and bob's your uncle!
Useful Tools for Making this Marshmallow Dream Bar Recipe
More bar cookies!
Love bar cookies? So do we. Here are some other favorites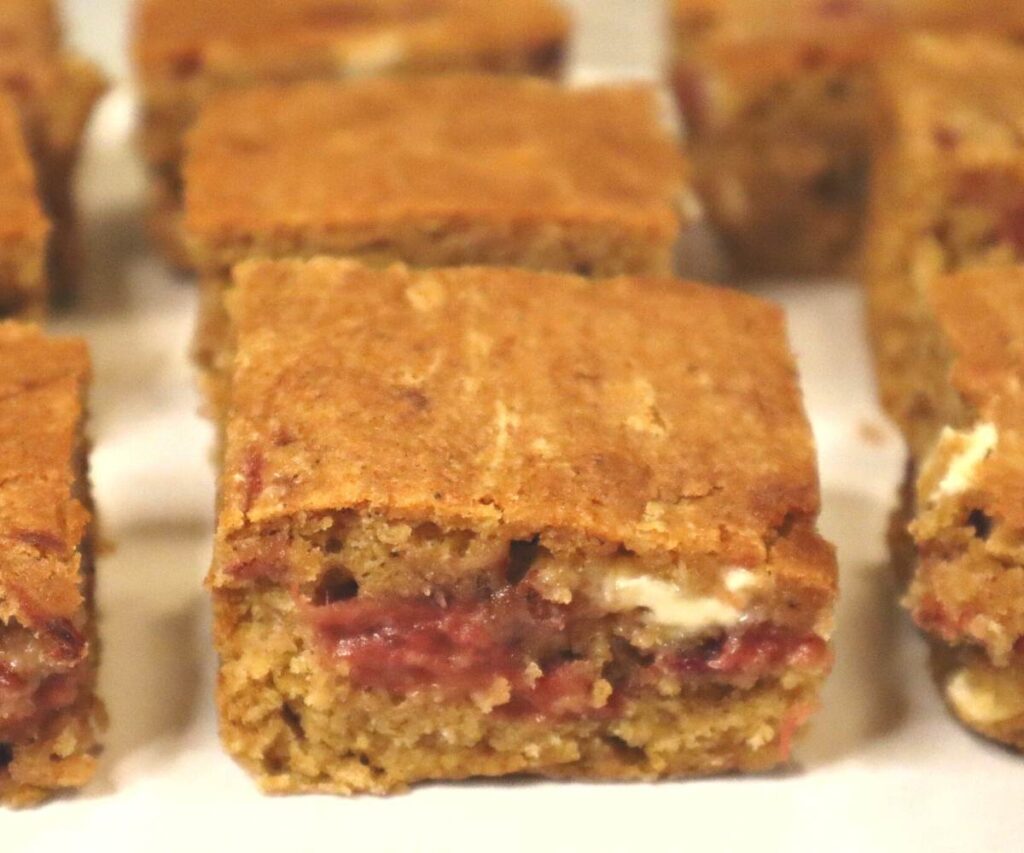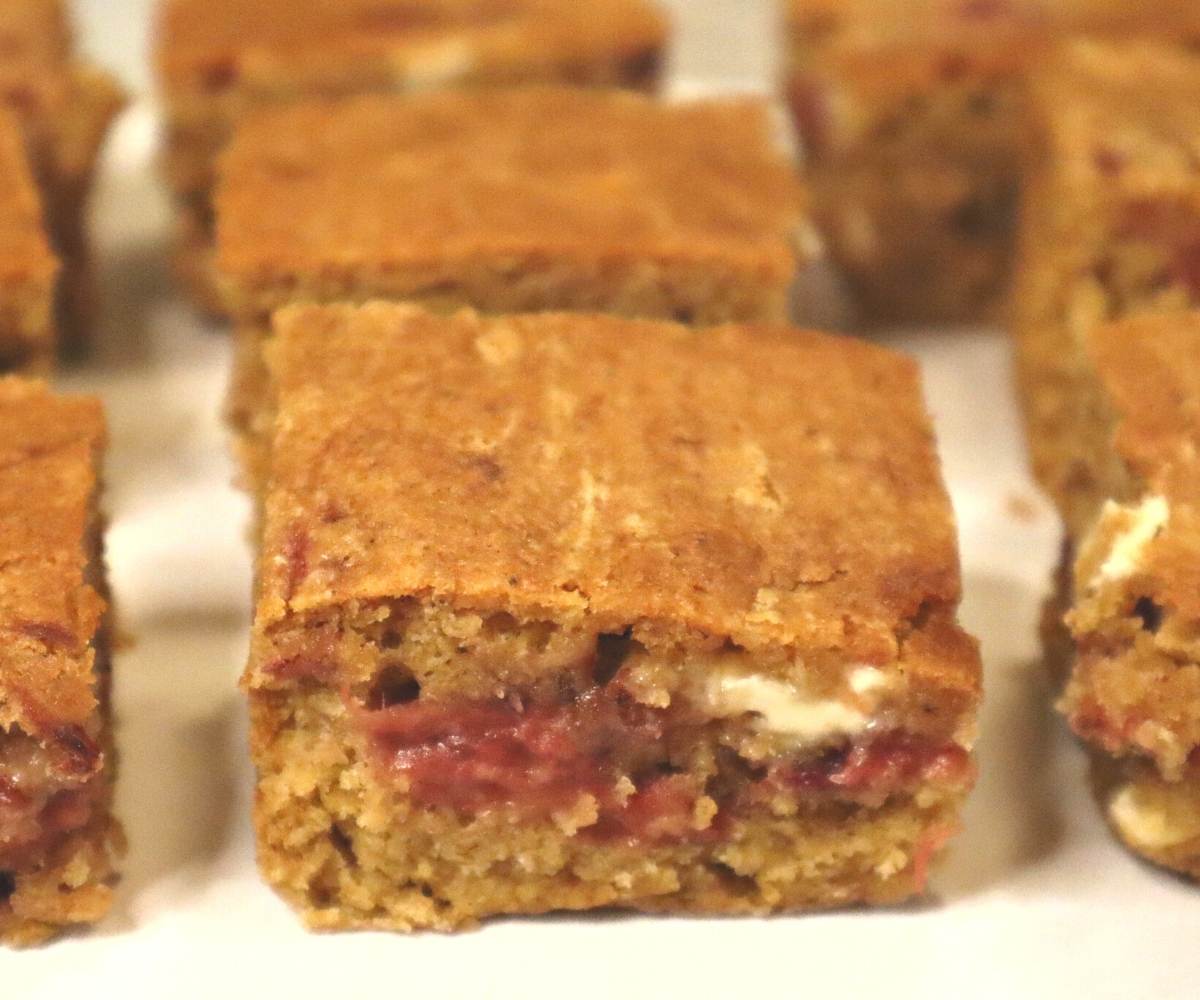 Beyond the Marshmallow Dream Bar: Marshmallowing It Up
Who doesn't love melted marshmallows in their baked treat? Here are some other marshmallow-themed delights for those of us with a bag of marshmallows calling our name from the pantry.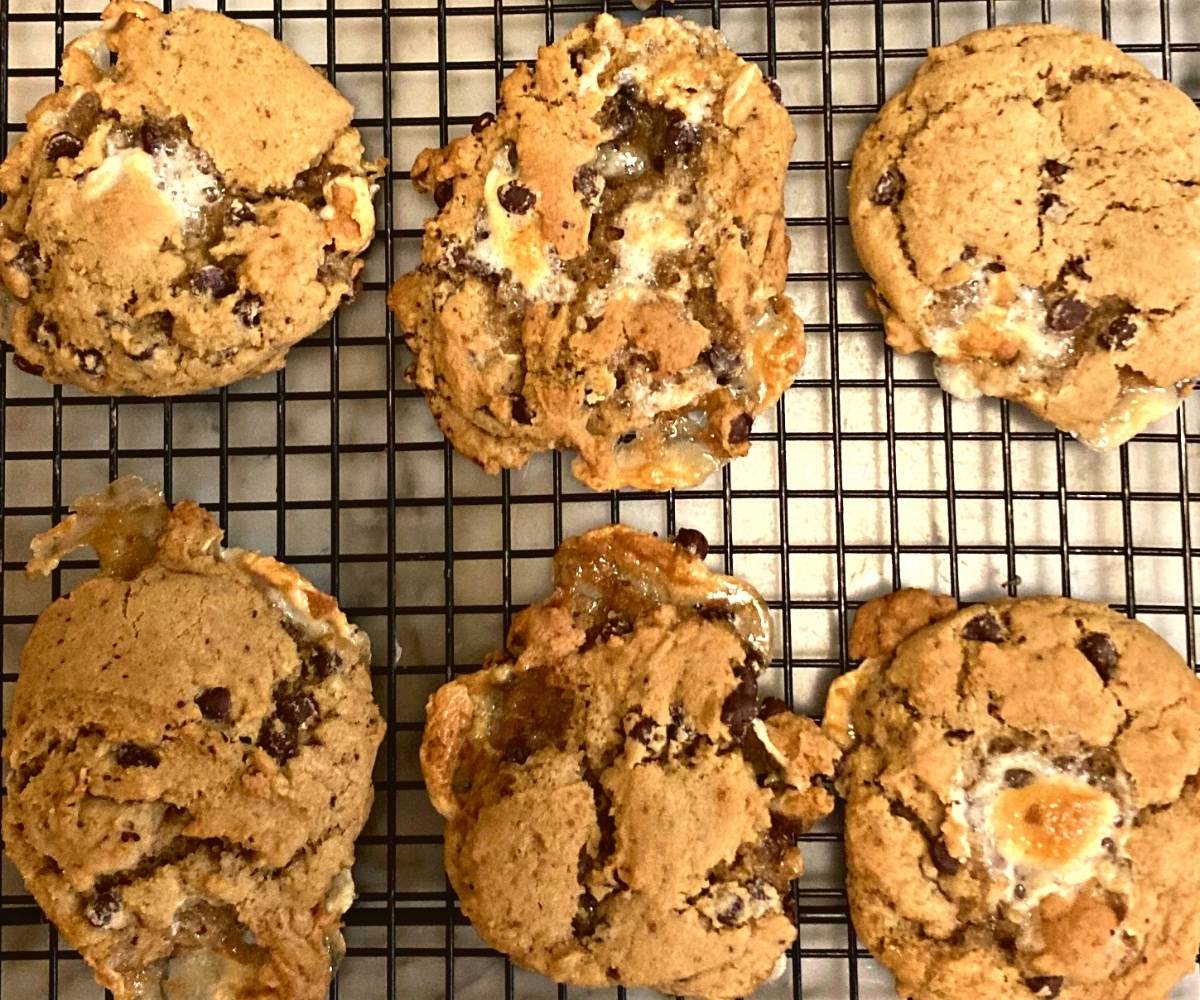 Marshmallow Dream Bar Recipe
If you were to dream of marshmallows, what would your dreams look like? Ours would be a buttery sesame blondie studded with gooey marshmallows and sprinkled with a crunch of sesame seeds over the top.
Equipment
8 x 8 inch square pan

parchment paper
Ingredients
2

sticks unsalted butter

2

tbsp

tahini

2

large eggs at room temperature

1 1/2

cups

brown sugar

1

tsp

vanilla extract

2

cups

cake flour

1

tsp

baking powder

1 1/4

cups

of mini marshmallows

4

tbsp

sesame seeds

1

tsp

sea salt or kosher salt
Instructions
Preheat oven to 350 F and grease and line an 8 x 8 inch pan with parchment paper.

Melt butter in a large pot over medium heat, stirring occasionally with a wooden spoon. Once the butter melts, lower temperature and continue cooking over low heat until the butter foams and separates into liquids and solids, in order to brown butter. Remove from heat as soon the solids turn nutty brown colored.

Pour the melted browned butter into a large bowl. Whisk in the eggs, sugar, vanilla extract, and tahini until fully combined.

Sift the flour and baking powder into the bowl and stir gently to combine.

Fold in one cup of mini marshmallows, reserving 1/4 cup of mini marshmallows for the top.

Pour mixture into the prepared baking dish in an even layer and smooth the top with a rubber spatula. Sprinkle sesame seeds over the top of the batter, as well as the reserved marshmallows and sea salt.

Bake 35-40 minutes until the blondie is cooked through but still moist and gooey in the center.

Chill in the refrigerator for at least an hour before removing from pan and slicing into 16 small squares (these blondies are extremely rich!).
Notes
Blondies will keep in an airtight container or wrapped tightly in plastic wrap in the refrigerator for 2-3 days.
Affiliate Disclosure: As Amazon Associates, we earn a small commission from qualifying purchases when you click on links embedded in this post.