Swedes love waffles so much that they devoted an entire day to them. There are not one, but two strands of Swedish waffle recipe types. Waffle lovers, unite!
A Short History of Waffles
Waffles were invented in the middle ages. By the 18th century, people loved waffles so much that cookbooks began to identify types of waffles associated with different regions. Belgian waffles, for example, were leavened with brewers' yeast. Dutch waffles (known as stroopwaffels, or syrup waffles) were thin and crispy and cookie-like. Most waffles, however, contained a few simple ingredients including eggs, butter, flour, milk, and sugar. Sugar was a very expensive commodity. Waffles remained a luxury item and special treat until the nineteenth century when advances in sugar beet processing made sugar much more affordable.
About That Waffle Day…
Are you as intrigued by Waffle Day as we are? The best thing about it is that it seems to have emerged from a slip of the tongue. The Swedish word for Our Lady's Day (Vårfrudagen) sounds a lot like Waffle Day (Våffeldagen) and so, it became popular to celebrate the former with the later. Don't believe this slip of the tongue story? We find it a bit suspicious, too. Another possible theory is that March 25th (Feast of the Annunciation Day, also known as Our Lady Day, or the day when the Angel Gabriel announced to the Virgin Mary that she was pregnant) also marks the end of a long, dark winter, and the start of spring in Sweden. The day was typically celebrated with a small party, and it seems possible that waffles were just the ticket to celebrate warmer things to come.
In the United States, we have our own separate waffle day, August 24, which marks the day when the first patent for an electric waffle maker issued.
Waffle Types
As we mentioned, Swedes love waffles so much that there are two types of typical Swedish waffle – äggvåfflor (egg waffles) and frasvåfflor (crispy waffles). We encountered quite a bit of variability in our search for an authentic Swedish waffles recipe. Swedish egg waffles closely resemble their American counterparts – leavened with baking powder, and containing eggs, melted butter, milk and flour. The Swedish crisp waffles, on the other hand, are an entirely different beast. The traditional Swedish recipe contains no eggs and is leavened with baking powder and/or sparkling water. Crispy waffles contain a wide array of dairy products from sour cream, to whipping cream, to milk and butter. They are soft and light (Eva Sabet, the famous Swedish Crown Bakery owner, describes them as crepe-like) on the inside, and crispy on the outside, and perhaps some of the most delicious golden waffles we've ever tasted.
Waffle Toppings
A traditional Swedish topping would be whipped cream, jam (cloudberry jam and lingonberry jam are favorites), and a sprinkle of fresh berries. If you're a naughty American, you might still top your Swedish waffles with maple syrup, icing sugar, or ice cream. If you're one of our children, you'll be poking chocolate chips into each waffle indentation and pretending it's breakfast and not dessert while your parents casually look the other way.
Waffling About
Still waffling on your waffle choice? We've got waffle recipes for you, if our favorite Swedish waffle recipe isn't quite cutting it.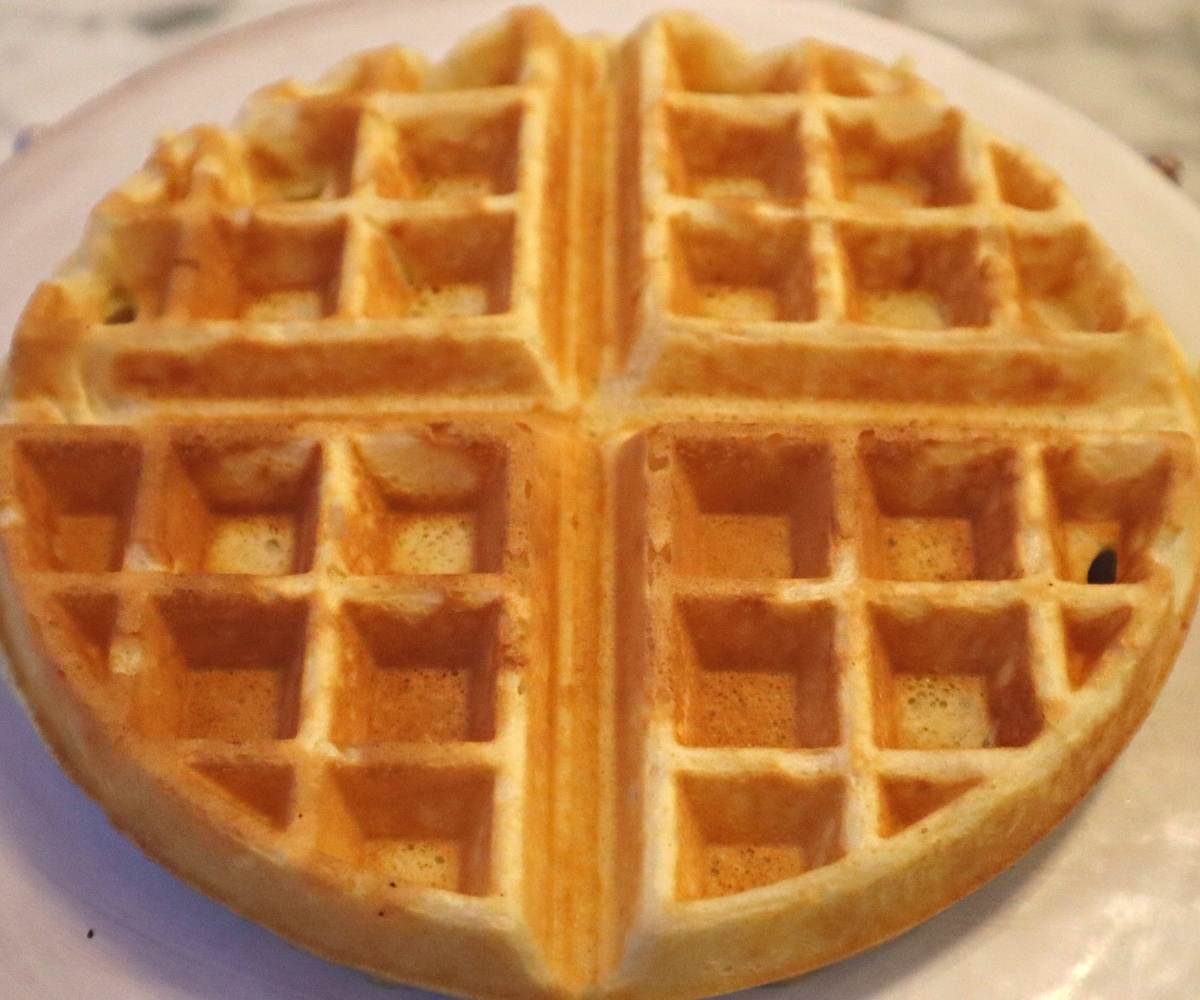 Useful Tools For Making Swedish Waffles
Swedish waffles are traditionally made in a heart-shaped waffle iron which has a larger number of smaller pockets, like this one. The waffles are thinner than their Belgian counterpart.
Don't have a Swedish waffle iron? Neither do we. Here are our favorite Belgian ones.
In the market for a waffle iron? Check out our Top 7 Criteria to Consider in Buying a Waffle Iron.
Waffles For A Crowd
If possible, eat these immediately as their delicate crispy exterior/fluffy interior just doesn't last. If, under durress, you find yourself cooking for a crowd, you can keep waffles warm in a wire rack placed in an oven heated to 150 F.
Leftover Waffles
In the unlikely event that you find yourself with a surplus of fluffy delicious waffles (who are you?), you can place waffles in a single layer on a baking sheet and freeze them. Store frozen waffles in a ziploc bag. Waffles can be revived with a quick trip to the toaster oven.
Crispy Swedish Waffles
Waffles are so beloved in Sweden that there is an entire day devoted to them and there are not one, but two strands of Swedish waffle recipe types. Waffle lovers, unite
Ingredients
7

tbsp

butter

melted

1

cup

milk

1 3/4

cups

all purpose flour

2

tsp

baking powder

1

tsp

vanilla extract or vanilla sugar

1

tbsp

sugar

1

cup

cold water or sparkling water
Instructions
Fire up your waffle iron.

Sift the dry ingredients into a large mixing bowl. Make a well in the center and pour in all of the wet ingredients. Whisk until a smooth batter forms.

Spray the waffle iron with non-stick spray or brush waffle iron with a bit of melted butter.

Add waffle batter to fill your preheated waffle iron (ours needs about a half cup of batter)

Cook according to waffle iron directions, until the waffle is golden brown and crispy.

Eat immediately!
Affiliate Disclosure: As Amazon Associates, we earn a small commission from qualifying purchases when you click on links embedded in this post.