This eierkuchen recipe will produce some extremely delicious German pancakes.
A Short History of this Eierkuchen Recipe
Pancakes are so beloved in Germany that different regions have different names for them. Residents of West Germany call them "Pfankuchen." In Eastern Germany, the term "eierkuchen" prevails. Austria is evenly divided between the terms "Omelett" in Western Austria and "Palatschinken" in Eastern Austria. The term eierkuchen is particularly associated with Berlin, where it was incorporated into an early techno music festival "Friede Freude Eierkuchen," which roughly translates to "Peace, Love, and Pancakes."
The German word "eierkuchen" roughly translates to "egg cake," and indeed the German equivalent of American pancakes are much eggier. They are more like French crêpes, but just a little thicker. We appreciate a language with so many different words for one of our favorite foods. Despite the variations in terms, there is relatively limited variation in German pancake recipe ingredients. The basic recipe consists of eggs, flour, and milk. Baking powder is occasionally included.
Is this a Dutch Baby?
The dutch baby pancake is an entirely different creature. Although the ingredients are roughly the same, it is cooked in the oven, rather than the stove. During its sojourn in the oven, the eggs make the batter puff as they cook, creating an airy souffle-like pancake.
Pancaking About
Love pancakes? So do we — almost as much as we love waffles! Check out where we fall on the great waffle vs. pancake debate. And, here are a few more of our favorite pancakes: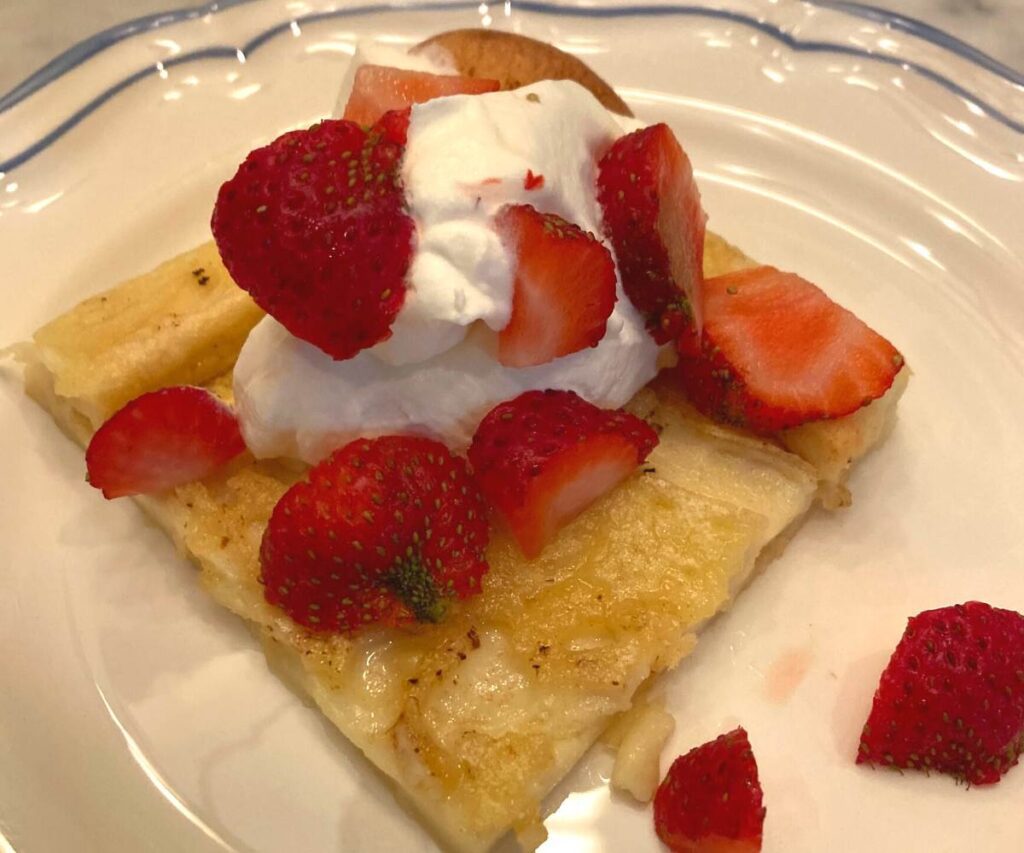 German Cakes Make the World Go Round
What do we love almost as much as pancakes? German baking, obviously. Here are a few other traditional German favorites.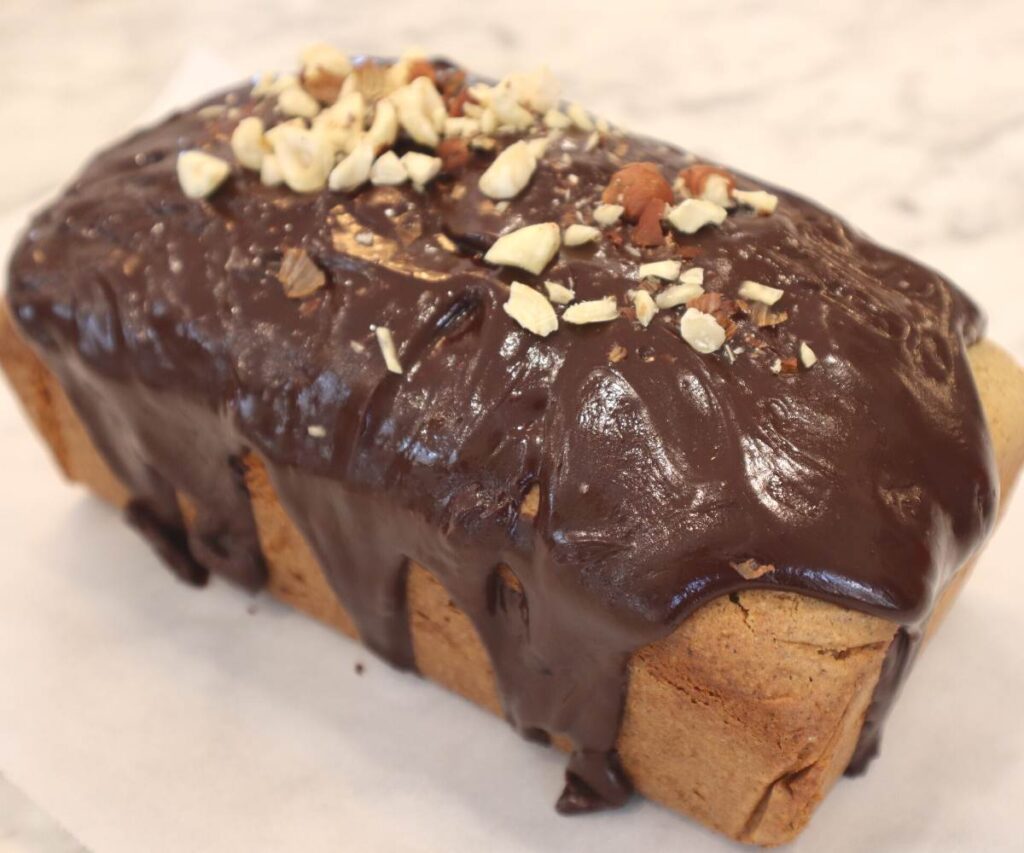 Useful Tools for Making this Eierkuchen Recipe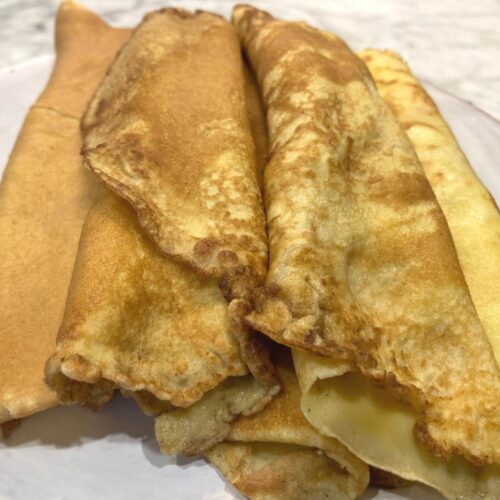 Eierkuchen Recipe
This eierkuchen recipe will produce some extremely delicious German pancakes.
Equipment
immersion blender

12 inch skillet

pancake flipper
Ingredients
1/2

cup

milk

4

eggs

pinch

of salt

1

tsp

vanilla extract

1/2

cup

all purpose flour
Instructions
Sift the flour and salt into a large bowl. Add the remaining ingredients and use an immersion blender to fully blend. If you don't have an immersion blender, you can simply put all the ingredients together in a blender.

Let stand for 10 minutes.

Heat a non-stick frying pan or well-seasoned cast iron frying pan over medium heat. If you're clutzy, stick with a small pan and small pancakes. If you're feeling more confident in your pancake-flipping skills, scale up.

Melt 1 tsp butter into the pan and swirl the melted butter to fully coat the bottom of the pan. Pour roughly 1/2 cup batter into the pan and swirl the pancake batter to create a thin layer. Let the pancake cook until little bubbles appear throughout, then use a large spatula to flip the pancake. Let the second side cook another minute, until both sides are golden brown, then remove from the pan. Repeat with remaining pancake batter.
Notes
A sweet filling is de rigeur for Eierkuchen. Finished pancakes are traditionally served with apricot jam, apple sauce, or cinnamon sugar. A more American interpretation of these sweet pancakes might include maple syrup, or, if you're feeling extra naughty, a slathering of nutella, topped with vanilla ice cream.
Leftover eierkuchen batter will keep well in the refrigerator for several days, unless your milk or eggs were on the brink of expiration.
Affiliate Disclosure: As Amazon Associates, we earn a small commission from qualifying purchases when you click on links embedded in this post.